Photo Flash: A LITTLE NEW MUSIC Returns To The Catalina With An All Star Cast!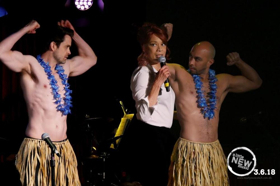 A Little New Music returned to the Catalina Jazz Club in the heart of Hollywood on Tuesday, March 6 with a stellar lineup of singers and new musical theatre songs. Scroll down for photos from this exciting evening!
The event was hosted by Broadway's J. Elaine Marcos (PRISCILLA QUEEN OF THE DESERT, ANNIE) and "MADTV's" Michelle Ortiz, alongside guest music director, Jan Roper (Hollywood Bowl, Musical Theatre Guild) with musical accompaniment by the ALNM band: Emily Rosenfield, Michael Saucier, and Greg Sadler..
Tom Detrinis started off the night with "Words, Words, Words" by Matthew McCollum, followed by Everjohn Feliciano performing Spencer Robelen's "Grandma's Cooking", and Jessica Reiner-Harris performing "Isn't It Nice" from Jessica Fleitman and Rick Bassett's THE AVERAGE-SIZED MERMAID. Chelsea Rae Bernier and Keir Kirkegaard duetted on "I'd Pick the Sea" from Selda Sahin and Derek Gregor's MODERN, followed by Anthea Neri's performance of JOE SCHMOE SAVES THE WORLD's "Rage" (introduced by its writer, Brett Ryback). Clayton Farris performed Drew Fornarola's MAC Award nominated "Quiet" before reprising his role in Dan Waldkirch and Jeremiah Lowder's SAVE ME A SPOT with "Magic Is Hard," sung by Kate Ponzio. Our guest artist, Chris Pierce, took the stage with his band to deliver "Rocketship Blues" from his show REVEREND TALL TREE'S BLUES OPERA (written with Mark Malone), followed by guest writer Sam Johnides accompanying Alex Nee on the world premiere of "Hey Ho" from The Sam and Tony Show's HAPPILY EVER UNDER. Rona Siddiqui's "I Am Your Matriarch" was performed by the power trio of Benai Boyd, Domonique Paton, and Tiana Okoye. Next, Tony nominee Valarie Pettiford took the stage for Jan Roper and Julie Weiner's "Tahiti" from CITY OF LIGHT (with a little help from Keir Kirkegaard and Kila Packett). Misty Cotton debuted the Kerrigan-Lowdermilk song "Miles to Go" (from The Mad Ones) to a West Coast audience. The evening came to a close with B'way and TV's Deedee Magno Hall, with husband Cliffton Hall and other members of the evening's company, performing "Side By Side" from Janine McGuire & Arri Lawton Simon's musical EXPRESS.
A LITTLE NEW MUSIC (ALNM) is the best two hours of new and unheard musical theater material in Los Angeles. Whether a premiere from an established writer, or an undiscovered tune from a promising up-and-comer, our mission is to showcase these talents with a program that keeps your finger on the pulse of the musical theater scene. Since 2013, A Little New Music has introduced an impressive array of over 200 songs by over 125 writing teams. Previous writing teams include Academy and Tony Award winners Pasek & Paul (THE GREATEST SHOWMAN, LA LA LAND, DEAR EVAN HANSEN) and Sankoff & Hein (COME FROM AWAY) to name a few. LA Weekly says, "A Little New Music is bringing the best of new musical theatre to LA, one song at a time."
For more information visit: www.alittlenewmusic.org or follow ALNM on Twitter/Instagram/FB: @ALittleNewMusic. See videos of past performances at www.youtube.com/alittlenewmusic.
All arrivals photos by Justin Michael Wilcox / JMW Photography. Performance photos by Justin Michael Wilcox and Amy Francis Schott.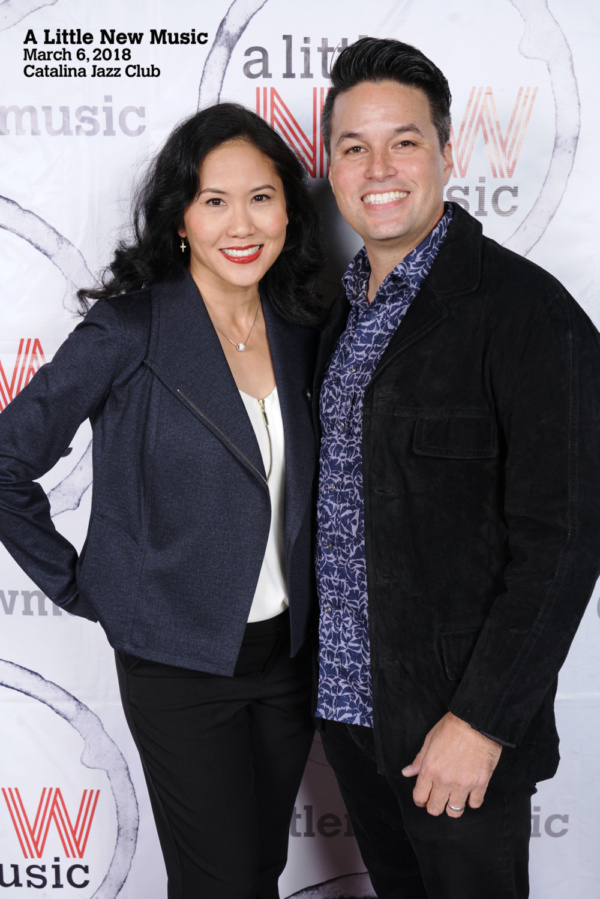 performers Deedee Magno Hall and Cliffton Hall

Daniel Mahler, performer Tiana Okoye, and Jeffrey Landman

Mandy Kemp, Cabarabia's Clifford Bell, Mitch Kaplan, Jennifer Ing, Chase Masterson, and ALNM founding producer Christopher Maikish

featured writers Sam Johnides and Tony Gonzalez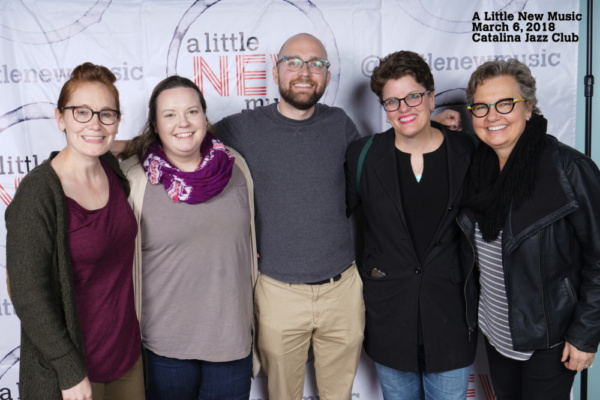 featured writer Dan Waldkirch (center) and friends

Laura Nicole Harrison and Keith Harrison

Heather Ayres and friend

featured writer Brett Ryback and Christian Barillas

performers Domonique Paton, Benai Boyd, and Tiana Okoye

hosts J. Elaine Marcos and Michelle Ortiz (photo: Amy Francis Schott)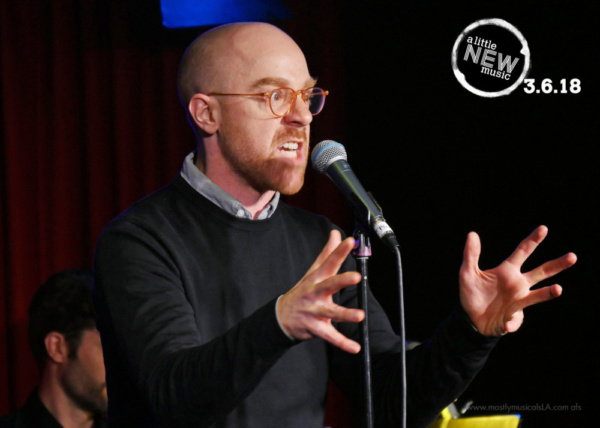 Tom Detrinis (photo: Amy Francis Schott)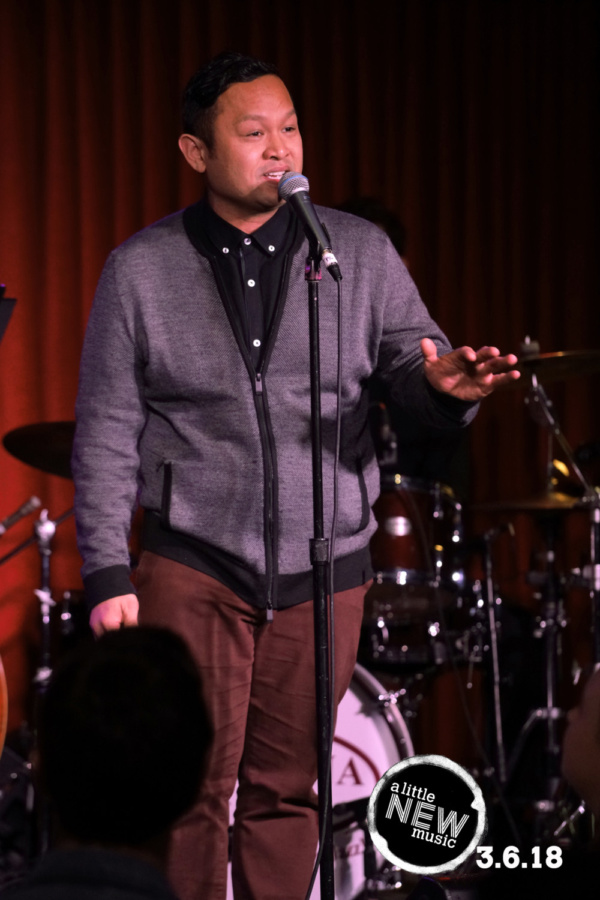 Everjohn Feliciano (photo: Justin Michael Wilcox)

Jessica Reiner-Harris (photo: Justin Michael Wilcox)

Keir Kirkegaard and Chelsea Rae Bernier (photo: Amy Francis Schott)

Jan Roper and Anthea Neri (photo: Amy Francis Schott)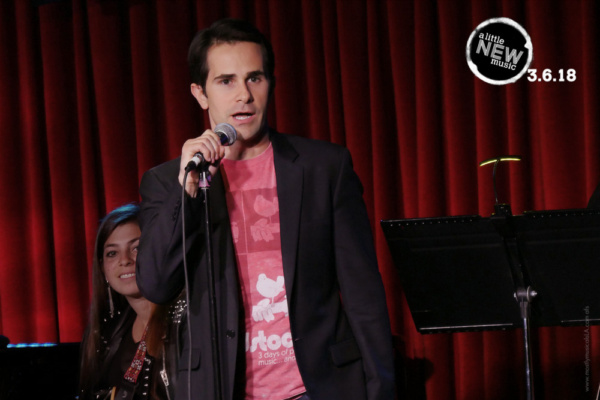 writer Brett Ryback (photo: Amy Francis Schott)

Clayton Farris (photo: Amy Francis Schott)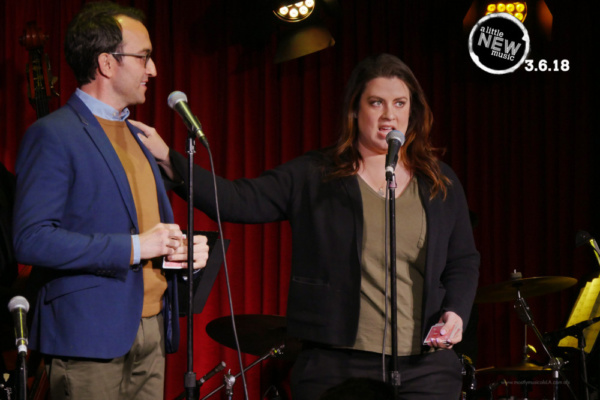 Clayton Farris and Kate Ponzio (photo: Amy Francis Schott)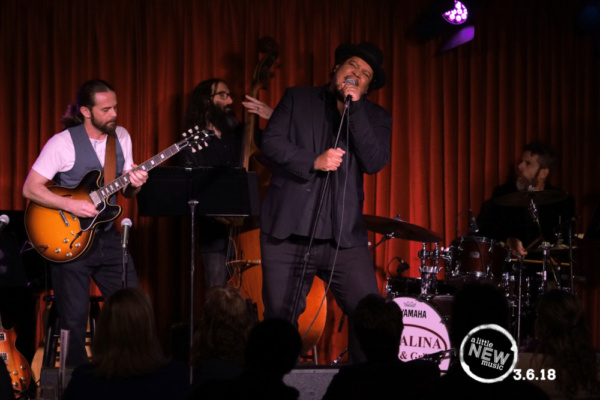 Reverend Tall Tree: Sam Meek, Matt DelVecchio, Chris Pierce, Chris Lovejoy (photo: Justin Michael Wilcox)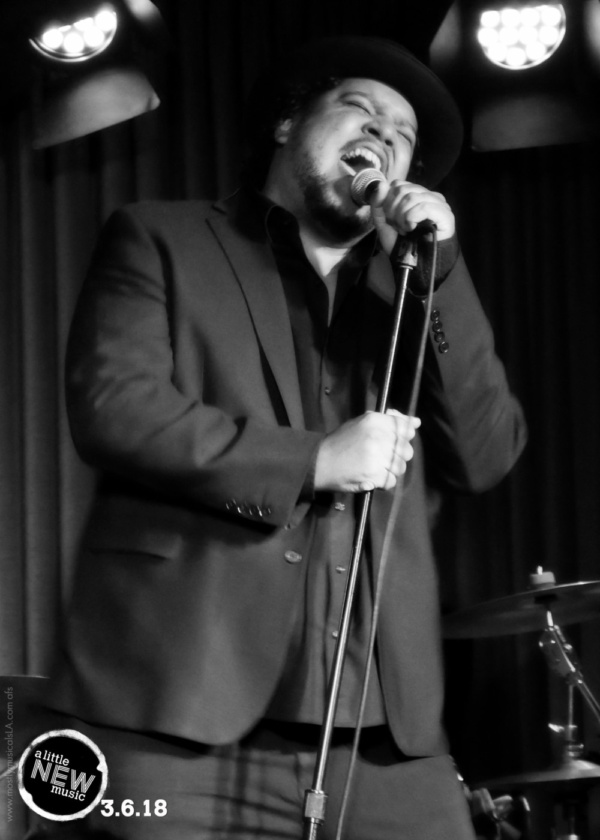 Chris Pierce (photo: Amy Francis Schott)

Alex Nee, guitarist Emily Rosenfield (photo: Justin Michael Wilcox)

Domonique Paton, Benai Boyd, and Tiana Okoye (photo: Justin Michael Wilcox)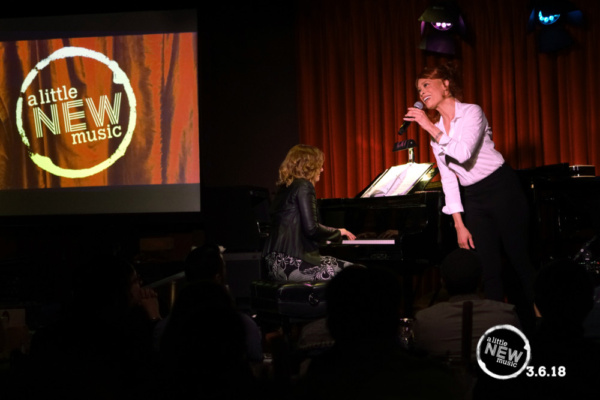 Jan Roper and Valarie Pettiford (photo: Justin Michael Wilcox)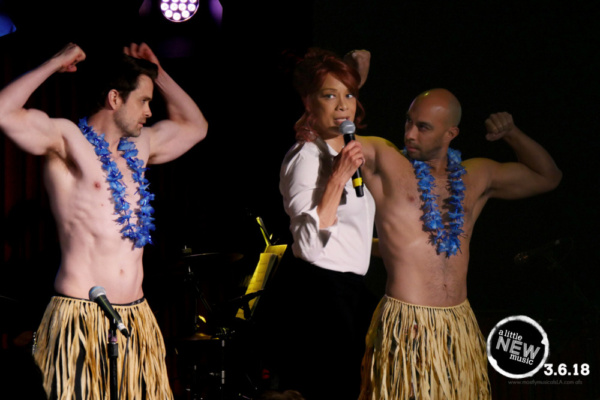 Keir Kirkegaard, Valarie Pettiford, and Kila Packett (photo: Amy Francis Schott)

drummer Greg Sadler, Misty Cotton (photo: Amy Francis Schott)

Deedee Magno Hall (photo: Amy Francis Schott)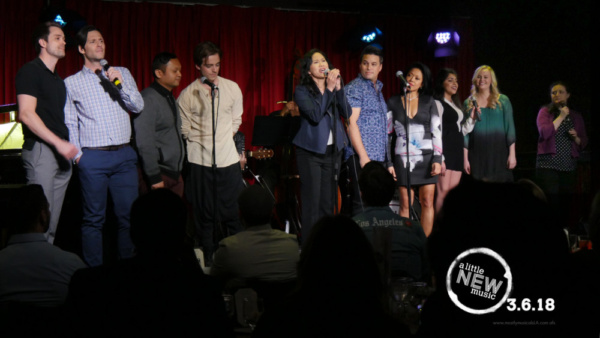 Keir Kirkegaard, Christopher Maikish, Everjohn Feliciano, Alex Nee, Deedee Magno Hall, Cliffton Hall, J. Elaine Marcos, Michelle Ortiz, Chelsea Rae Bernier, Jessica Reiner-Harris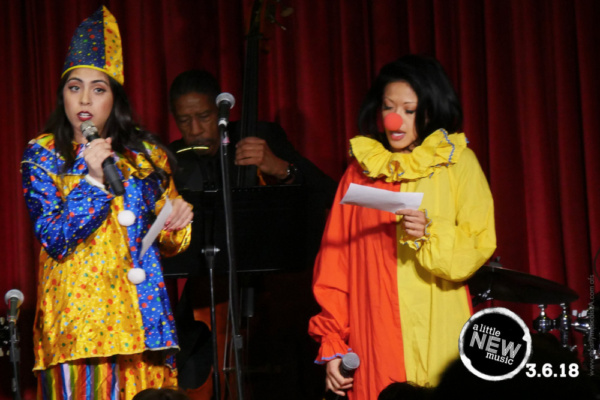 hosts Michelle Ortiz and J Elaine Marcos, bassist Michael Saucier

The A Little New Music family (photo: Justin Michael Wilcox)