Pacific Opera Project Presents First Ever True-to-Story Bilingual Production Of Puccini's MADAMA BUTTERFLY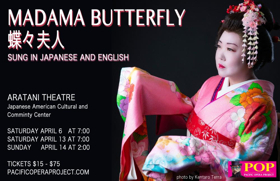 On April 6, 13 and 14, 2019 at the Aratani Theatre at the Japanese American Cultural and Community Center in LA's Little Tokyo, Pacific Opera Project (POP) presents its most ambitious production to date: the first ever true-to-story bilingual Madama Butterfly. With a new libretto written by POP Artistic Director Josh Shaw and Opera in the Heights Artistic Director Eiki Isomura, the production presents Puccini's story as if it actually happened and attempts to answer the question: How would Butterfly and Pinkerton communicate?
All Japanese roles will be sung in Japanese by Japanese-American artists and all American roles will be sung in English. In Los Angeles, every singer in the chorus is also Japanese-American. Most of the chorus is composed of the South Bay Singers, lead by Naoko Suga, who will serve as Chorus Master. In an effort to only use Japanese-American singers for the Japanese roles, POP conducted a multi-year audition process with auditions in Houston, Los Angeles, and New York in addition to online submissions from singers in the States and Japan. Unlike most POP singable translations, this libretto remains as faithful to the Italian word-for-word meaning as possible. Sueko Oshimoto of Kimono SK will be costuming the production.
The production's principal cast includes Keiko Clark as Cio-cio-san, Peter Lake as Pinkerton, Kenneth Stavert as Sharpless, Kimberly Sogioka as Suzuki, Eiji Miura as Goro, Hisato Masuyama as Bonze, Steve Moritsugu as Yamadori, Norge Yip as Imperial Commissioner, and Chelsea Obermeier as Kate Pinkerton.
POP's first co-production, Madama Butterfly is presented with Houston's Opera in the Heights, led by Isomura. After Madama Butterfly opens in Los Angeles, it will move to Houston with all principal artists. Isomura conducts a 23 piece orchestra and Josh Shaw directs in both cities. The production is sponsored in part by an Innovations Grant from Opera America.
POP also assembled an Advisory Committee to aid in the process, give feedback, and advise on cultural sensitivity and performance practice. At this point the LA members of that committee include Snehal Desai (Artistic Director of East West Players), Shigemi Matsumoto (Voice Teacher/Soprano), Padraic Costello (Ethnomusicologist), and Doug Cooney (professor of Diversity in American Theater).
POP's 2019 productions also include a remount of its highly acclaimed 2013 production of Gilbert and Sullivan's The Mikado on August 16, 17, 22, 23, 24, 28, 30, and 31 and POP's signature modern take on Puccini's La boheme AKA "The Hipsters" on December 5, 6, 7, 12, 13, 14, 2019 at 8pm.
Performance Information
MADAMA BUTTERFLY
Aratani Theatre | 244 San Pedro Street (Little Tokyo) | Los Angeles, CA 90012
Dates: Saturday, April 6, 2019 at 7:00pm
?Saturday, April 13, 2019 at 7:00pm
Sunday, April 14, 2019 at 2:00pm
Link: https://www.pacificoperaproject.com/madamabutterfly
Tickets: $15 - $75 at the Aratani Theatre Box Office, by calling 213.680.3700, or emailing boxoffice@jaccc.org.