More Than 50 Actors Set For The Blank Theatre's 26th Annual Young Playwrights Festival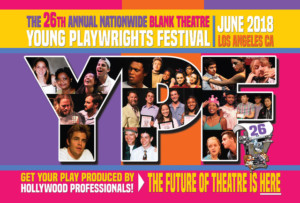 More than 50 actors have been set to participate in The Blank Theatre's 26th Annual Young Playwrights Festival. Twelve winning plays by young playwrights aged 15-19 from seven different states will be presented during this year's festival at the Stella Adler Theatre in Hollywood, running from May 31-June 24.
Performers scheduled to appear are (in alphabetical order) Max Adler (Glee), David Anders (Alias, Vampire Diaries), Tristan Bankston, DJ Blickenstaff (Dear White People), Alisha Boe (13 Reasons Why, Teen Wolf), Tor Brown, Ruth Connell (Supernatural), Brooke DuPont, Mark Elias, Chase Ellison (Deadwood), Coleen Foy, Drew Hellenthal, Briana Nicole Henry, JERRIKA HINTON (Grey's Anatomy), Ema Horvath, Lenny Jacobson (Nurse Jackie), TIM JO (The Neighbors), Jamie Kelly, Conlan Kisilewicz, John Lacy, Julia Lewin, Kylie Marco, Martin Martinez, McCarrie McCausland (Army Wives), Austin Mincks, Jojo Nwoko, Susan Louise O'Connor, Gabriela Ortega, Michael Osborne, Benjamin Papac (Into the Badlands), Caleb Pierce, Cait Pool, Landen Rankin, Jaedon Noah Rio, Valeri Ross, Ryland Shelton, Aiden Hanlon Smith, Jamie Renee Smith (Ask Harriet), Zak Steiner, Ben Stillwell, Jennifer Stone (Wizards of Waverly Place), Madylin Sweeten (Everybody Loves Raymond), Jeff Torres, Pej Vahdat (Bones), Carson Warner, Jason Mack Watkins, Carrie Weisberg, and Wyntergrace Williams.
The Blank Theatre's 26th Annual Young Playwrights Festival runs Thursday, Friday, and Saturday at 8pm and Sunday at 2pm, beginning May 31 and continuing through June 24 at the Stella Adler Theatre, 6773 Hollywood Boulevard (at Highland), in Hollywood. Each week's program includes three plays. Tickets are $25 for adults and $15 for students. Festival Passes, which include one ticket for each week, are $80 for adults and $50 for students. Tickets may be purchased online at www.theblank.com or by calling (323) 661-9827.