Kentwood Players presents THE CRUCIBLE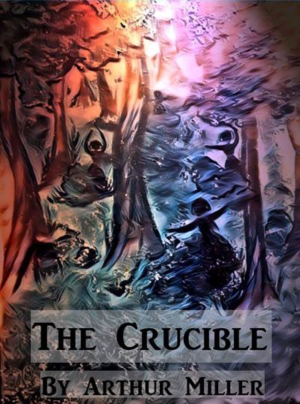 Kentwood Players proudly presents the play THE CRUCIBLE, by Arthur Miller. Performance dates are January 12 - February 17, 2018 on Fridays and Saturdays at 8:00pm and Sundays at 2:00pm. Performances take place at the Westchester Playhouse, located at 8301 Hindry Avenue in Westchester, CA 90045. There will be a complimentary pre-show champagne and dessert reception between 7:00-7:30pm for season subscribers and their guests attending the Saturday, January 13 performance.
There will be 3 post-show talk-back / Q & A sessions with cast & crew after the Sunday matinee performances on January 28th, February 4th, and February 11th.
The production is directed by George L. Rametta and produced by Lauren A. Jarvis for Kentwood Players by special arrangement with Dramatists Play Service, Inc., New York. Featured in the cast in alphabetical order are Dan Adams, Caitlin Barry, Crystal Boyer, Stanley Brown, Allison Cunningham, Harold Dershimer , Stuart James Galbraith, Lynn Gutstadt, Brad Halvorsen, Sydney Holliday, Lauren A. Jarvis, Daniel Kruger, Isabella McDaniel, Aaron Merken, Barry Nackos, Fiona Okida, Roy T. Okida, Brenna Piller, Judy Rosenfeld, Jes Selane, Michele Selin, Belinda A. Skinner, Jennifer Sperry, and Callista Steele
Miller won the 1953 Tony Award for Best Play, and THE CRUCIBLE has gone on to become a classic, regarded as one of the great American dramas.
Using the historical and controversial subject of the 1692 Salem Witch Trials, THE CRUCIBLE presents an allegory of events from the McCarthy Hearings of the 1950's. Reason and fact become clouded by irrational fears and the desire to place blame for society's problems on others. John Proctor, a blunt, out-spoken farmer is the play's central character. He gets caught up in a conspiracy not even his own strength can control when his ex-lover Abigail throws false accusations on his wife Elizabeth. As Proctor tries to free his wife and prove all others accused of witchcraft innocent, he finds himself accused as well. One man stands in a tug-of-war between God and Satan, pride and damnation, and good and evil. It all leads to a climactic ending in which one lost soul finds peace with himself and realizes the importance of one's own dignity.
Reserved seat tickets are $20 with a $2 discount for seniors and students. To purchase tickets, please call (310) 645-5156 during box office hours, Wednesday through Saturday from 4:00-7:00pm. You may also purchase tickets online at www.kentwoodplayers.org. For group ticket sales of 10 or more, please call the box office for group rates.
For more information about Kentwood Players including our current production, please visit the Kentwood Players website at www.kentwoodplayers.org. You can also find Kentwood Players on Facebook, Twitter and Instagram.
To meet the THE CRUCIBLE production team and learn more about Kentwood Players and what goes on at the Westchester Playhouse, the public is invited to attend our membership meetings, which are free and held on the third Wednesday of each month at 7:30pm at the Westchester Playhouse, located two blocks west of the San Diego Freeway and two blocks north of Manchester at 8301 Hindry Avenue in Westchester, CA 90045.