Joseph Lorenzo Wise Pays Tribute To Natalie Cole With MR. MELODY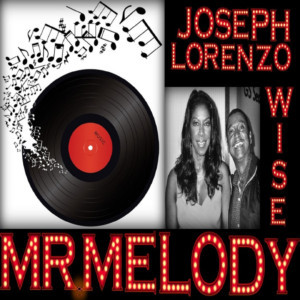 Singer/Songwriter/Producer Joseph Lorenzo has recorded a new version of "Mr. Melody", the 1976 hit by Natalie Cole.
Wise says "I can't believe I get to do Mr. Melody, it's been one of my favorites for over 40 years. In fact when I stepped off the plane at Laguardia in 1976, I had Natalie's album tucked under my arm. Natalie got me through some tough times. I lost my 44 year old mother to breast cancer treatment in October 1975." Wise also says that he thinks his unbreakable connection to Natalie Cole is partly because she lost her dad when she was a teen. "I lost mom and somehow Natalie seemed to help fill that void." And he's says it proves that death is no match for love. "Natalie is a spirit now and she's around me all the time. It's crazy yeah, and it was Natalie who insisted that I do Mr. Melody, I had planned to return to the Latin catalogue in January and do Celia Cruz "La Negra Tiene Tumbao" but Natalie said "No... record Mr. Melody".... It was that clear, and so so Natalie."
Joseph Lorenzo says he considers himself "an Honorary Cole", everyone who knows me knows that Natalie is the musical love of my life. He sings "Diva Transference at the Hollywood Bowl, I'm an Honorary Cole." And he says "Natalie is a Music Educator, all the work and research of the American Songbook she did, is a lesson in American Music History. The Coles leave a rich musical mosaic for us artists to explore, and Natalie was lovable, she was a real person, you could relate to her struggle as the daughter of the most famous black musician in the world.
Joseph credits his mother Dorothy Ivory Wise with demanding that he take music lessons and learn photography. "I even had a darkroom", he laughs. "Natalie reminded me of Mom who loved music and played the piano." Joseph Lorenzo also says that he was there at the Savoy Ballroom in 1980 (Patti LaBelle at the front table) when Eddie Murphy opened for Natalie.... "OMG he was so funny and then she came on in thigh high suede boots with a voice so exciting you couldn't keep your feet on the floor". Joseph plays a Club Goer in "Dolemite" Eddie Murphy's new film to be released in September 2019 and a Gold Prospector in "Call of the Wild" starring Harrison Ford, to be released on Christmas Day.
Joseph Lorenzo is also very lucky to have met Natalie Cole a few times, most notably at the Hollywood Bowl, where she called for him through the arch at the artist's entrance, which then was white cottage fence. "It's very embarrassing, I jumped up and down like Richard Simmons, when I came out of the men's room and saw her standing there. I call it "Diva Transference" now because she took my hands in hers and checked me out, she saw right through me, everything, maybe I reminded her of Nat Kelly Cole. We chatted about the Beacon Theater in New York and seeing her in Atlantic City and at Radio City Music Hall. I knew the dresses she wore and everything and she was delighted by that. About then Robbie her son walked over and I introduced myself and my friend Jeannette. I told Robbie he should always be thankful for his mother and she smiled and looked me dead in the eye and said "I'm Thankful for him" and strutted off back to the party, buff as she could be in a lavender pantsuit.
When Natalie won Record of the Year for "Unforgettable", Joseph Lorenzo wrote a piece called "Loves Natalie" that was published in the New York Daily News, calling for an end to the squabbling about the 40 year old song winning. "I said in the classical category music that was hundreds of years old won awards."
Joseph Lorenzo says "When Natalie passed away, I cried all New Year's Day. I went to the store and made an arrangement with silk flowers to place on her star on the walk of fame. I'm so grateful that I was able to attend her funeral in LA. Stevie Wonder sang the Lord's Prayer and ripped the roof off the joint."
Joseph plans to do a short film about Robbie Yancy, Natalie's only son. Yancy died, a little over a year after Natalie passed. "I think it was a broken heart, he couldn't live without Natalie. He was planning a documentary about Natalie and Nat when he died. There was never any public announcement about a service for him, so I never got to say goodbye or pay my respects. So I'm going over there to Forest Lawn one day and officially say goodbye to Robbie and sob at Natalie's grave next to Nat and Maria, the Black Hollywood Royalty, the Black Kennedys...and it's all going to be filmed.
He was my little Robbie too.... I watched him grow, he was a good man, and a good drummer and percussionist, he loved his mom, he couldn't live without her, and deep down inside I understand that. I saw them together live at the Viper Room on the Sunset Strip, and I saw their connection. I had New York City, the American Academy of Dramatic Arts, a USO show in Europe and a principal role in "On the 20th Century" on Broadway to dull the pain of my loss. Robbie was in Hollywood, it can be a lonely place, even with money and family name.
"Mr. Melody" is mixed and mastered by the incredible Producer, George Dum. Right after one of my sessions, George had to get right back to work to finish mixing and mastering the music for the SAG Awards. And I have to add that the sessions with George at Liquid Fish in Noho are big fun, best vocal booth in LA.
In 2017 and 2018 Wise is the recipient of a Grant from The Grammy Foundation, The Recording Academy and MusiCares. "It blew me away when I found out my discography qualified." He also says he feels great about recording "Mr. Melody" because the tribute to Natalie on the Grammy's was not what it should have been. "Natalie Cole had nine Grammys, David Bowie had one, so I feel that this is the kind of tribute Natalie Cole deserved live on the Grammy's, not just a videotaped clip in the In Memoriam section. I also know that Robbie Yancy was deeply hurt by the lack of musical tribute to Natalie Cole on the awards show." Joseph Lorenzo also performs a tribute to Natalie Cole in his one man show "Rhythm Man" Channeling the Greats... Where he performs Natalie Cole En Espanol.
"Mr. Melody"...release date 3/16/2019, written by Marvin Yancy (Robbie's Dad) and Chuck Jackson, and originally performed by the amazing Natalie Cole. Produced by Joseph Lorenzo Wise and George Dum at Liquid Fish Studio, North Hollywood, CA. Available now for pre-order on Amazon.com. Live on CDBaby 3:16 and on, iTunes, Amazon, Spotify, Apple Music, Deezer.
https://www.amazon.com/Mr-Melody-Joseph-Lorenzo-Wise/dp/B07P2FQH32/ref=sr_1_1?keywords=joseph+lorenzo+wise&qid=1551315522&s=dmusic&sr=1-1
https://www.amazon.co.jp/Mr-Melody-Joseph-Lorenzo-Wise/dp/B07P2FZRVM
https://www.amazon.fr/Joseph-Lorenzo-Wise/s?ie=UTF8&page=1&rh=i%3Aaps%2Ck%3AJoseph%20Lorenzo%20Wise
Related Articles View More Los Angeles

Stories

Shows
More Hot Stories For You