Jonny Blu's A BLU CHRISTMAS Comes to The Garry Marshall Theatre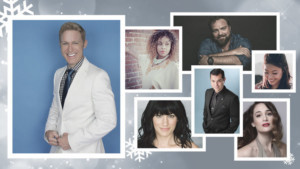 International pop and jazz singing sensation Jonny Blu will be joined by a line-up of his recording artist pals on Friday, December 14 for a Holiday Soirée Concert Event at the Garry Marshall Theatre. This fundraising event will also feature a 7-piece band and the drinks are on the house.
Special guests will include
Drew Powell
(Fox's Gotham), Maiya Sykes (NBC's The Voice), Gideo Rubin, Scout Durwood (Hollywood Darlings), Lei Jin, Dave Damiani and The No Vacancy Orchestra and
Tamela D'Amico
. The music director is
Bob Malone
.
Bob Malone
will be performing at the
Garry Marshall
Theatre the following night, December 15, and sang the main theme for 2018's The Grinch. Unique barely begins to describe American born Jonny Blu. He is a "quadruple threat" in the entertainment business being an accomplished singer, songwriter, actor and martial artist. Blu's professional music career spans almost 15 years and he is still going strong. His newest album The Best Of Blu introduces us to some of the new directions he is taking with his music as well as some amazing choice hits off his past albums. Blu remains extremely active in the Chinese music world. Between 2013 to 2015 he was a judge on the hit Chinese singing competition ICN TVs "American Stars". To this day, Blu is the first and only Caucasian American to be a signed pop music star in the Chinese Mandarin Pop music world. Tickets are available by visiting
www.GarryMarshallTheatre.org
or calling 818.955.8101. About Jonny Blu
Blu's path in music was definitely not a linear one - his professional music career actually began in 2001 in Hong Kong. Speaking, reading and writing songs in fluent Mandarin Chinese and having won a major Chinese singing competition at the time, Blu was eventually signed to a Chinese music label (See Music) in 2003. He went on to co-write and produce his album "Jonny Blu (On The Edge)" in 2004, which produced three top ten hit Mandarin pop songs and won him "Hot New Sound" at the 2005 Metro Radio Music Awards in Hong Kong for his song On The Edge. Blu also had a cameo appearance in the Disney smash "Princess Diaries 2" singing his RIAA Gold Record earning song "Miracles Happen." He has also judged and performed on several Chinese beauty pageants and events in China and the US. In February 2014, after having won the Beijing Television smash singing competition "You Can Sing!", Blu performed a Chinese hit song on the Beijing Television Chinese New Year Gala, which is viewed by over 800 million people worldwide! In May and June of 2015, Blu performed a series of 7 full concerts titled "Jonny Blu Pop Hits Of China", for the 20th Anniversary Gala for AMWAY China Corporation. His concerts featured a full spectacle of famous Chinese pop hits, dancers, fireworks, pyrotechnics and a duet with Chinese Pop Superstar Wanting Qu, all to nightly audiences of 5,000+ Chinese fans! In 2007, Blu stretched his musical roots back to the USA. Having grown up a huge fan of the American Songbook, Blu took to writing his own Jazz and Big-Band inspired originals and recorded his first English language album In Just That Kind Of A Mood. From this album, his breakout songs Ooh-Wee and In Just That Kind Of A Mood, have been licensed on film and television, including Young And The Restless and the recent Hallmark film Snow Bride (2014). How Can I was just featured in
Adam Sandler
's The Cobbler (2015). Ooh-Wee, along with a few other songs off the album, have been featured on the popular Jazz collection CDs "In Love With Jazz" 1, 2, and 3, as well as Late Night Moods (Europe). In Just That Kind Of A Mood also caught the attention of Universal Music outside of the US, and was locally released by Universal Music in Eastern Europe and South Korea to solid reviews and returns. Blu has gone on to record several albums and EPs, including the Latin Standards compilation, Taboo! (Peermusic 2010), a jazz/blues infused EP In A Groove (2008), a fun-loving ukulele singer/songwriter album The Ukulele Experience, Vol. One (2012), a Christmas ballads EP Winter Ballads (2013) and his hit Holiday/Christmas single Holiday For Two (2012), which has been heard on Hallmark Films Snow Bride (2014) A&E's Honey Boo-Boo (2014), Twelve Dog Days of Christmas (2014) and A Family For Christmas (2015). Blu is currently touring this album around the world, appearing regularly in venues such as Catalina Jazz Club and Vibrato in Los Angeles, California and Iridium Jazz Club in New York as well as performing on private and corporate events. He can also be frequently seen taking his show aboard international cruise lines Princess Cruises, Holland America/Seabourn and Royal Carribbean!
Related Articles View More Los Angeles

Stories

Shows
More Hot Stories For You