Imagine Project, L.A. Children's Theatre, Welcomes Two New Board Members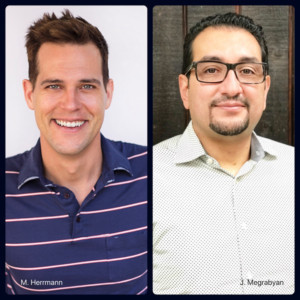 Imagine Project - LA's new and only Equity theatre dedicated entirely to programming for children - welcomes Matthew Herrmann and Jack Megrabyan to its Board of Directors.
Matthew Herrmann is a producer and an actor, and hails to LA from Indiana. He recently produced Joe Keane's hit Lady Gaga/Grey Gardens parody Gaga Gardens in Los Angeles and San Francisco, as well as the highly successful Little House on the Prairie musical spoof Prairie-oke! Before that, he was one half of the conjoined twin punk group Tom and Barry - inspired by the Brian Aldiss book and Keith Fulton and Lou Pepe film Brothers of the Head. Other producing credits include the JFK musical Jack with the York Theatre Company, Nine and Sweeney Todd with Princeton University and the upcoming 50th Anniversary production of Hair with original producer Michael Butler. Herrmann has also directed over 35 productions for the beloved French Woods Festival of the Performing Arts as well as directing locally with the youth theater program Acting Up. On stage he has appeared in over 100 productions including original casts of the underground hits Are You There God? It's Me, Karen Carpenter and I Totally Know What You Did Last Donna Summer.
"I joined Imagine Project because of the necessity to provide a professional outlet, in a city as large as ours, dedicated to the enrichment and cultivation of our future minds," stated Herrmann. He is a graduate of the Savannah College of Art and Design.
"I strongly support Imagine Project's mission dedicated to inclusion, gender equality, diversity, creativity, empathy, compassion and courage. I want our children to grow up in a world where the adults around them make every effort possible and necessary to install these core values into our children," explained Megrabyan.
Jack Megrabyan is a husband, father, and a leader in the banking industry for the past seventeen years. In 2012, Jack started a De Novo Branch in Glendale, CA for Opus Bank. As Branch Manager, Megrabyan successfully grew the branch to maturity. In this role, Jack was known for helping small & large local businesses grow and thrive. Megrabyan is a former Board Member of Caesura Youth Orchestra in Glendale, California where he successfully obtained multiple grants for funding projects for the Orchestra. Jack recently joined California Bank and Trust as a Vice President, Relationship Banker in Pasadena, CA. In this role, Megrabyan builds intimate relationships with local businesses in order to best serve their financial needs with the vast resources offered by the California Bank and Trust. He is a graduate of University of Phoenix. Megrabyan is an uncle to seven nieces and nephews, and is a father to twins - the joy of his life. As a father, Megrabyan knows firsthand the importance of developing young minds and that's why he joined the IP Board.
Imagine Project (imagineprojectca.com) is LA's new and only Equity theatre dedicated entirely to programming for children. Los Angeles County is home to 2.3 million kids and had no professional union company committed to producing solely theatre for young audiences prior to the founding of IP. Imagine Project is a California non-profit corporation and a member of TYA/USA.
Imagine Project is dedicated to telling relevant stories that focus on gender equity and inclusion while spotlighting female heroes, as we dynamically engage with today's youth, inspiring our young citizens to face life with creativity, insight, empathy and courage. The company's inaugural mainstage production of The Tale of Turandot is planned for later this year. The play is told by live actors and Bunraku-inspired puppets together with multi-media projections.
Imagine Project leadership includes Armina LaManna, Artistic Director, and Alex Zonin, Chairman of the Board.