Hell Hath No Fury! MEDEA to Play Archway Theatre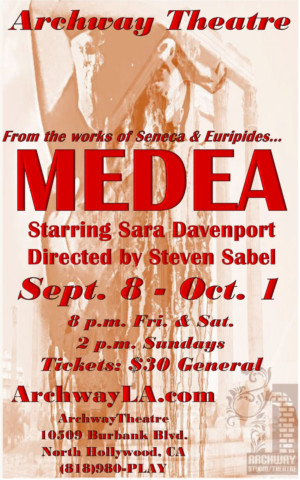 Archway Theatre, North Hollywood's acclaimed classical theatre company, will present a riveting and brutally tragic production of "Medea," Sept. 10 through Oct. 1.
Adapted from the tales by Seneca and Euripides, and directed by producing artistic director Steven Sabel, the production stars Archway resident company member Sara Davenport in the title role.
Performances are 8 p.m. Fridays and Saturdays; 2 p.m. Sundays. Tickets are $30 general; $15 for students and seniors.
Archway Theatre is known for its award-winning classical productions of Greek tragedies. Last season's production of "Oedipus-Antigone" received five VAlley Theatre Award nominations, and won the award for Outstanding Featured Actor in a Play for Sabel's performance as Oedipus.
"We pride ourselves as a company for all of our classical works, but we also have a special fondness for the Greeks. The characters are so rich with intensity and emotion, and the stories are so viscerally charged," said Sabel.
"Medea" depicts the final days between the renowned barbarian princess of sorcery, and Jason of Argonauts fame, whom she aided in his quest to obtain the Golden Fleece. It is years later, the couple is now in Corinth with their two young sons. Jason is a wanted man in a foreign land without a country or a home. His marriage to Medea is not legal under Greek laws. When Jason agrees to marry King Creon's daughter, Creusa, Hell hath no fury as a woman scorned, and Medea plots a savage revenge leaving four people dead, including her two young sons.
"The relevance of the story to modern audiences is astounding. It is an unthinkable act that Medea commits to exact her ultimate revenge on Jason, and yet here we are 2,500 years later with regular stories in the news of parents murdering their children," Sabel said.
In recent local news in July, police arrested a South Pasadena man for killing his five-year-old son in a bitter custody battle with his ex-wife. The American Anthropological Association reports that more than 200 mothers and fathers kill their children in the United States each year. The leading cause of death of children under five is their parents.
Yet "Medea" is more than story of infanticide, Sabel says.
"Medea is more than just a woman scorned. She is a sorceress, descendant of the Sun, and someone with a long track record of leaving bodies in her wake for the sake of gaining or maintaining Jason's love. She is quite a force to be reckoned with," said Sabel.
Davenport comes to the role of Medea with a list of impressive stage credits. Previous performances with the Archway include the murderess Louise in "Postmortem," the prophetess Tiresias in "Oedipus-Antigone," and a witch in "Macbeth."
"Sara (Davenport) is a force in her own right. She pursues her roles with zealous commitment, both emotionally and physically. She is so compelling to watch," Sabel said.
Sabel's adaptation of "Medea" combines elements of both the Senaca and Euripides versions of the play. Added in are some elements that Sabel felt were important to telling the story in a way more palatable to contemporary audiences. The traditional chorus is separated into distinct individual women of Corinth, and Sabel includes a scene between Jason and Creusa.
"We're proud of presenting Greek plays that remain classical in style, language, and design, but follow a more contemporary structure with regards to character development, scene sequences, and action depicted on the stage - rather than merely described in a monologue," said Sabel.
The cast of "Medea" features several Archway resident company members and return actors to the Archway stage, including Jason DeWitt, Melissa Virgo, John Eddings, Annie Freeman, Jennifer Hawkins, Kei'la Ryan, Angela Dobson Robbins, Sommer Branham, and Alexandra G. Smith.
A special preview performance of "Medea" will be held 8 p.m. Friday, Sept. 8. An opening gala reception will feature Greek themed food and drinks following the performance Saturday, Sept. 9. The Archway Theatre celebrates Industry Night Friday, Sept. 15 by offering half-priced tickets to members of local theatre organizations, followed by an industry social hour featuring dessert and drinks.
The Archway Studio/Theatre is located at 10509 Burbank blvd., North Hollywood, CA. For additional information, visit www.archwayla.com or call (818)980-PLAY (7529).
Featured This Week on Stage Door
Shoutouts, Classes, and More from Your Favorite Broadway Stars




More Hot Stories For You