MEETING MACGUFFIN Comes to the 14th Annual LaFemme International Film Festival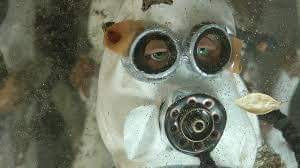 The long-awaited sequel to Hanging by a Thread will be a featured selection at the 14th Annual LaFemme International Film Festival, Oct. 11th - 14th in Los Angeles
"Meeting MacGuffin," the highly anticipated sequel to the stop motion animated short Hanging by a Thread, written and directed by Catya Plate, will be a featured selection in the upcoming 14th Annual LaFemme International Film Festival, October 11th through 14th in Los Angeles.
Multi award-winning filmmaker Plate finally satisfied the dedicated fans of the stop-mo classic Hanging by a Thread, and now Meeting MacGuffin is sweeping up awards on the international film festival circuit. Thus far the film has been selected to show in 45 festivals and has thirteen awards and three nominations to its credit.
The short won the Grand Prize for animation at the Oscar-qualifying Rhode Island International Film Festival-Vortex last year and will have its Finnish premiere at SCIFF-Scandinavian International Festival on October 5, its Italian premiere on October 19 a FiFF-Fano International Film Festival and its German premiere at Berlin Sci-Fi Filmfest in November. Most recently, it won Best Animated Short Film at the Aphrodite Film Awards for the month of September and will now become part of the "Best of Year" Competition in July 2019.
In Helsinki, "Meeting MacGuffin" won Best Animated Short and in Faino, Italy it won Special Jury Mention. The film just became a Finalist (Nominee) for Best Animated Film at the 12th annual Blow-Up Arthouse International Fil Fest in Chicago. Winner will screen at the Gene Siskel Theater. Not bad for a film whose official title is Meeting MacGuffin: An Animated Ecological Thriller.
Picking up where "Thread" left off, Meeting MacGuffin starts in the post-apocalyptic future where humankind has fallen apart. A new breed of scientists, the Clothespin Freaks, had been reassembling human fragments to create an alternate form of humanity. Guided by LF, an animated sign, they travel with the nearly-finished new humans called Homeys, through underground caverns to complete their reconstitution and meet Gormal MacGuffin, a wise, blue-eyed groundhog climatologist with expertise in water renewal who prepares the Homeys for their mission to restore balance to decimated Earth.
"Meeting MacGuffin" is one of the most original films that has come across our festival 'desks' - the world building is exquisite and the design of the whole film is very impressive." - Bears Rebecca Fonte, Festival Director/Founder, Other Worlds Austin
Born in Barcelona, Spain, and raised in Germany, Catya completed her BFA at the Werkkunstschule, Köln, before coming to New York on a Fulbright Scholarship for post-graduate studies at School of Visual Arts. She has been exhibiting regularly and internationally since the mid-1980's. Her work can be found in many public and private collections worldwide, including the Brooklyn Museum and the Museum of Modern Art Library in New York City. Articles and reviews of Plate's films, exhibition and installation projects have appeared, among others, in Film Threat, The New York Times and The Independent.
Meeting MacGuffin will be shown on Sunday, October 14th, 10AM in Venue 2. Tickets can be purchased onlne at http://www.lafemme.org/tickets/ or at the Box Office the day of the screening.
Related Articles View More Los Angeles

Stories

Shows
More Hot Stories For You