Greenway Arts Alliance & Urban Theatre Movement present YERMA IN THE DESERT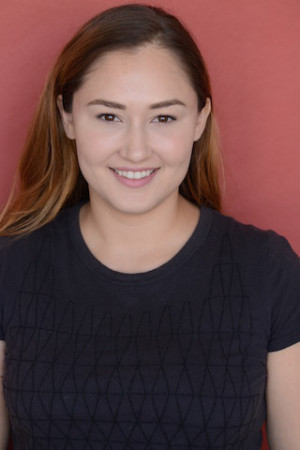 Greenway Arts Alliance (Whitney Weston and Pierson Blaetz, Co-Founders and Co-Artistic Directors) and Urban Theatre Movement (Paul Tully, Artistic Director and Gisla Stringer, Company Manager) present the world premiere of YERMA IN THE DESERT by Oliver Mayer (Off-Broadway's Blade to the Heat at The Public Theater) and co-directed by Marlene Forte and Edgar Landa. Urban Theatre Movement is the first Los Angeles theatre company recipient of Greenway Arts Alliance's Greenway Residency Program, created in celebration of GAA's 20th Anniversary Celebration. YERMA IN THE DESERT will open to the press at Greenway Court Theatre (544 N. Fairfax Avenue, Los Angeles) on Friday, November 17 and play through December 16, 2017.
Yerma (Jean Murillo) is desperate for a child, but her husband Juan (Anthony Bryce Graham) shies from her touch. How can she reconcile her urge for motherhood, maintain her sense of honor, and still do her job without going mad? Set in an elite university, YERMA IN THE DESERT focuses on the custodial and public safety staff who clean up the mess and tell no tales in a Trumpian dystopia where personal grudges lead to deportation and worse. Even in this dry place, Yerma craves the wet closeness of love.
YERMA IN THE DESERT is inspired by Federico Garcia Lorca's play Yerma with a contemporary look at current issues of today.
"It's getting tough to produce theatre in Los Angeles. Part of our mission at Greenway is to unite communities. We're always looking for ways to support companies like Urban Theatre Movement, who are out there doing great work. We are thrilled that UTM is the first Los Angeles theatre company recipient of the Greenway Residency Program, " said Co-Founder and Co-Artistic Director Whitney Weston of Greenway Arts Alliance.
"When we started Greenway, Oliver Mayer was the talk of the town with his powerful play, Blade to the Heat. It took us twenty years to get his talent on the Greenway stage but it was well worth the wait," added Co-Founder and Co-Artistic Director of Greenway Arts Alliance, Pierson Blaetz.
"Federico Garcia Lorca wrote his greatest work even as Spanish Fascism overtook his country, and snuffed out his life. In our own time, fascist impulses have not taken over our country (yet), but it is up to us to fight for our art and community," said playwright Oliver Mayer. He added, "I took a great character from Lorca and placed her in our American moment. She can help us put an unforgettable face on DACA, The Wall, race and gender inequality, and sexual identity. I wrote this play for Urban Theatre Movement, LA's most diverse theatre company."
The cast of YERMA IN THE DESERT features:
Jean Murillo as Yerma
Urban Theatre Movement's Blood Match by Oliver Mayer,
Greenway Court Theatre's Get Down Festival.
Anthony Bryce Graham as Juan
A graduate at USC's esteemed Graduate acting program.
Brenda Banda as Trini
Urban Theatre Movement's co-founder and establishing artistic director,
Playwright's Arena's The Hotel Play directed by Jon Lawrence Rivera.
Essence Brown as Dolores
A founding member of Urban Theatre Movement,
original member of UTM's Ivy League Improv Troupe.
Marilyn Fitoria as Olga
The Skylight Theatre Company's world premiere of The Lost Child
in the leading role of "Angelica."
Chris Gavilanes as Tamaler/Juan Guerra
Urban Theatre Movement's Blood Match by Oliver Mayer,
Spit: The Light Within the Darkness.
Meghan Lewis as Rhoda
Urban Theatre Movement's Replica by Paul Tully, Wicked Lit.
Gisla Stringer as Rita
The award-winning production of Urban Unrest at the Hollywood Fringe,
West Coast Premiere of A Time to Kill at Theatre 68.
Paul Tully as Victor
Urban Theatre Movement co-founder and artistic director,
Short Eyes at Adrienne Arsht Center and Los Angeles Theatre Center.
Spencer Weitzel as Stallworth
Urban Theatre Movement's Hardball by Seth Zvi Rosenfeld,
World Premiere of Replica by Paul Tully.
Joining Edgar Landa and Marlene Forte's creative team are scenic designer Sarah Steinman, costume designer Elena Flores, lighting designer Jeff Flowers, sound designer Corwin Evans, production manager Henry Alexander Kelly and stage manager Cristina Carillo-Dono.
Greenway Arts Alliance's 20th Anniversary celebration continues with their newly created program Greenway Residency Program featuring their inaugural theatre company, Urban Theatre Movement with the presentation of YERMA IN THE DESERT. Celebrating GAA's ongoing history of collaborating with Los Angeles theatre organizations, the residency program provide a unique partnership that utilizes shared resources to support the cultivation of new work by local and established theatre companies that lack a permanent home. This one-year residency includes one full co-production slot in a Greenway Court Theatre season and the opportunity to use the theatre's space to create and workshop additional new work throughout the year as schedule permit. Greenway Residency Program applications are by invitation only. Los Angeles theatre companies that would like to be considered for Greenway Court Theatre's 2018|2019 Season can send a letter to: Tiffany Moon, Greenway Arts Alliance, 544 N. Fairfax Avenue, Los Angeles, CA 90036.
GAA kicked off their milestone last month at the Melrose Trading Post with a community event and accolades from Los Angeles' Mayor Eric Garcetti, Los Angeles County Supervisor Sheila Kuehl, Los Angeles Councilmember Paul Koretz, Los Angeles Councilmember David Ryu, West Hollywood's Mayor John Heilman and LAUSD Superintendent Michelle King. For two decades, the nonprofit GAA has been uniting communities through art, education and social enterprise. Greenway, a community leader and role model in social enterprise, runs the Greenway Court Theatre (a professional 99-seat theater), the Greenway Institute for the Arts (an arts education program at Fairfax High School, Title 1 high school in Los Angeles) and the Melrose Trading Post (a weekly open-air arts based marketplace).
Urban Theatre Movement (UTM) is a Los Angeles based multicultural theater company that strives to produce work that mirrors its diverse communities. UTM has received critical acclaim both locally and regionally. Short Eyes, which was presented at the Los Angeles Theatre Center garnered a Los Angeles Times Critics' Pick, and when performed at the International Hispanic Theatre Festival 2012 at Miami's Adrienne Arsht Center, the production was named the "...festival's highlight" by the Miami New Times. Acclaimed playwright Seth Zvi Rosenfeld's World Premiere of Handball, which was part of New York City's annual SummerStage, received accolades from the press including The New York Times which said, "The play serves as a love letter to a constantly fading and regenerating New York." And, this Summer, UTM received a Premiere Award at the Hollywood Fringe Festival for their production of Urban Unrest.
YERMA IN THE DESERT will play at Greenway Court Theatre, 544 North Fairfax Avenue, Los Angeles, CA 90036. The production opens to the press on Friday, November 17, 2017, and plays through December 16, 2017. Performance schedule is Fridays at 8 p.m. and Saturdays at 2 p.m. and 8 p.m. November 18. General admission tickets are $30; priority reserved seating is $40, and student/senior (65+) discounted tickets are $15. Tickets are available online at GreenwayCourtTheatre.org/Yerma. For more information call 323-673-0544 or visit GreenwayCourtTheatre.org.
ABOUT THE CREATIVE TEAM
Oliver Mayer (Playwright) has written over 30 plays, including Members Only (sequel to his ground-breaking Blade to the Heat), receiving its world premiere at LATC in March 2018; and Blood Match, produced by Urban Theatre Movement at Sacred Fools in 2016. OIiver is a professor of dramatic writing and Associate Dean at USC's School of Dramatic Arts, and a member of The Temblors.
MARLENE FORTE (Co-Director). A founding member of LAByrinth Theater Company in NYC, Forte now makes her home in Los Angeles making a living as an actress. She made her directorial debut while serving as Co-Artistic Director of Company Of Angeles with Henry Ong's Farbric. As a member of UTM
she is thrilled to join Edgar Landa again, who directed her in Oliver Mayer's Blood Match, this time as his Co-Director.
EDGAR LANDA (Co-Director) is an actor/director and creates fights & violence for theatres large and small. Recent directing credits include: The Tempest, Taming of the Shrew and A Midsummer Night's Dream (Thin Air Shakespeare - Jackson Hole, WY); Chavez Ravine (Loyola Marymount University); If You Can Get To Buffalo and The Offending Gesture (Son of Semele Ensemble). Edgar serves on the faculty of the USC School of Dramatic Arts and is a long-time collaborator of Son of Semele Ensemble and Shakespeare & Company. He is a proud AEA member and supporter of the Los Angeles 99-Seat intimate theatre community. #pro99
GREENWAY ARTS ALLIANCE (GAA) - Since its 1997 inception, the Greenway Arts Alliance has united communities through the arts, education and social enterprise. Through Greenway Court Theatre's professional theatre productions, Greenway Institute for the Arts' education programs and the Melrose Trading Post's weekly art-based open market, Greenway Arts Alliance builds a vibrant artistic community in the heart of Los Angeles. GAA has modeled an innovative partnership with the Fairfax High School campus to leverage community resources to connect the profession artistic and public education communities around a commitment to learning and creation in the arts. Greenway Arts Alliance was Co-Founded by artists-activists Whitney Weston and Pierson Blaetz, both of whom serve as Co-Artistic Directors for the organization.
GREENWAY COURT THEATRE - Greenway Court was initially built by Fairfax High School students in 1939 as a class project and used as a Social Hall by both students and faculty. It sat virtually unused for many years until it was finally renovated into a professional 99-seat theatre by Greenway Arts Alliance in 2000, to benefit both the school and the surrounding community.
Greenway Court Theatre has a rich history of presenting and producing diverse bodies of work. Greenway has opened its door to many main-stage productions, weekly open mic poetry, festivals and world premieres that have moved to larger venues and toured across the country.
Tiffany Moon serves as Greenway Court Theatre's Producing Director.
GREENWAY INSTITUTE FOR THE ARTS - An arts education program in theatre, dance and film for students at the Fairfax High School, a Title 1 high school in the Los Angeles Unified School district. Greenway Institute for the Arts promotes arts education though both in-class and after-school programs in theatre, dance film. Through the generosity of our funders, classes and workshops are provided free of charge to Fairfax High School students. Presented with opportunities to engage with professional artists, young people are able to discover their individual voices and passions that can lead to careers in the arts.
MELROSE TRADING POST - A pioneering arts-based marketplace held every Sunday on the Fairfax High School campus. Every Sunday, the Melrose Trading Post offers a constantly evolving experience, with a curated selection of handcrafted artisan goods, eclectic art and craft, vintage fashion, antique furniture and one-of-a-kind treasures.
Through admission and vendor fees, the Melrose Trading Post has grown to become the most successful ongoing social enterprise program in the history of Los Angeles Unified School District, awarding grants to Fairfax High School organizations for sports equipment, beautification projects, teacher programs, theatre productions, and more - totaling well over seven million dollars since the Melrose Trading Post's humble beginnings in 1997. Through Greenway Arts Alliance, the Melrose Trading Post provides formal job and life skills training to large numbers of paid and volunteer students from Fairfax High School - the first real-world job experience for many. The market also serves as an incubator to promote small community businesses and budding entrepreneurs, many of them professional artists, by providing affordable retail opportunities in a prime, high-traffic location.
Additionally, the popular weekly market has always featured local musicians. In 2014, the market expanded to include even more opportunities for local artists through an outdoor, year-long series of music, dance, theater and spoken word events via the MTP Main Stage.
Related Articles View More Los Angeles

Stories

Shows
More Hot Stories For You