Former Shriners Patient Gives Back Through Charitable Theater Production of DADDY LONG LEGS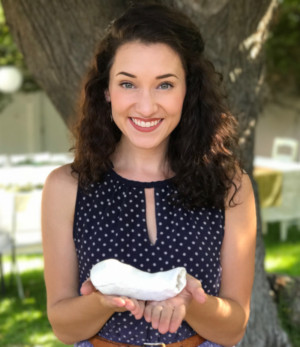 Melissa Dunham felt both thrilled and terrified when she made the decision to produce a full-scale musical production in LA. This is a completely new adventure for Melissa who is professional actor and singer, and a graduate of UC Irvine's BFA Musical Theater program. Her background has primarily been in the performance side of theatrical production, but when she listened to Daddy Long Legs' stunning score (music and lyrics by Paul Gordon) and read the script by John Caird, she knew the story needed to be told--and the thought of taking on a new challenge only made her more eager to jump into the experience.
Melissa learned the importance of making the most of her life at a very young age. While her mother was pregnant and quickly approaching her due date, the doctors anticipated that Melissa would be born with severe physical disabilities. The family was nervous, but ready to welcome Melissa into the world, whatever struggles she may face. Melissa was born with a deformed lower leg and foot which is called a clubfoot, but her parents were grateful that she was otherwise healthy and flourishing.
When Melissa (pictured above with her very first cast) was only one week old, local orthopedic doctors began the process of trying corrective casts to no avail and at nine months old, a friend of the family and local Shriner member Richard "Corky" Lower approached the family and offered to sponsor Melissa for treatment at Shriners Hospitals for Children. Shriners gave her multiple corrective surgeries and provided ongoing follow-up care until she was nine years old, all at no cost. Melissa credits not only her health, but also her quality of life and development as a person to Shriners. Says Melissa, "I wore a cast for the first year and a half of my life, and a brace every day for the next five years. For me, it was completely normal. I never felt disadvantaged. I attribute this in large part to Shriners."
This is what Melissa remembers most about her time with Shriners--the welcoming spirit and kindness that pervaded the atmosphere. She remembers actually feeling excited to go to the hospital: "Every month we would drive the two and a half hours to San Francisco, which was where our closest Shriners was. I remember I couldn't wait to go back and see all the nice nurses, especially Gloria, who welcomed us like friends!" Melissa reminisces. Melissa is a living realization of Shriners vision to "transform children's lives by providing exceptional healthcare...in a patient and family-centered environment" (from shrinershospitalsforchildren.org).
Now Melissa is using the healthy body and the passion for giving Shriners granted her to give back: ticket sale proceeds from her up-and-coming production of Daddy Long Legs will be donated directly back to Shriners Hospitals for Children.
Not only is Melissa producing the musical, an adaptation of Jean Webster's 1912 novel of the same name, she is also starring in the show as Jerusha Abbott, an 18-year-old orphan whose life is forever changed when a mysterious benefactor decides to send her to college. What transpires over the course of this intimate, two-actor play is a heartwarming story of human connection, kindness, and charity. "This is absolutely the perfect play to produce as a benefit for Shriners," Melissa says with a smile. "Both this show and this incredible organization are testaments to the amazing impact even one act of kindness can have on another person's life."
Starring alongside Melissa as Jervis Pendleton is LA actor John Shartzer, whose recent theater credits include Max in Lend Me A Tenor and Paul the Human in the workshop of Darling Grenadine. In addition, John has appeared as Ryan in season three of Hulu's Casual, and is making his network debut this fall in the pilot episode of Ghosted on Fox. The production is directed by Anna Miles, a recent graduate from the Brown University/Trinity Repertory Company MFA Programs in Acting and Directing, and musically directed by Cassandra Murphy, the Outreach Director for Cabrillo Theater, whose performance career includes such highlights as her Eddon Award winning portrayal of Eva Peron in Evita and her performance as Fantine in the Ovation Nominated LA Premiere of Les Miserables.
Because Melissa plans to donate the proceeds from ticket sales to Shriners, she is currently running an online Indiegogo campaign to raise all funds for the production. Money raised via this campaign will fund such basic production costs as theater and rehearsal space rental, rights to the script, props and costumes. The actors and directors have donated their pay back to the production as their faith in the charitable cause the show supports is compensation enough. Any and all donations are appreciated. To donate to the project, visit the show's Indiegogo campaign at https://www.indiegogo.com/projects/daddy-long-legs-the-musical-losangeles#/, or for information, email daddylonglegsLA@gmail.com.
Daddy Long Legs will perform at the Two Roads Theater in Studio City for one weekend only, Thursday September 21st, Friday September 22nd, and Saturday September 23rd at 8 pm and Sunday September 24th at 2 pm. Presale tickets are available on Indiegogo, and general admission tickets will be available at www.brownpapertickets.com September 1st.