FLIGHT Opens This Week at the Long Beach Playhouse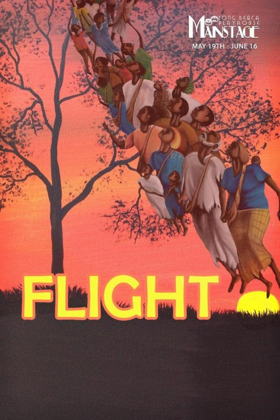 In 2005, Charlayne Woodard wrote a play entitled Flight. Set in 1858, on a Georgia plantation, a young mother is suddenly sold, leaving behind her husband and their five-year-old son. Through a magical evening of storytelling, music and dance, their community shares the rich history that makes them so much more than slaves. Sharing this rich oral tradition not only comforts the father and son, but heals and strengthens the entire community; the audience has the privilege of going along for the ride.
"One of Ms. Woodard's motivations for writing this play was to reach teenagers who knew nothing of their ancestry and the details of the slave experience," said Executive Director, Madison Mooney. "She wanted them to hear the stories and hear the voices of the storytellers."
"When a slave named Sadie is sold to another plantation her grieving son climbs into a tree and refuses to come down," said Sean Gray, Artistic Director for the Playhouse. "Although Jim is an unseen character, he is the reason the community comes together to tell their stories."
The director for this show is Rovin Jay. He brings more than 30 years' experience acting and directing to this production.
"At a time when most slaveholders forcibly suppressed the languages, customs, and cultures of the individuals they enslaved, black slaves often turned to singing and storytelling as a means of expression, as they had traditionally done in Africa," said Jay. "Their nightly entertainment included tales about the world's creation, heroic deeds, and magic in the form of parables, which conveyed ideals, morals, and cultural values to the listener. The stories kept the African folktales alive and gave some respite from the unbearable hardships of slavery, if only briefly."
The cast of eight includes dancers, a drummer and the storytellers. Five of the cast members are making their Playhouse debuts. They are: Ebonie Marie, Dupre, Ebony Randall, Denzel Roseboro, and Felicia Baxter-Simien. Returning actors are Rayshawn Chism, Latonya Kitchen, and David P. Lewis.
Rovin summed up the power of the show saying, "In this show our storytellers attempt to bring comfort to a young boy. The place we have come to is their safe place. It is their stage, their theater. May their tales of magic, community, love and hope transcend their world and extend into yours."
The show opens May 19 and runs through June 16.
SPECIAL EVENTS FOR THIS PLAY:
Pay what you can Dress Rehearsal Thursday May 17 - community can see this production for whatever they can afford
Two for One Preview Friday May 18 - Tickets are $10.00
Opening Night Champagne Reception with cast on May 19 - Tickets are $27.00
Ticket Pricing:
Friday: Adults are $20.00, Seniors $18.00, and Students $14.00
Saturday and Sunday: Adults are $24.00, Seniors $21.00, and Students $14.00.
Tickets are available at www.lbplayhouse.org, or by calling 562-494-1014, option 1.
To request an interview with the director, cast members or reserve your media tickets to this performance, please send an email to: pr@lbplayhouse.org.
Long Beach Playhouse is located at 5021 E. Anaheim St., Long Beach, CA, 90804, right across from the Long Beach Recreation golf course. The Playhouse is community-supported theatre with programs and events that cut across age, gender, ethnic, and cultural boundaries.
Performances are 8 p.m. Friday, and Saturday and 2 p.m. Sunday. The box office is open Wednesday-Saturday from 3:00-8:00 pm and Sundays from 1:00-2:00 pm on scheduled matinees.
Promotional Design: Daisy Ramirez