Ensemble Studio Theatre/LA Presents LAUNCHPAD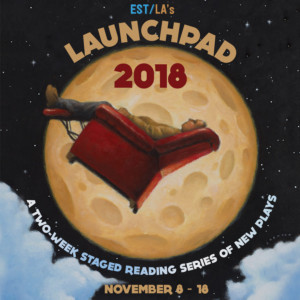 Developing new voices in theatre, Ensemble Studio Theatre/LA draws from a wealth of talent, which includes NYFA, NEA, Guggenheim, Obie, Emmy and Writers Guild Award winners. Launchpad offers seven full-length plays, and four short plays. This series is a showcase of plays in long-term development from EST/LA's Playwrights Unit and New West playwrights.
"Launchpad is an annual EST/LA curated two-week festival of new-play staged readings. These works are in the final leg of development and they often become part of our next main stage season, offering audiences a look at brand new works encompassing current topics and lifestyle," explains Keith Szarabajka, Co-Artistic Director.
Produced by Keith Szarabajka and Kevin Comartin, the featured playwrights include Don Cummings, Marla DuMont, Anne Flanagan, Tony Foster, Elin Hampton, Michael Kaplan, Ron Lagomarsino, Ken Levine, Gabriel Neustadt, Mary Portser, and Ashley Rose Wellman.
Ensemble Studio Theatre/LA nurtures the development of new plays by theater professionals and is a gateway to other development programs. The Launchpad series is presented with minimal design in the lighting and sound, each work is read and directed by professionals who are working in Los Angeles theatre. The company is currently guided by Kevin Comartin, Liz Ross, and Keith Szarabajka (Co-Artistic Directors), William Duffy (Executive Director) and Christopher Reiling (Producing Director).
Full-length new plays include: Lineage, Hot Tragic Dead Thing, The Water Tribe, Tail of the Bell, Our Time, Waltzer and the Wonder Wild, and Jerome.
Short new plays include: Stella, The Last Hurrah, A Perfectly Understandable Misunderstanding, and Christmas Fate.
Free parking lot ½ block from theatre on Casitas Avenue next to Momed's Restaurant, or on the street.
Directors include Brad Bentz, Bob Burgos, Lauren Campedelli, Bill Charlton, Kevin Comartin, Christopher Curry, Ron Lagomarsino, Rod Menzies, Tony Pasqualini, Christopher James Raymond, Shaina Rosenthal
Website: http://www.estlosangeles.org Facebook event page: https://www.facebook.com/events/173307083596850/