Emmy Winning Digital Drama Joins OUTFEST Worldwide Live Watch Party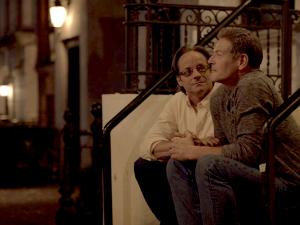 On Saturday, June 27th After Forever Season 2 joins Outfest's inaugural United in Pride digital film festival for a live virtual watch party starting at 4:30PM PST at unitedinpridefest.com.
The cast and crew will live tweet along with the audience. Immediately following the screening at 6:00PM, the creators and cast will join a live Q&A moderated by Outfest Artistic Director, Damien Navarro. The Q&A will simulcast @Outfest on Facebook, YouTube and Twitter.
Participating in the Live Q&A are 2019 Emmy Award winning Creators
Michael Slade
and
Kevin Spirtas
, Season 2 Director Tina Cesa Ward, and cast members
Mitchell Anderson
(2019 Emmy Nominated),
Mike McGowan
,
Erin Cherry
(2019 Emmy Winner),
Jamison Stern
,
Jonathan Rayson
,
David Dean
Bottrell, This event follows the celebration of Season 2's three Independent Series Award wins including Best Drama and Best Director (Tina Cesa Ward) and six Daytime Emmy Award Nominations including Outstanding Digital Drama Series. Daytime Emmy winners will be announced later this month. Season 2 of After Forever picks up 6 months after Season 1 ended. Brian (2019 Emmy Award winner,
Kevin Spirtas
) is dating David (
Mike McGowan
) with whom he was set up at the end of Season 1 by his late husband's parents, Frannie and Carl (2019 Emmy Award nominee
Anita Gillette
, and
Lenny Wolpe
). Brian, with the help of family and friends is determined to move forward. However, moving on from the loss and memory of his husband, Jason (
Mitchell Anderson
), is extremely complicated. After Forever has gathered rave reviews for telling the rarely seen story of vibrant, active, diverse "grown-up" gay men... a group who, like women, tend to disappear from television and film once they are no longer 20- or 30-something, not returning until they are elderly and non-sexual. It also received kudos for its unflinching honesty in dealing with loss, while still maintaining a sense of humor and of hope for the future, and its ability to touch a wide audience. After Forever has attracted an enormous and incredibly diverse audience base of all ages, sexes, sexual identities and genders, who are extremely vocal on social media and in letters sent directly to the show about how much they love the characters and story, and in many cases, how the series has helped them move through their own grief or better understand the grief that a friend or loved one is going through. Season 2 of After Forever was again Executive Produced by its creators,
Michael Slade
and
Kevin Spirtas
, and Produced by Allison Vanore. This season was also Executive Produced by
Laura Z. Barket
,
Drew Desky
,
Ken Fakler
,
Dane Levens
,
Jerry Meyer
, Roz Meyer,
Ted Snowdon
, Arnold R. Spirtas, Sandra T. Spirtas,
Dan Stone
, and
Duffy Violante
and Co-Executive Produced by Scott Adler, Peter M. Benassi,
Jamie deRoy
, William Fernandez, Matthew P. Hui,
Jim Kierstead
, Alan Long, Julie Michaels, Allan D. Rich, Lawrence S. Rich, Ryan Salame, Scott Michael Salame, and Joe Scott. Outfest's United in Pride, an inclusive platform that celebrates, elevates, and amplifies the voices of LGBTQ+ filmmakers, storytellers, and creators, in partnership with Billboard & The Hollywood Reporter's Pride Summit and Film Independent's Project Involve. Access United in Pride at
unitedinpridefest.com
.