Coeurage Theatre Company Announces 10th Anniversary Season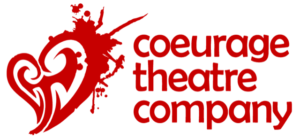 Coeurage Theatre Company LA's only Pay What You Want theatre company, has announced its 10th Anniversary Season as well as Coeurage CoLab Cozy Corner, a fundraiser featuring presentations from plays in development or being considered for future productions. The event is set for Sunday, January 20, at 6pm at Shatto Chapel at First Congregational Church of Los Angeles, 540 S. Commonwealth Avenue in LA, 90020.
The Coeurage CoLab Cozy Corner benefit event will feature presentations from plays currently in development at Coeurage or being considered for future production: Misfit Stories by Meghan Brown and Imogen Says Nothing by Aditi Brennan Kapil, and a full-length reading of The Vampire by June Carryl.
The 10th Anniversary Season plays are: Samsara by Lauren Yee, Sucker Punch by Roy Williams, and Under Milk Wood by Dylan Thomas, a production of which was part of the company's premiere season in 2010.
In Samsara, Katie and Craig are having a baby with a surrogate who lives in India. A month before the baby's due date, Craig reluctantly travels to the subcontinent where he meets Suraiya, their young, less-than-thrilled surrogate. As all three 'parents' anxiously await the baby's birth, flights of fancy attack them from all sides in the form of an unctuous Frenchman and a smart-mouthed fetus. A whimsical take on modern day colonialism, Samsara will be directed by Rebecca Wear. Opens in April.
Set in the 1980s, Sucker Punch takes place in a south London gym owned by a small-time, pugnacious Thatcherite, Charlie, who sees talent in two local teenagers. Under Charlie's tutelage the conformist Leon becomes a contender, going on to win British and European title belts. But he is accused of being an Uncle Tom, and not just for sacrificing his love for the boss's daughter to his ambition. Troy, on the other hand, always in trouble with the law, decamps to Detroit and is spotted by a powerful black promoter who inevitably pits him against his old friend Leon. Directed by Michael A. Shepperd, Sucker Punch opens in June.
Director Ryan Wagner returns to the helm to revisit the acclaimed Coeurage production of Under Milk Wood by Dylan Thomas. This classic American play is perhaps best described as an exploration of a sea of dreams one night and day in the life of the little Welsh Village that never was. Opens in August.
Admission for the Coeurage CoLab Cozy Corner benefit event on Sunday, January 20, at 6pm is Pay What You Want in advance and $15 at the door, subject to availability. Tickets may be purchased online at www.coeurage.org/coeurage-colabs-cozy-corner or by phone at (323) 944-2165.
More Hot Stories For You