Bobby Love Showcases his Incredible Fantasy Couture Designs at Sanctuary Style, Art & Music
Last year when I attended a show at Three Clubs in Hollywood, I was seated next to a young man who was dressed as if he was the Mad Hatter. My curiosity led me to ask him about his costume, and he then introduced himself as designer Bobby Love and shared some photos of his various fantasy designs with me. I was so impressed, when I found out he was going to be a part of the Sanctuary Style, Art & Music event during LA Fashion Week, I knew I had to be there. But nothing prepared me for the delightful evening of fashion I was about to experience.

About Sanctuary Style, Art & Music:
Gray Haze Media produced another season of Sanctuary Style, Art & Music on March 7, 2019 during LA Fashion Week at the gorgeous St. John's Cathedral in historic Downtown Los Angeles.
The fashion week event attracted a standing room only crowd who were spellbound by the highly produced fashion shows by such designers as: Glaudi Bridal by Johana Hernandez, Kiki Wang, Bobby Love Couture, Christine Manthey, and many more!

The event began with red carpet arrivals beginning at 4pm with continuous exhibits, entertainment, and runway shows until 11pm. Between shows, performances by several recording artists including DJ's (including 10 year old Phenom, DJ Austin B7), dance and visual artists, as well such as an art exhibition of the late Jose Manuel Schmill which attracted audience attention.
For additional information about future events, please contact show producers at sanctuaryfw@gmail.com or 310.270.3955

More About Bobby Love: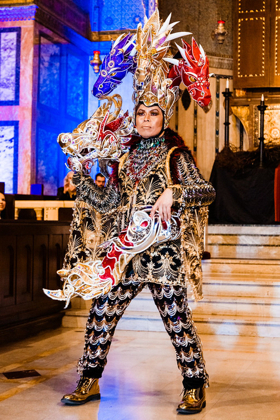 Bobby Love is an American fashion designer known primarily for creating designs in the genre known as fantasy couture. Love has identified Salvador Dali, Alphonse Mucha, and the Art Deco master Erte as major inspirations for his style, and the mechanical parrots which appear in his sets are named "Erte" in his honor.

Love was born in Hong Kong and grew up in Singapore before moving to the United States to enroll as a student at Chapman University, a private university in Orange, California, at the age of 16. Following this, he earned two master's degrees, one in business administration and another in psychology, from the University of Southern California. His first employment was as a graveyard shift worker at a psychiatric hospital, a job he held for three years.

Love began sketching fashion designs at 14, and became involved in the fashion industry of Hollywood, California after moving there at the age of 20.
His designs are usually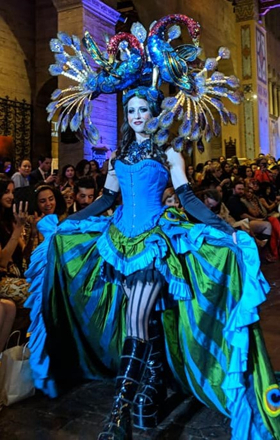 presented as "suites" that are recorded in professional photographs: these are vignettes including head dresses, costumes, and jewelry that derive from a specific fantasy theme supported by set backgrounds, props, flamboyant costumes, and sometimes other models as well as Mr. Love himself. Love has worn these costumes at fantasy-themed events on the American West Coast, including the Edwardian Ball, Vampire Ball, Labyrinth of Jareth Masquerade Ball, and the Renaissance Pleasure Faire of Southern California, and has changed costumes and props multiple times during some of them.
He assembles between 30 and 40 costume suites per year.

His works were featured in the 2016 Avant Garde Magazine runway show, the 2016, 2018 and 2019 Los Angeles Fashion Week and Metropolitan Fashion Week events held in Los Angeles, California, and he was given a "Certificate of Recognition" by the mayor of the City of Los Angeles, Eric Garcetti, for his contribution to fashion industry at the 2018 event. He has appeared twice on the cover of AVANT GARDE Magazine, with the magazine's November 2018 issue being dedicated to him as a "special designer." Click here to see a copy: http://www.magcloud.com/browse/issue/1532966


Love curates his designs in a private collection with the intent of donating it to American art museums to make them accessible to future designers and artists. His inventive designs are so unique, I encourage you to follow him at https://www.facebook.com/BobbyLove.Fashion/ and grab tickets for one of his upcoming fashion show appearances!