BWW Review: Thrilling New SWEENEY TODD Slays at OC's South Coast Repertory
Admittedly, after experiencing South Coast Repertory's potent and captivating new production of the moody Tony Award-winning musical SWEENEY TODD: THE DEMON BARBER OF FLEET STREET, I'm hard pressed to remember the last time I was both this deeply moved and this excitedly riveted by Stephen Sondheim's macabre tale of a murderous barber hell-bent on exacting revenge.
A curiously odd but strangely engrossing show peppered generously with dark humor, tragically-romanticized notions, and contrasting serious overtones, SWEENEY TODD's latest iteration in Orange County---now on stage in Costa Mesa through February 16, 2019---is a thrilling, quite distinctive new reinvention, that feels like a fresh pop-up play put on by a traveling Vaudevillian troupe that time-travelled from the past to give us modern audiences a live cautionary reenactment of a 19th Century Penny Dreadful story that may just be too strange not to be true.
Dickensian darkness mixed with Steampunk sensibilities and Shakespearean machinations, this production---helmed with an affection for grand theatricality and bewitching melodrama by Kent Nicholson---emphasizes the harmony of style and substance, while also highlighting the brilliance of Hugh Wheeler's witty book, Sondheim's challenging but purposely erratic score, and the palpable prowess of its acting troupe.
From the chilling opening prologue that begs the audience to "attend the tale"---basically a "warning" about the gruesome story these "players" are about to recreate for us---to the tragic ending we all knew was inevitably coming, this almost avant-garde SWEENEY TODD is creatively and visually rich, despite its lack of expected complex special effects or a cast of familiar marquee names that, ahem, play their own musical instruments.
Rather, this bloody-good (sorry, couldn't resist) production relies primarily on the over-the-top performances of its stellar ensemble cast, led by the brooding, deep-voiced intensity of the superb David St. Louis as the titular barber and the first-rate comical tour-de-force that explodes from Jamey Hood, who plays the dementedly daffy pie-maker Mrs. Lovett. Together, both accomplished, talented thespians are electric and fiery---vividly representing two very broken people who somehow come together and be eerily okay with their eventual, morally despicable scheme---and this back-and-forth "banter" they trade translates into a shaky, but mutually-beneficial alliance that is shrouded in secrets and lies.
For a musical steeped in death, gloom, and despair, SWEENEY TODD is, surprisingly enough, an incredibly funny musical. The bawdy and, at times, depraved humor produces a fair amount of giddy laughs, even in places that laughs should probably not even factor. Out of all the SWEENEY TODD productions I've seen thus far, I noticed that this SCR iteration produced more audible laughter than previous ones I've experienced (at one point, I even turned to my friend and asked, "should [we] be laughing at this?"
Actually, what is notably impressive with this SCR production is the gamut of varying emotions that suddenly arise where none had before. Yes, at one point, during a creepy solo from the creepy Judge Turpin (the excellent Robert Mammana), I accidentally blurted out "Ewwww" much louder than any audience member---or any critic, for that matter---should probably utter out loud in the middle of a show. It is just such a reaction, at least for me, that made this SWEENEY TODD much more lively and worthy of audiences' investment.
But despite the plethora of disturbing (but, yeah, entertaining) content that swirls around the musical, its true driving force is, strangely enough, the very human but sometimes troublesome need to be loved. Almost every major character craves love (sadly, sometimes unrequited) in some way---some more disturbingly than others, of course.
Yes, deep inside the now battered, gruff exterior of Sweeney Todd are the remnants of a normal, content man previously known as Benjamin Barker, a once renowned shave-and-cut man with a beautiful family---a wife and young daughter. But his life is suddenly upended when Judge Turpin, who jealously lusts after Barker's wife, arranges for Barker to be falsely imprisoned far away, thereby freeing Barker's wife for himself.
Several years pass and Barker is now back in the gritty streets of London, a city rife with grime, corruption, and men of evil intentions... at least in this more down-trodden view. The understandably enraged Barker---armed with a new name and a changed appearance---has a new obsessive goal: to exact revenge on the man who stripped his life away those many years ago.
He returns to his former dwelling where he once lived, now above a "meat" pie shop owned and operated by Mrs. Nellie Lovett. Mrs. Lovett instantly recognizes that this Sweeney Todd is really the former Mr. Barker and drops the bombshell that his long-deceased wife Lucy had poisoned herself and that their now teen-aged daughter Johanna (the lovely-voiced Juliana Hansen) is living under Judge Turpin's watch, caged like a bird.
Determined even more with getting his revenge on, Sweeney sets up a new barber shop above the pie restaurant with Mrs. Lovett's lovestruck encouragement. The pie maker is so clearly still in love with the barber that she even kept his precious razors after all these years, hoping he'd return to claim them.
Soon enough, after an unscheduled murder occurs in Todd's new shop, Todd and Mrs. Lovett hatch a devilish plan that involves Todd ridding London of its rich and greedy citizens who find themselves unluckily sitting in his chair. This, in turn, provides Mrs. Lovett with the "raw ingredients" she needs to make the worst---but inexplicably tastiest---pies in London.
Meanwhile, handsome young Anthony (a dashing Devin Archer), who befriended Mr. Todd on his journey back to London, falls madly in love-at-first-sight with yellow-haired Johanna from a distance, unbeknownst to the fact that Johanna is actually Mr. Todd's now grown daughter. But Anthony's obsession with "freeing" Johanna from the creepy clutches of Judge Turpin may be a blessing in disguise---it may just be what leads the nobleman to seek shaving services from Mr. Todd at some point.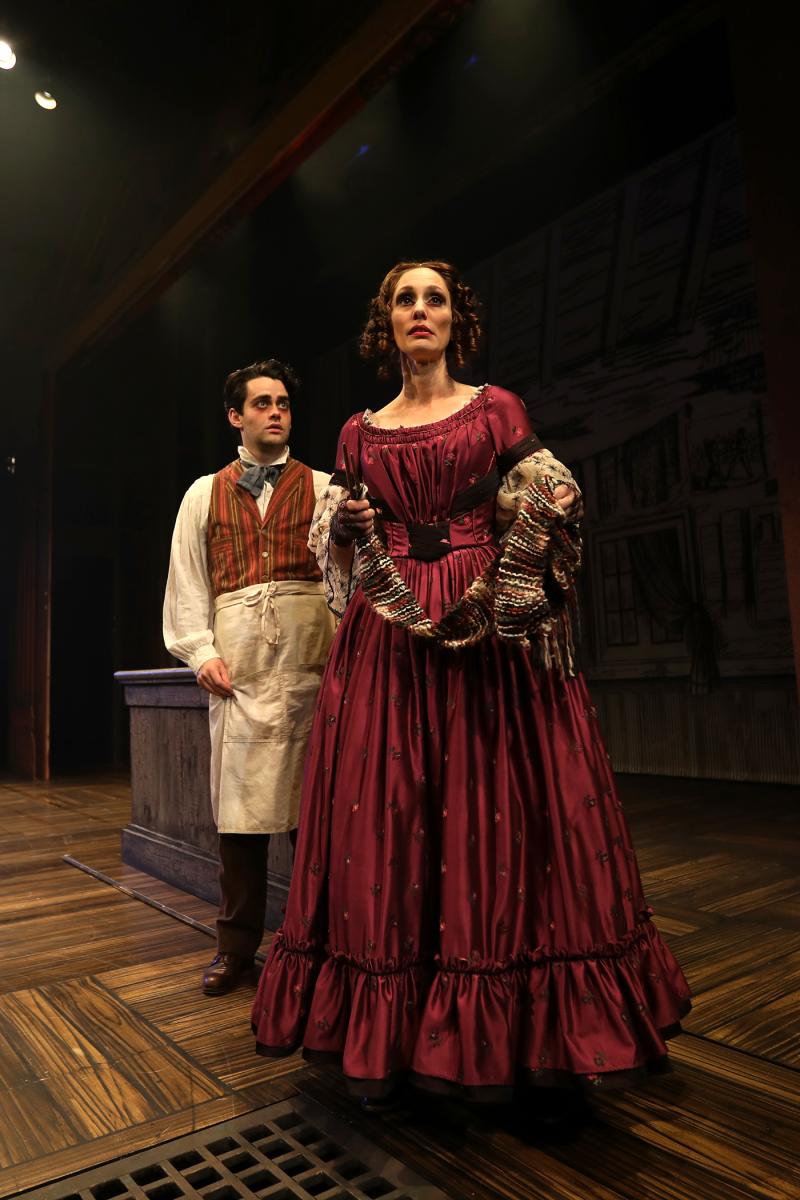 Beautifully operatic in nature despite its almost pulp-horror origins, SWEENEY TODD is both surprisingly cheeky and savagely serious at the same time, a dichotomy that serves its psychologically complex material well. The SCR production works even better because of its close intimacy of presentation and, therefore, the immediacy of its impact for its audience. Aside from being just a spectacularly performed musical overall, this SWEENEY TODD feels more genuinely visceral and menacing and, yes, funny than ever before.
Here, Mr. Todd isn't just scary AF for sure, but he is also surprisingly relatable in his motivations, as reprehensibly murderous as they are. Beneath that perpetually angry surface lies a man so hurt that it's no surprise that any semblance of decorum or humanity has already been chipped away too much to make his action(s) reversible. With all rational thoughts stripped away, his wild but instinctual schemes with Mrs. Lovett doesn't seem that outlandish in his mind. Mrs. Lovett, nursing a one-sided, long-held crush on the barber herself, takes advantage of Todd's vulnerability and state of mind and uses it as a way to gain his companionship, morality be damned---not that she had much to begin with.
In this production filled with notable superlatives, the cast performances rank as the production's most quickly identifiable assets. The show's 11-member ensemble---a remarkable feat to boast considering larger casts are usually the norm for this show---approach this SWEENEY TODD with voracious commitment, going all out whether dispensing comedy or tragedy. The Ahhcctting (with a capital A) displayed here is bombastically over-the-top enough not to seem like they are mocking the material, but rather they are, as thespians, essaying the material in the outlandish methodology that it deserves, and the audience, naturally, eats it up (no pun intended).
St. Louis' booming bass-baritone voice adds an extra layer of menace to his massive footprint as Sweeney, and in a perfect contrast, Hood's hilariously cockney-and-grime shrill delivery is one of my favorite depictions of the pie-maker I've seen so far. Archer and Hansen turn in admirable work (and buttery vocals) as Anthony and Johanna, respectively, the would-be paramours we hope would come out unscathed in this dark story (incidentally, Archer made my Best of 2018 list and was delighted to see his latest so soon after making my year-end roundup). Mammana skillfully portrays Turpin as an extra creepy character worthy of our disdain (as well as Todd's).
Also worth noting: Erica Hanrahan-Ball is quite memorable with each appearance as the crazy but mysterious alms-crying Beggar Woman; Conlan Ledwith is great as adorable barber's assistant-turned-pie shop bus boy Tobias Ragg (his genuinely earnest "Not While I'm Around" is sweetly delivered); Roland Rusinek earns plenty of laughs as potential Todd rival Adolfo Pirelli (his exuberant work in "The Contest" had the audience howling); and finally Nicholas Mangiardo-Cooper is terrific as the conniving and intrusive Beadle Bamford (bravo on hitting those counter-tenor notes in Sondheim's demanding score!). Brent Schindele (Jonas Fogg) and Katy Tang round out the cast playing several various characters throughout the show.
Elsewhere, SCR's SWEENEY TODD can also be lauded for musical director David O leading the show's gorgeous-sounding loft-perched orchestra---giving Sondheim's score a discernible liveliness; for Lap Chi Chu's striking and mood-enhancing lighting design; for Kelly Todd's sharp movements and choreography; for Melanie Watnick's outstanding assemblage of appropriately distressed costumes that transports the audience to the era of the story; and for Cricket Myers' enveloping sound design that filled the room with notable ambiance.
Of course, it is worth singling out John Iacovelli for his dark-hued set that frames graphical wood-cut illustrations that harken back to Dickensian book illustrations that barely scratched the surface of the realities of that era. This is not the London of Royals or even the high born... it is it's filthiest and most unhygienic, filled with the dirt and stench of the poor and downtrodden---the very environment that someone like Todd and Mrs. Lovett can thrive in without much suspicion.
Flat, illustrated backgrounds force the characters---and the incredible actors tasked to play them---to pop out like three-dimensional beings on a stage that feels like reassembled remnants from Shakespeare's Old Globe Theater, time-worn and stained with Todd's recent activities and the musical's nightmarish storyline. The vaudevillian title curtain hammers home this thematic detail.
Quite possibly the most exciting production I've ever seen of this Sondheim curiosity, SCR's production of SWEENEY TODD is exactly how one would picture this musical to be done: as an intimately-staged dark comedy with operatic aspirations, a deep seriousness, and a surprising presence of heart, even as the main character hacks away one unsuspecting victim at a time. Does laughing at these horrific scenes mean we as a society are much too numb to react in any other way? Perhaps. But because we know that the inevitable comeuppance is coming, it is, maybe, okay to laugh temporarily... even at such horrors.
Sondheim's knife-stab rhythms paired with lush ballads and playful lyrics reiterate the multiple personalities of SWEENEY TODD---both the character and the musical---reminding us all that despite the presence of evil, love can still be the great emancipator, most of the time.
-----
Photos by Jordan Kubat for South Coast Repertory.
South Coast Repertory presents SWEENEY TODD: THE DEMON BARBER OF FLEET STREET
Music and Lyrics by Stephen Sondheim. Book by Hugh Wheeler. Based on the adaptation by Christopher Bond. Musical Direction by David O. Directed by Kent Nicholson.
Performances of SWEENEY TODD: THE DEMON BARBER OF FLEET STREET continue at South Coast Repertory through February 16. Tickets can be purchased online at www.scr.org, by phone at (714) 708-5555 or by visiting the box office at 655 Town Center Drive in Costa Mesa.
* Follow this reviewer on Twitter: @cre8iveMLQ *