BWW Review: Rubicon Theatre's RETURN TO THE FORBIDDEN PLANET is Scintillating Sci-Fi Fun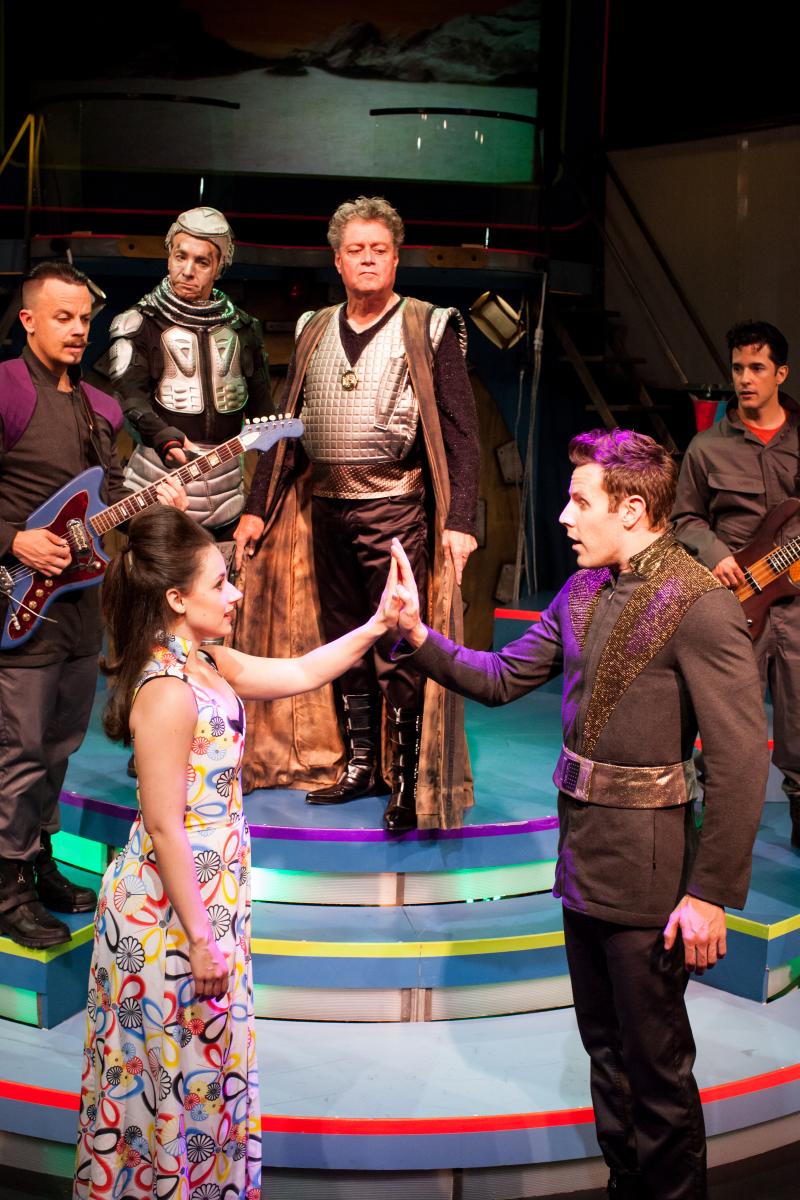 Rubicon Theatre Company lands a winner with its latest musical comedy RETURN TO THE FORBIDDEN PLANET by Bob Carlton. The silly sci-fi confection is two hours of deliciously kitschy fun accompanied by a rock and roll score that blasts out more than twenty hits from the '50s and '60s and a dynamite cast that spews planetary puns and classical text faster than the speed of light.
Loosely based on FORBIDDEN PLANET, one of the best science fiction films to come out of the 1950s, it also takes shots at just about every Shakespeare play you can think of. You'll hear lines of iambic pentameter - many twisted into fresh new comic punchlines - from THE TEMPEST (which also supplies the names of the major characters) and a host of others like ROMEO AND JULIET, HAMLET, MACBETH, RICHARD III, JULIUS CAESAR, TWELFTH NIGHT, and KING LEAR. There's even a line from one of the sonnets thrown in for good measure.
The musical takes place aboard a space ship led by the charismatic Captain Tempest (Harley Jay). He and his crew are about to embark on a new mission, "Scientific Survey Flight Nine" which also includes the audience as fellow travelers. Once emergency instructions are dispatched (what could go wrong?) the ship launches and we're off to the races.

Carlton makes it easy to follow the plot - simply pay attention to the songs he uses to tell the story. "It's a Man's World" sets up a gender rivalry between the Captain and Gloria (Rebecca Ann Johnson), the sexy Science Officer, and during blastoff the whole ensemble sings a rousing "Great Balls of Fire" to kick the action into high gear. When an asteroid hits and the ship is thrown off course, Prospero (James O'Neil), a defector who has been missing for fifteen years comes to their aid. Turns out he's been living on the planet D'Illyria (TWELFTH NIGHT reference anyone?) conducting scientific experiments that he claims are not what everyone thinks ("Don't Let Me Be Misunderstood").
The Captain meets Prospero's quirky robot helper Ariel (Jason Graae) and beautiful daughter Miranda (Kimberly Hessler) singing "Good Vibrations" but it's also love at first sight for Cookie (Caleb Horst), the cook, when he spies the girl. Encouraged by the Bosun (Craig McEldowney) to woo her with a kiss ("The Shoop Shoop Song") Cookie makes his approach, but Miranda has already fallen for the Captain ("A Teenager in Love") who tells her she's too young for him ("Young Girl").
Much mayhem occurs as Gloria's true identity is revealed, Cookie vows to help her steal Prospero's secret formula, and an unidentified green monster attacks the ship. And that's only Act I. The goofy story continues from there with another dozen hits in Act II until the musical wraps it all up with a typical Shakespearean happy ending.

The combination of science fiction subject matter, twisted Shakespeare, and rock and roll makes for a highly entertaining two hours, especially when performed by a cast as capable as this one. The ringer is, of course, James O'Neil whose wild-eyed rock god Prospero-in-space is one crazy dude.
Harley Jay flexes his leading man muscles and portrays Captain Tempest with plenty of nonchalant swagger, charm to spare, and a knowing twinkle in his eye. Plus, he plays guitar, and everyone knows that a guitar player never lacks for female attention.
Rebecca Ann Johnson shows off a dynamic set of pipes, belting out classics with a richness in her mid-voice that has only gotten better over time. Filling the shoes of the roller skating robot Ariel is Jason Graae, an actor who always finds a unique way to liven up a scene. If you are familiar with his solo work, be on the lookout for his oboe feature. It's hilarious.
As the sweet ingénue, Kimberly Hessler defines the word wholesome while Caleb Horst plays both good guy and temporary traitor with comic simplicity. Martin Landry's Navigation Officer is a slightly imbalanced Vulcan who is prone to comical bouts of hysteria, and the additional onstage band members add to the disarming boy band appeal of the show.

And yet there is one other cast member who was - for me - the surprising secret weapon of the show. Craig McEldowney takes a supporting role as the Bosun and turns it into an unforgettable character portrait, wielding a thick Scottish brogue and a seriously intense demeanor that finds him managing his fellow bandmates and buddies so smoothly they don't even realize he's the one making them look good. Then he lets those tenor high notes loose while playing electric guitar and it sends this send-up over the top in the best way possible. We'll have more of that, please.
From a design standpoint, the show is neon-flavored eye candy with some terrific teamwork by scenic and lighting designer Thomas S. Giamario, costume designer Pamela Shaw, prop designer T. Theresa Scarano, and video designer Dillon G. Artzer. Artzer's jumpy projections of onscreen narrator Fred Willard are a great addition to the show. All of it comes together under the guiding hand of director/choreographer Kirby Ward who nails the style of the piece and manages to accomplish quite a few surprises along the way. Musically, the show is firing on all cylinders, led by musical director Trevor Wheetman. Sound Designer Jonathan Burke adds bright atmospheric detail that enhances the fun.

RETURN TO THE FORBIDDEN PLANET
Oct 26 - Nov 13, 2016
Rubicon Theatre
1006 E. Main St. Ventura, CA 93001
Schedule: Wed at 2pm & 7pm, Thurs at 8pm, Fri at 8pm, Sat at 2pm & 8pm, Sun at 2pm.
Talkbacks follow all Wednesday evening shows
www.rubicontheatre.org
For more Los Angeles Musical Theatre news follow Musicals in LA on Facebook and Twitter.
Pictured above: Kimberly Hessler and Harley Jay with Craig McEldowney, Jason Graae, James O'Neil and Omar D. Brancato
Photo credit: Ronnie Slavin