BWW Review: LA GAZZETTA at The Ebell Club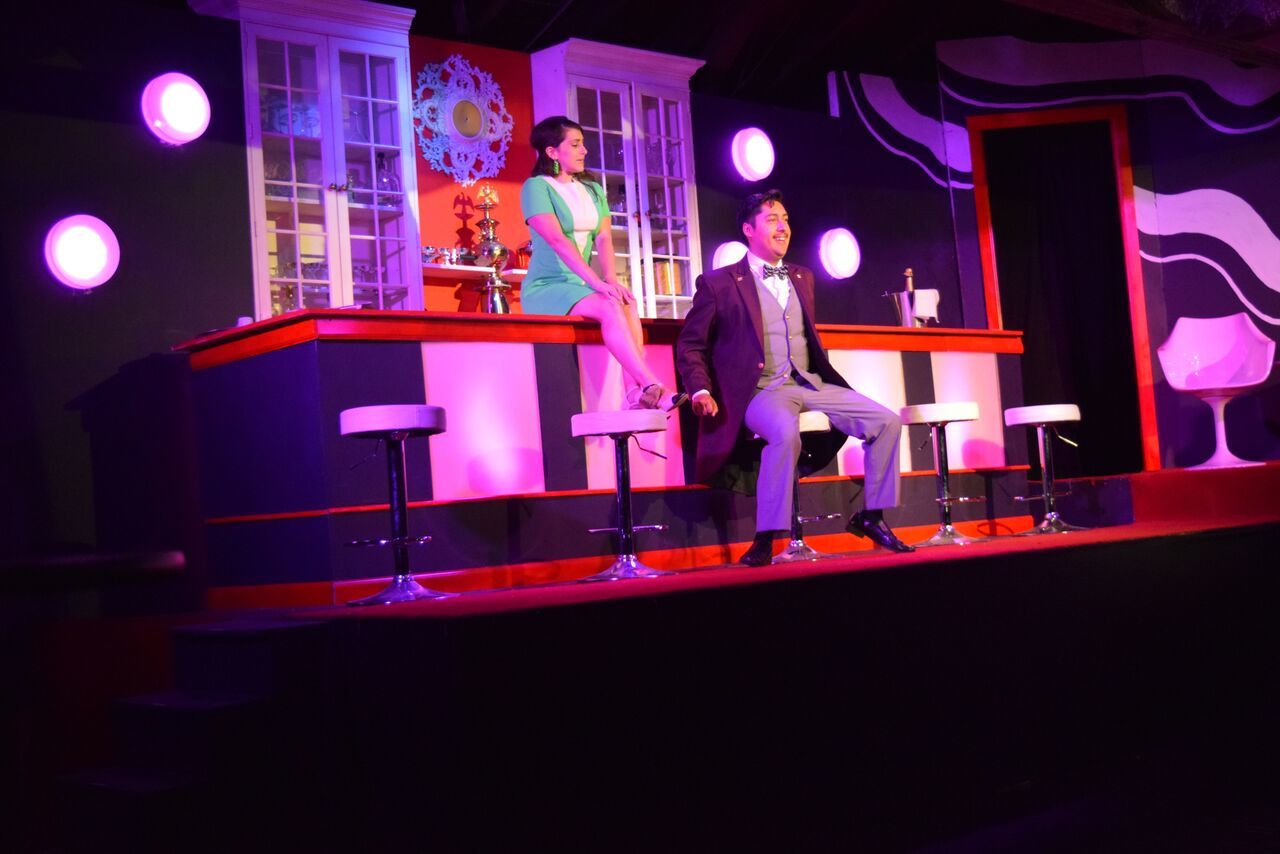 On Friday evening July 6, 2018, Pacific Opera Project (POP) presented Gioachino Rossini's little known opera LA GAZZETTA at the newly outfitted Ebell Club in Los Angeles. The area where patrons sat at tables was surrounded with a semi-circle of single seats. Every seat has been sold for the entire two-weekend run of GAZZETTA but it is likely that we will hear more from this bubbly, comic opera before long.
The leading man in LA GAZZETTA is the nouveau riche, ambitious but cowardly Don Pomponio. He is not too different a character from the father in LA CENERENTOLA. Pomponio advertises in a Parisian newspaper for a husband for his flighty daughter Lisetta. Rossini wrote the role for famous Neapolitan basso buffo Carlo Casaccia who sang it in the local dialect.
At POP, E. Scott Levin sang it in Neapolitan dialect with panache and a great deal of comic gusto. He was clad in Costumer Maggie Green's dark suit with riotous copper trim. Later, he wore a huge Johnny Carson-like turban with two long white feathers. Levin was the star of the show both physically and vocally. His trombone like bass tones made him a most worthy follower of the role's famous creator.
Following the success of THE BARBER OF SEVILLE in Rome, Rossini moved on to Naples where he staged LA GAZZETTA, OSSIA IL MATRIMONIO PER CONCORSO (THE NEWSPAPER, OR THE MARRIAGE CONTEST) in 1816 at the Teatro Fiorentini because a fire had destroyed the Teatro San Carlo. Since time was short, he borrowed music from some of his previous works, including: TORVALDO E DORLISKA (1815), IL TURCO IN ITALIA THE TURK IN ITALY, 1814), and LA PIETRA DEL PARAGONE (THE TOUCHSTONE, 1812). None of the latter three operas had ever been staged in Naples so his audience had not seen them. Later, he would reuse some of GAZZETTA'S music for LA CENERENTOLA (CINDERELLA, 1816)
Librettist Giuseppe Palomba based his text for GAZZETTA on Carlo Goldoni's 1763 play, IL MATRIMONIO PER CONCORSO (MARRIAGE BY CONTEST) and he included a great deal of the playwright's horseplay, including mistaken identities, complicated mock duels, and a Turkish masquerade complete with belly dancers. GAZZETTA is a fun evening in the theater set to some of Rossini's good music if not his absolute best. Although not quite up to the standards of THE BARBER and LA CENERENTOLA, LA GAZZETTA is entertaining and deserves to be heard more often.
Josh Shaw's staging placed the small orchestra behind the action where most of the players could be seen as part of the decor. He updated the action to a post World War II era and provided titles in modern English. Using a great many reds and darks to provide contrast, Shaw gave us the setting of a hotel lobby, a seating area with three white chairs, and a bar off to the side. His lighting changed with the mood of the show so that there was always a new piece of eye candy to feast on.
Maggie Green's costumes placed the action in the "sixties." Her women's outfits were short block-color dresses and dancing shoes. Men working in the hotel wore maroon uniforms. Even the owner had a maroon coat. Don Pomponio, of course, stood out with his metallic linings, while Doralice's father looked like a well-heeled British tourist.
Rachel Policar was an amazing Lisetta who sang the most difficult coloratura with voluminous sound while dancing and cavorting, even doing quasi-splits and lifts with chorus members. She is a natural comedienne with excellent timing that Los Angeles Opera fans can hope to see again.
As Alberto, Kyle Patterson sang high sweet tones much as he did when singing Lindoro aka Count Almaviva in Rossini's BARBER. For him high C had no terrors whatsoever and his tones resounded with mellow warmth. Baritone Armando Contreras had more rustic tones but they were strong and resonant. Together, Patterson, Contreras, and Levin presented a visually amusing and sonically pleasing trio in the first act.
Molly Clementz was a cute and perky Doralice who sang with graceful phrasing. As her father, Phil Meyer was the straight man these comedians needed to provide contrast for their physical humor. Scott Ziemann was a gay, overly obsequious Monsu Traversen. As Madame la Rose, Jessie Shulman was an "easily assimilated" old lady long before Leonard Bernstein, who sang with a plum-velvet mezzo voice that reminded me of Sunday afternoon soirees in simpler times.
Composer and conductor Brooke DeRosa not only led the orchestra but also arranged the score for flute, clarinet, bassoon, horn and strings. Pacific Opera Project is a fascinating company that always has something new to say. This time they showed us an opera most of us did not know existed. POP's next production will be Bizet's CARMEN at the Ford Amphitheater on September 1, 2018.
Photos: Martha Benedict