Review: Jazz Singer Lyn Stanley Releases LONDON CALLING A TOAST TO JULIE LONDON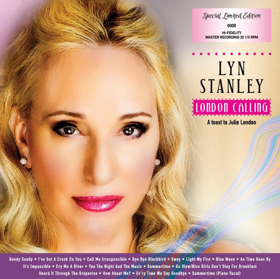 International recording artist Lyn Stanley has had an amazing career thus far. Within just a few years she has produced six albums, her newest London Calling, her first salute to a singing star, the late great Miss Julie London.
Stanley has prided herself on beginning a singing career without any musical background. What you hear is the result of a few lessons that grounded her in her choice of songs and style.. Some singers strive all their lives to accomplish what Stanley has in what seems overnight. But...she has worked hard combining her background in the corporate world as an expert in the field of communications and her amateur champion ballroom dancing skills and implementing them meticulously in the creation of beautiful musical arrangements for her chosen melodies.
I have reviewed her since her first album Lost in Romance, released in 2013. I have heard her grow from good to great...but London Calling is by far her best work...absolutely. I understand she rehearsed tirelessly with her musicians in a band searching for just the right way to capture Julie London's singing style. Important to note here is that this is not an impression of London but an homage to her music and to her originality in making it stand apart...and it surely does.
London hits on the CD include: "Call Me Irresponsible", the sultry "Summertime" - one of my favorites and Stanley really sizzles as she did previously with "Fever" - "Light My Fire", "Cry Me a River", another Stanley standout, "It's Impossible" and "As Time Goes By". London was known for a laid back quality and for a real emphasis on interpreting the lyrics of a song. Stanley is an expert in this department. With her deep tones, she can really put a lyric across with clarity and precise phrasing. Other favorites on the album are "I've Got a Crush on You" and "Blue Moon" where Stanley shows in abundance just how well simplicity works. The lyrics tell it all; the singer needs only to sing and the emotions will emanate, as in good acting.
One last note. Julie London as I remember was a stunning beauty with class personified. Lyn Stanley is the perfect singer to represent her. She has elegance in spades.
Calling London A Toast to Julie London is a beautiful album for Stanley and her incredible musicians who come from all over the world:
Mike Garson - piano
Christian Jacob - piano
Michael Valerio - bassist
Paul Kreibich - drums/percussion
Luis Conte - percussion
Aaron Serfaty - drums
John Chiodini - guitar guest artist
Chuck Berghofer - bassist
Brad Dutz - percussion
Bravo! Brava!
To purchase downloads or Super Audio CD, go to:
CDBaby.com and