BWW Review: Hershey Felder Dazzles Audiences as OUR GREAT TCHAIKOVSKY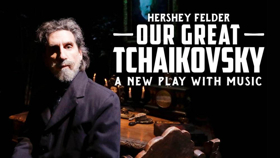 Actor and accomplished pianist Hershey Felder has played several great musicians onstage including George Gershwin in the play "George Gershwin Alone", Irving Berlin in the play "Hershey Felder as Irving Berlin", and Leonard Bernstein in the play "Maestro." Now he is bringing his latest incarnation to the Wallis Annenberg Center for the Performing Arts In Beverly Hills for the Los Angeles premiere of OUR GREAT TCHAIKOVSKY, I knew I had to make plans to experience his wondrous ability to totally embody and teach audiences the truth about the brilliant composer known for his beautiful ballets Sleeping Beauty, Swan Lake, The Nutcracker, and the ferocious and melodic brilliance of his symphonic works, piano concerti, overtures, operas and chamber music.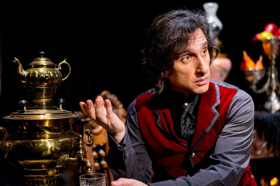 And after seeing the show, I guarantee you will learn many facts about Piotr Ilyich Tchaikovsky during Felder's time-bending tale of music, politics, and the hidden life of one of the world's most beloved composers. The biggest surprise for me was learning every one of Tchaikovsky's most beautiful love melodies was written for the current man in his life, with his homosexuality something he kept hidden from the Russian government and public lest he be thrown in jail - or even worse. To assist in his cover-up, the great composer married a woman who he thought might be the perfect partner - but she instead separated from him and then blackmailed him throughout his life to keep his secret while she bore another man 3 children.
During the multimedia production, directed by Trevor Hay, Felder plays himself as well as the world-famous composer, along with a wide assortment of people from the many phases of Tchaikovsky's life. For each one, Felder completely changes his vocal patterns as well as his physical being, after telling the audience that in order to present his stories about all these real people, he first considers the place, then the character, and lastly the music to set the stage for each segment. And be sure to keep an eye on the picture frame displayed prominently on the ornate set designed by Felder as it changes portraits as the many characters are introduced, allowing us to see the real people he is portraying. But you would never know the music was not considered first, given the way his hands fly over the keys as he energetically plays some of the greatest works created by his favorite composer since childhood.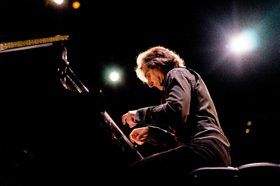 As Felder plays the magnificent Steinway center stage, the entire back of the set transforms via lighting and projection design by Christopher Ash which shares historical footage of the world as Tchaikovsky saw it while writing the piece being played. The entire production runs one hour and 45 minutess with no intermission, a remarkable feat given how intense Felder's performance is from moment to moment as transforms not only into Tchaikovsky but also many characters who played important roles in his life.
To add even more mystery to the great composer's life, even to this date, a healthy
53-year-old Piotr Ilyich Tchaikovsky conducted the premiere of his enigmatic Symphony No. 6, "Pathétique" and, then nine days later, he was dead. To this day, how and why he died is still a mystery with Felder relating the many theories on the subject. I will leave it up to you to make up your own mind on the matter after hearing about the many trials and tribulations Tchaikovsky faced when all he really longed to do was write music and love the most important person in his life.
Playwright and performer Hershey Felder was recently named to Time Magazine's 2016 Top 10 Plays and Musicals, and has played over 4,500 performances of his self-created solo productions at some of the world's most prestigious theaters, breaking box office records consistently.
Thankfully, "It's always wonderful to return to Los Angeles, the city where these stage stories began more than 20 years ago with George Gershwin Alone," said Felder. "In particular, it is wonderful to return to the magnificent Wallis, where music resonates so beautifully. Being able to perform for the Los Angeles audiences who-over the years and nine productions have numbered in the hundreds of thousands-is always an honor and a homecoming." The honor is ours, Mr. Felder.
And I look forward to hearing your stories about how the Russian people react to learning the truth about one of their greatest composers, something which could never had happened during his lifetime, when you accept the invitation to present OUR GREAT TCHAIKOVSKY in his homeland.
On Monday, July 31 at 7:30pm, The Wallis invites you to join Hershey Felder for a special one-night-only performance of Hershey Felder's The Great American Songbook Sing-Along, taking audiences through 100 years of American music from the Gershwins, Jerome Kern, Irving Berlin, Rodgers and Hammerstein, Leonard Bernstein, Stephen Sondheim, and many more. Audiences are encouraged to sing along with Felder as he leads them through the familiar notes of their favorite songs.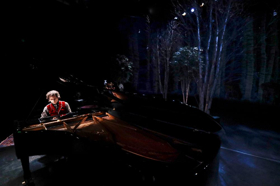 Due to ticket demand, OUR GREAT TCHAIKOVSKY performances have been extended through August 13, 2017 on Tuesday - Friday at 8pm; Saturdays at 2pm & 8pm; Sundays at 2pm & 7pm. Single tickets are now available for $35 - $100 at TheWallis.org/Felder, with single tickets for The Great American Songbook Sing-Along available for $25 - $55 at TheWallis.org. For more information or to purchase tickets, visit TheWallis.org, call 310.746.4000, or stop by in person at the Wallis Annenberg Center for the Performing Arts Ticket Services located at 9390 N. Santa Monica Blvd., Beverly Hills, CA 90210.
Photo credit: Hershey Felder Presents