BWW Review: ENCORE Entertains Audiences with Fun-Filled MARY POPPINS Musical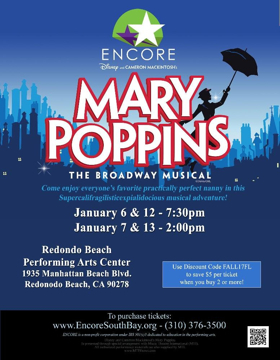 ENCORE is a South Bay based education theatre group created by Summer Dey Cacciagioni as a way to follow her dream at age 15 to build a community and transform the lives of both children and adults by producing high quality theatrical productions through intensive musical and theatre training. I admire her emphasis not only on traditional acting, singing and dancing, as well as all technical aspects of live theatre (kudos on the group's great sets, lighting, and costumes), but for also making it a priority to assist in the development of respectful, thoughtful, reflective, honest and aware people who are comfortable reaching out to help others as a positive part of the theatre community.
Those ambitions are reflected in ENCORE's production of Disney's MARY POPPINS, directed by Ms, Cacciagioni,
with choreography by Jorie Janeway, vocal direction by Daniel Nakawatase, and a wonderfully talented orchestra conducted by Matthew David Viskwith, featuring Flying By Foy and special effects by Stage Monkey. Every single person on the stage, from the youngest to oldest in a cast of more than 70 performers who obviously looked out for each other as they joyously entertained the appreciative audience from start to finish.
Based on the books by
P.L. Travers
and the classic Disney film,
MARY POPPINS
delighted the audience of all ages, although the 3-hour run time may be a bit of a
challenge for very young children. It tells the tale of everyone's favorite nanny who arrives on the doorstep of the Banks' home on London's Cherry Tree Lane, taking Jane, Michael, and their entire family on a magical, musical adventure where they eventually learn the value of family and that anything can happen if you let it. The musical features beloved songs from the classic film, including "Step in Time," a "Spoonful of Sugar," "Feed the Birds," "Let's Go Fly a Kite," and the always popular "Supercalifragilisticexpialidocious" which had the audience clapping and singing along during the amazing production number.
Many of the roles are double cast, and I am sure whichever actors you see will be just as remarkable as the ones I am mentioning in this review. Of course, the most important role in the show is that of Mary Poppins, the lovable and wise Nanny played to perfection for the third time in her career by Leah Morales. Morales obviously knows this woman from deep in her soul and even the slightly tilt of her head of flip of her apron communicates so much more than even her words express. Her working-class compatriot, Bert the Chimney Sweep, is played by energetic Jed Sura for the second time, and whose wife and daughter also appear in the cast. Sura is joy to watch
as he led not only the Chimney Sweeps through their production number but also a large group of very young penguins who were perhaps the most adorable group of children in the production!
Members of the Banks family, around whom the story revolves as they learn to accept the wisdom of Mary Poppins and the importance over family rather than money, include Rich D'Anna as the patriarch George, Jennifer Werfelmann as his wife Winnifred, and their outspoken children Jane (Grace Liakos) and Michael (Henry Deane) who are thoroughly entertaining as the frequently at odds siblings. Kudos also go out to other stellar performers including Lizzy Sheck as the "Feed the Birds" woman, Renee Sura at the Banks' housekeeper Mrs, Brill,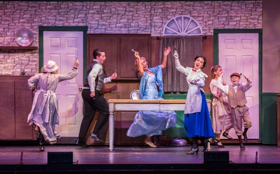 the rousing and colorful "Supercali..." ensemble number led by Danielle Jordan as Mrs. Corrie and Tara Fermanian as her daughter Fanny Corrie, Chantelle Jordan as the nightmare replacement nanny Ms. Andrew, Nathan Byrnes as the Bank Chairman Mr. Dawes, Brian Werfelmann as the bank loan customer Mr. Northbrook, Alan Sanborn whose Park Keeper takes great pleasure in flying a kite, and the lithe dancing park statues portrayed by Gabriella Gordon, Ashley Lopresto, Amelia Paulson, and Cameron Taylor.
Enjoy an irresistible story, unforgettable songs, breathtaking dance numbers, and spectacular flying in The Family-friendly ENCORE production of MARY POPPINS taking place at the Redondo Beach Performing Arts Center, 1935 Manhattan Beach Blvd. on January 6 & 12 at 7:30pm, and January 6, 7 & 13 at 2pm. Reserved seats tickets rune $44-$60, and be sure to use discount code PRESS17 to get $10 off each ticket when you buy 2 or more. For tickets and additional information, call (310) 376-3500 or visit www.EncoreSouthBay.org/tickets. And if you miss this one, be sure to catch their next musical extravaganza, THE HUNCHBACK OF NOTRE DAME from June 29-July 8, 2018.
Photo credit: Myles Regan