BWW Review: Celebration's Knockout PRISCILLA Has Already Extended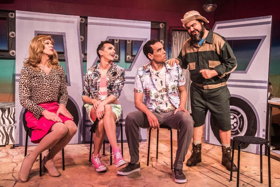 Priscilla Queen of the Desert the musical/book by Stephan Elliott & Allan Scott/based on the 1994 film distributed by MGM/directed by Jessica Hanna/musical director: Jennifer Lin/choreographer: Roman Pantoja/Celebration Theatre at the Lex/extended through April. Produced by Stephen Soucy.
"The mega-popular 1994 film The Adventures of Priscilla Queen of the Desert delivered miles and miles of heart. Priscilla Queen of the Desert the musical remains loyal to the movie and is delightfully extravagant and colorful with perhaps the most dazzling array of costumes, amazing sets and brilliant lighting design in theatrical history. Over the last few years it has become almost as popular as the film with touring companies in the UK, Ireland, Italy, Sweden as well as in the US". This was my opening quote when the tour bowed at the Pantages in 2012. Now onstage at the small Celebration Theatre in Hollywood, the show is much scaled down but with an incredible cast of 14. Under the amazing direction of Jessica Hanna, it is more bright and alive than ever. Audiences will fall in love with this brand new Priscilla... and come away exhilarated...and wanting more.
The tour of Priscilla was technically brilliant with a tour bus that turned around to reveal a new interior for each scene. Of course, it is impossible to reproduce this in the tiny Lex space. But what I realized Friday night as I sat watching was that you don't really need it. In this production dressing room tables are turned around to create the outside of the bus and the three men Tad Coughenour as Bernadette, Lyle Colby Mackston as Adam/Felicia and Mario Burrell as Tick/Mitzi with their varied costume changes and within the realm of their powerhouse presence whether outside the bus or in make you feel like you are right there, on the road with them. It's a totally more intimate portrait.
Another technical note involves the three drag queens in performance at the casino in Alice Springs: we see it from behind as if backstage. The curtain opens and closes to fast forward the show with lightning speed. We see the actors from behind, and there are quick costume changes. Obviously, the actors are different each time, but it is such fun to watch that no one can tell...really! Needless to say, what seem to be 100s of incredible costumes steal the show. Stephan Elliott's faithful.to.movie book is flimsy, mostly fluff with many moments of heart... but with all the flair abounding, who cares an inch? This is entertainment at its wild and outrageous best. And...it is super to see the small orchestra upstage right under the skilled direction of Jennifer Lin.
I wish the show had original music like Kinky Boots does. Not that I do not like the standard tunes, I do, so I'm really not complaining. "It's Raining Men", "Go West", "Hot Stuff", "Macarthur Park", "A Fine Romance", to name a few are all terrific and they work splendidly as the traditional songs did in Mama Mia to move the story along and fill in very specific character emotions. "Colour My World", "Material Girl", "Don't Leave Me This Way"and "We Belong" are but a few fine examples of how the creative team cleverly position the music & lyrics within the plot to suit a particular story element or feeling.
The three actors Coughenour, Mackston and Burrell are brilliant. They have wonderful chemistry together and separately perform with amazing attention to character and style. George Chavez is amusing and likable as Bob. He also essays other characters with great comedic flair. Gina Torrecilla is perfectly stalwart as Tick's wife Marion. Markesha Chatfield, Andrea Sonera and Katie Self are delicious as the Divas from on high, as well as in other roles, Jason De Puy is a standout as Adam's Cover and as the Young Bernadette, and brothers Jack and Nick Brody do a splendid job of sharing the role of Tick's son Benji, so sweet and likable. This is a fabulous cast who make every moment of the show come to spectacular life under the directorial slickness of Jessica Hanna. Members of the male ensemble John Paul Batista, Jamie Pierce and Marqell Edward Clamton must be singled out for their fast and furious dance moves led by Roman Pantoja's scintillating choreography.
Credit must be paid to Pete Hickok for his economically efficient scenic design. Allison Dillard's costumes are spectacular. The colorful headgear is as fun to watch as the dresses. And thanks to Brandon Baruch for his fantastic lighting design and to Rebecca Kessin for great sound.
Priscilla should play on and on, but Celebration's season includes a June staging of Cabaret, so May is the last possible extension. Run, don't walk to get tix!

(photo credit: Caught in the Moment Photography)
Related Articles View More Los Angeles

Stories

Shows