BWW Review: BEAUTY AND THE BEAST - A CHRISTMAS ROSE Panto Delights at Laguna Playhouse
The cheeky PG-rated fun of British Panto, courtesy of Lythgoe Family Productions, returns for more holiday silliness at Orange County's Laguna Playhouse, this time with BEAUTY AND THE BEAST: A CHRISTMAS ROSE, which continues through December 30, 2018 in Laguna Beach under the direction of Sheldon Epps.
As the title suggests, the show reworks the familiar French fairy tale, but with just enough of a passable Holiday-season flavoring to make it timely, while also taking not-so-subtle artistic liberties with the well-known Academy Award-winning animated Disney musical that for many young people may be their only frame of reference to this "tale as old as time." The resulting show--blending vaudeville high-jinks, meta references, kids' story hour, sketch comedy, and Top 40 pop tunes--is a surprisingly entertaining, tongue-in-cheek variety stage show that's enjoyable for all ages.
It is purposely designed to be a collective crowd-pleaser: Kids and pre-teens will love being openly encouraged to cheer on heroes and boo villains out loud, while teens and their parents will savor the cleverly-repurposed pop soundtrack that includes nostalgia-baiting tunes from The Bee Gees and Lionel Richie to more recent hits from Miley Cyrus and Maroon 5.
The story, of course, will be familiar to many, which again focuses on a lovely, smart young lady named Belle (played by the very talented Ashley Argota) who finds herself imprisoned by a cursed man-Beast (velvet-voiced Thomas Hobson) in his enchanted castle. Despite the incarceration, she finds friendly faces in staff members Louis Vuitton (David Engel) and Coco Chanel (scene-stealing Roland Rusinek).
As expected, Belle and the Beast, of course, first can't stand each other. But with time spent in each other's company and with the magic of kismet and forced storytelling, the two opposing factions begin to slowly fall for each other. This budding romance turns out to be a good thing--because if the Beast could convince another person to fall in love with him (and vice-versa) the curse that turned him and his entire castle staff into non-human creatures could finally be reversed!
Oh, and that Christmas Rose referenced in the title? Well it's the same enchanted rose we see in the Disney film, except it's, um... a Christmas one.
Meanwhile the village's resident self-possessed hunk Gus (a funny Heath Calvert) feels that as the most good-looking dude in town, he deserves to marry the best-looking gal in town, Belle. She, naturally, detests his advances at every turn. Luckily, Gus' lackey-slash-main cheerleader Pierre (audience favorite Riley Costello) is there to help with all his needs and to boost Gus' bruised ego, even recruiting the audience to always cheer loudly for Gus' every appearance at his command. Some savvy observers might also pick up on (SPOILER ALERT) Pierre's bubbling man crush on his boss, too (part of me was actually rooting for that latter scenario to come to fruition as a counter to some of the more unflattering stereotypes that snuck into this production).
Belle, for her part, feels she's the town weirdo anyway despite her external beauty, because she's... a book reader and an independent thinker. She's got support, thankfully, from her well-meaning dad Marcel (Andrew Barnicle) and the town bookshop owner Miss Derrier, who bears a remarkably striking resemblance to the Beast's similarly gender-bent cook Chanel.
Sprinkled amongst the plethora of amusing dad jokes, hilariously benign "mean" insults, and adorably cheesy puns written by playwright Kris Lythgoe are impressive musical numbers featuring a very talented ensemble, under the musical direction of one-man band Keith Harrison and the limber choreography stylings of So You Think You Can Dance's Emmy Award-winner Mandy Moore. It is during these musical moments when the show truly finds its footing, giving the audiences lots of reasons to groove and hum along. Highlights include inventive uses of "Stayin' Alive," "Moves Like Jagger," "All Night Long," "I'm Sexy and I know It," and an inspired mashup of "The Final Countdown," and "We're Not Gonna Take It" that had the audience in a tizzy.
Also along to sell the fantasy and illusion are Ian Wilson's children's storybook-like sets, Albermarle's lush (and at times outrageous) costumes, and Glenn Powell's lighting. The steady pacing to keep kids' short attention spans at bay keeps the production lull-free.
Besides a few hiccups here and there, the only truly cringeworthy iffy moment the show experiences occurs during a mob sequence--egged on by Gus' fear-mongering over a possible, rumored threat that will supposedly bring the Beast into their midst--where the villagers suddenly all begin to chant "Lock her up! Lock her up! Lock her up!" as a response to Belle's hard-to-believe story. Though I thought it was a pretty ballsy reference, it still rang slightly cheap and out-of-step--even though it mirrored how most uninformed mobs tend to act like. But it's a tiny almost forgettable moment especially when the script spends so much time pandering to locals in the audience with references to OC cities like Dana Point and Mission Viejo (the story, apparently, occurs in the French town of La Gooonia).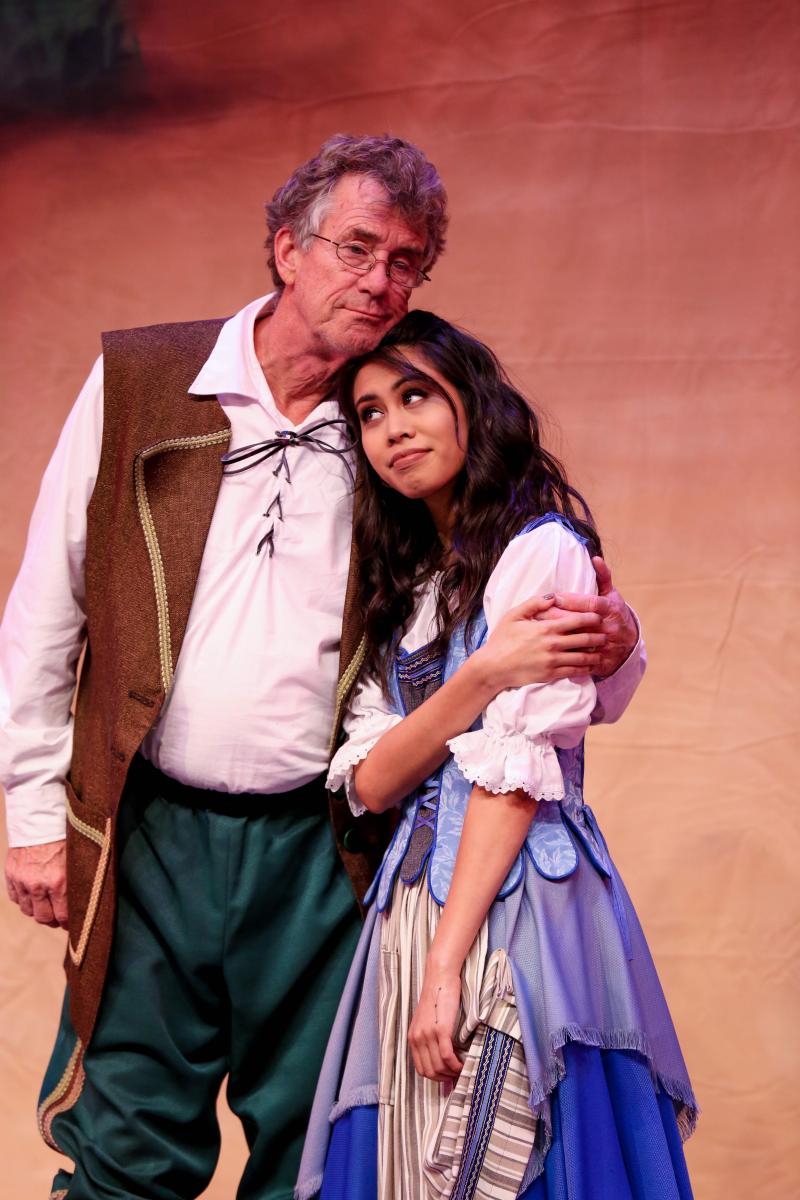 While this BEAUTY AND THE BEAST panto is certainly nowhere near the caliber of, say, any Tony-winning musical comedy, there is still plenty to cheer about. These strangely intriguing bits of vaudevillian-esque outrageousness is undeniably entertaining. I found myself smiling for most of my time experiencing the show, and laughed out loud often.
Young kids--and their possibly inebriated parents--will especially love everything these Pantos present, from its loose, yuletide reimagining of a previously Disney-fied fairy tale that is both familiar and new, to its fun songbook of pop songs that give its cast the chance to wow us with their vocal stylings. Argota, Hobson, Calvert and Costello, in particular, sounded fantastic in their individual showcases, where they got to display their knack for riffs and rock-star belting. Later, Engel and Rusinek's duet in "La Vie En Rose" is an enchanting highlight that made for a nice substitute for the Disney tune it replaced.
Out loud audience participation is, of course, encouraged, particularly when villains enter the room or when the hero (or heroine) succeeds or faces challenges. That tradition continues here, and the attendees of the show's recent opening night performance truly embraced the experience.
Fun, light-hearted, and a much-needed far-from-serious break from reality, BEAUTY AND THE BEAST: A CHRISTMAS ROSE is wonderful family treat the whole family can enjoy for the holiday season.
-------
Photos from the Laguna Playhouse's production of BEAUTY AND THE BEAST: A CHRISTMAS ROSE by Cathy Cunningham Photography.
The Laguna Playhouse Production of the Lythgoe Family Panto BEAUTY AND THE BEAST: A CHRISTMAS ROSE continues performances through December 30, 2018. The Laguna Playhouse is at 606 Laguna Canyon Road in Laguna Beach. For more information or to purchase tickets, call (949) 497-ARTS or visit lagunaplayhouse.com. Due to limited parking, we recommend arriving early.
Follow this reviewer on Twitter: @cre8iveMLQ.

Related Articles View More Los Angeles

Stories

Shows