Review: A Slick RADIANT VERMIN Infiltrates With Radiant Performances
RADIANT VERMIN/by Philip Ridley/directed by Tim True/Odyssey Theatre/thru November 18, 2018
Door Number 3's world premiere of Philip Ridley's RADIANT VERMIN receives a strong mounting with Tim True expertly directing his very talented cast in a quick-paced tale of greed and its consequences. Expectant couple Jill and Ollie Swift reside in a tiny apartment in a bad neighborhood, Red Ocean Estate. They dream of moving out of their cramped space and into a dream house in a much better area. Enter Miss Dee, the supposed government worker, with
an offer too good to be true - a free home, albeit in a run-down cul-de-sac with much repairs needed.
Britt Harris and Kapil Talwalkar bring their all in virtuoso performances as Jill and Ollie, breaking the fourth wall to describe, in great detail, the happenings between first learning of the dream home offer to the present with their newborn Benji celebrating his first birthday. In the first act, both Harris and Talwalkar charm and enthrall the audience with their somehow hard-to-believe story, they've been keeping secret.
Ridley's very smart script has Harris and Talwalker spouting streams of consciousness, at times overlapping in sync. Their timing together with their machine gun deliveries' simply brilliantly.
With scenic designer Pete Hickok's exposed wood frame of a house, Harris and Talwalker adeptly mime the furnishings in the bare rooms so vividly the audience
easily imagines everything right along with them. Sound designer Chris Moscatiello's oh-so-complementary (and well-cued) sound effects (mousetrap snapping, car exhaust spewing, Lamborghini car door opening, cellphone ringing) maintain the illusion of what's not actually on the Odyssey stage.
The commanding Laura Faye Smith sharply essays the 'government worker' Miss Dee who knows all about the daily lives of Jill and Ollie she just met. (Hmmm?) Smith's other role as the homeless Kay exhibits the polar opposite.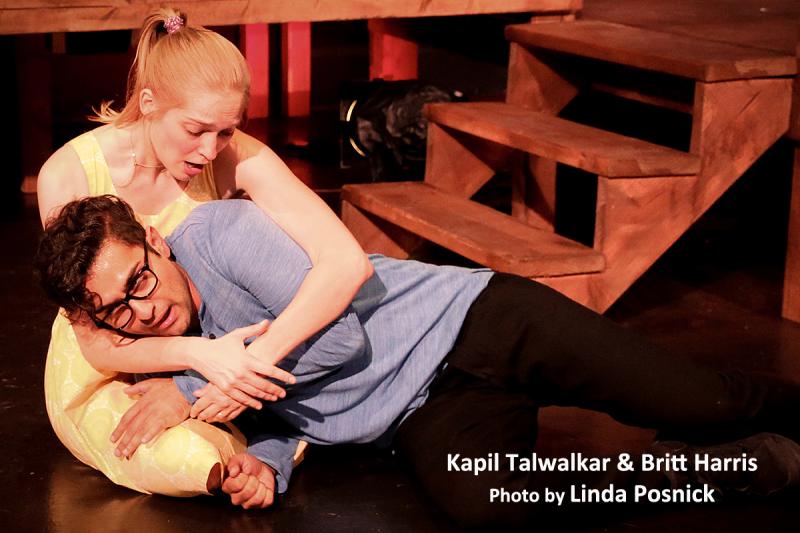 Part of the second act deals with Benji's garden birthday party, with the four sets of neighbors who have moved in. As incredibly dexterous as Harris and Talwalkar portray the party guests (three couples, spoiled twins and a fey neighbor) in a non-stop, impeccably timed scene; some judicious editing would make this party scene easier to digest. Like sensory overload at a very loud event, one tends to block out all the obnoxious, oblivious yelling as incomprehensible white noise.
Anxious to see what Harris and Talwalker do next with what they do so wonderfully together - RADIANT VERMIN TOO???