BWW Report: Walt Disney Family Museum Hosts Virtual Fireside Chat with Sir Tim Rice
BWW Brings You Inside the Special Night
On December 5th, 2021, The Walt Disney Family Museum celebrated Walt's birthday with a virtual fundraiser honoring Sir Tim Rice. Proceeds from the event support The Walt Disney Family Museum's educational programming, including its newest initiative, the At-Promise Youth Animation Academy. The Academy is an intensive animation-focused jobs-training program, with an emphasis on students experiencing economic and social displacement.
The program consisted of three parts. First, a fireside chat in which the EGOT (Emmy®, Grammy®, Oscar®, and Tony®-winner) winner and Disney Legend was interviewed in a fireside chat with Oscar-nominated and award winning filmmaker Don Hahn (Beauty and the Beast, Lion King, Howard). Second, Broadway stars performed a short concert highlight Tim's song. Finally, WDFM Board President Tammy Miller led a toast in honor of her grandfather, Walt Disney's birthday.

Internationally acclaimed lyricist, Sir Tim Rice has worked in music, theater, and films since 1965 when he met Andrew Lloyd Webber, a fellow struggling songwriter. The conversation with Don Hahn focused on Rice's influences, musical partnerships, and the origin of his ideas.
Together the two collaborated to, as Hahn put it "change culture and rock the Broadway musical." To begin, while waiting for their first collaboration, The Likes of Us, to find a Broadway home, a schoolmaster asked Webber and Rice to write a musical for his students. It may have begun as a show for 8-10 year olds, but they quickly realized they were on to something bigger and the show became their first hit, Joseph and the Amazing Technicolor Dreamcoat.
From there, the two went on to collaborate on Jesus Christ Superstar. When first pitched the idea of a musical version of Jesus' life, theater producers didn't think it would work. Rice shared their reaction was "no one will go to that, they know the story." The idea became an album instead, meaning they could lose the book and and heavy up the rock sound due to the top tier artists available for the recording. The album became such a hit, illegal productions opened up all over before the theatrical show was even ready for Broadway.
Webber and Rice's final collaboration, Evita was sparked by Rice's stamp collection. He remembered Eva Peron from the Argentina stamps near the front of his book.
From there, he had an idea for a Cold War musical centering around the game of chess. He pitched the idea to Abba's Björn Ulvaeus and Benny Andersson. Like Superstar, Chess began as an album and then a show and is currently being reworked for film.
When the Evita film was being done at Disney, Tim began dropping hints that he wanted to try his hand at writing for animation. He was invited to meet with Don Hahn to discuss The Lion King. Hahn was fresh off of producing Beauty and the Beast, the first animated film to be nominated for the Best Picture Oscar. As part of that meeting, Rice was asked who he'd want to write with. Without hesitation his answer was Elton John because "he had such theater in him. Elton said he's grateful he did it because it gave him a whole new career - Broadway." (Together the two also wrote Aida which premiered on Broadway in 1998.) Writing for animation was a new experience for Rice in another way. The songs were such a part of the script that this time the lyrics came first, music second. Rice's love of the film was palpable and he spoke fondly of sharing it with his grandchildren: "Julie Taymour's brilliant stage version is just remarkable. But for me I always look back to that original animated feature."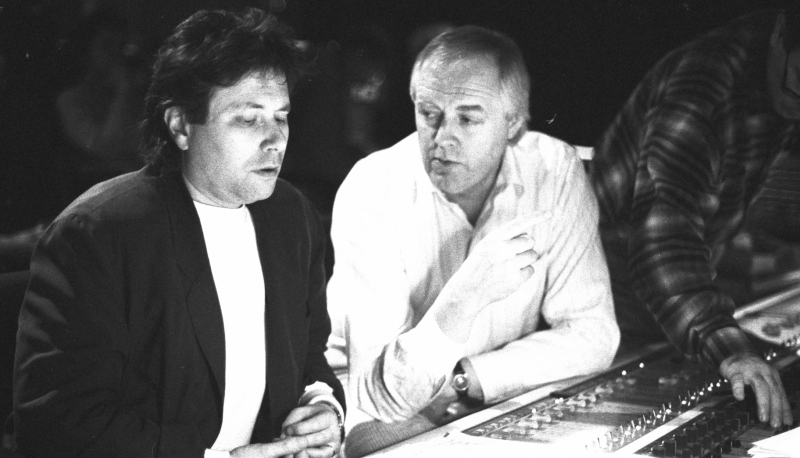 Rice's partnership with Disney quickly expanded. While working on The Lion King, he was asked to put that film on hold for a bit in order to help with Aladdin. The film was nearing completion but changes were needed and Rice stepped into the late Howard Ashman's shoes collaborating with Alan Menken on "A Whole New World" - a song that later won him his first Academy Award in 1993. (Hahn shared an anecdote that Menken was so nervous he stayed up the entire night before their first session.) After Aladdin, Menken and Rice continued to work together at Disney. Hahn complemented Rice as being the ingredient that keeps the reimaginings of Disney classic's fresh citing his work on both the Broadway musical and live action updates of Beauty and The Beast.
Hahn then went on to introduce six fantastic performances from favorite Broadway stars. First was Adam Jacobs with a very fun rendition of "One Jump Ahead" from Aladdin. While he sang the song nightly when originating the role on Broadway, this time he mixed musical styles and backed himself up as a myriad of supporting characters. Jodi Benson, who is best known for giving Ariel her voice in The Little Mermaid, then treated us to "Heaven Help My Heart" from Chess. Original Aida Cast Member Adam Pascal was joined by Mandy Gonzalez and Merle Dandridge to perform the show's second act opener "A Step Too Far" in perfect three part harmony. Alton Fitzgerald White, no stranger to Rice's lyrics having performed the role of Mufasa on Broadway over 4,000 times, tackled another Disney role with a stirring rendition of "If I Can't Love Her" from Beauty and the Beast. Next, Brandon Victor Dixon reprised his Emmy-nominated turn as Judas with "Heaven on Their Minds" from Jesus Christ Superstar. Finally, Heather Headley concluded the evening with a performance "Can You Feel the Love Tonight" that was as beautiful and soulful as it was effortless.
Excerpts from both the fireside chat and the concert can be streamed via the museum's YouTube

and

Facebook pages.

Donations are still being accepted. Text SIRTIM to 41444 to donate.
All Photos Courtesy The Walt Disney Family Museum.jpg