BLVD DU CINEMA Presents I'LL BE AROUND, an Independent Feature Film By Michael Cuenca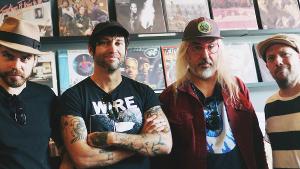 Director Michael Cuenca's award winning feature film I'LL BE AROUND, a movie picture show about musicians, wanderers, and hopefuls will be premiering at the Hollywood Reel Independent Film Festival (HRIFF 2020) on Thursday, February 13th at 9:30pm at the LA LIVE REGAL CINEMAS. Written by Michael Cuenca and Dan Rojay.
Set against the backdrop of an alt-rock music festival, dozens of struggling thirty-somethings deal with a wide variety of social and philosophical issues in their respective lives. With appearances by: Jonah Ray, J Mascis, Frank Agnew and Casey Royer, I'LL BE AROUND, takes place over the course of one day, during a post-punk music festival and follows a wide array of an eclectic and colorful cast of characters from all walks of life in their mid 30's.