A LITTLE NEW MUSIC Returns to the Wallis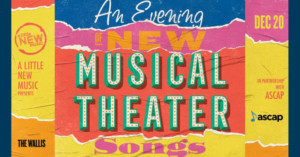 After a sold-out Wallis debut in July, A Little New Music will spotlight another lineup of emerging musical theatre talents for The Sorting Room's 2018 Winter Session at The Wallis Annenberg Center for the Performing Arts on Thursday, December 20 at 7:00 p.m. A Little New Music's audiences will enjoy original musical theatre songs firsthand before they hit Broadway or the regional circuit.
The evening will be co-hosted by L.A. theatre dynamos Tom Detrinis (COMMUNITY, Center Theater Group/Celebration Theatre's DIE MOMMIE DIE) and Brooke Seguin (USA Network's THE REAL HOUSEWIVES OF HORROR, HOLLYWOOD PARTY), who are the creators of the critically acclaimed and wildly fun 30 Minute Musicals. Guest music director Jan Roper (CITY OF LIGHT) is back at the keys, alongside the A Little New Music band.
The writing teams featured will include: Eli Bolin (FOUND) & Mike Pettry (THE PIRATE PRINCESS), Zachary Bernstein (DISASTEROID!), Julia Meinwald & Gordon Leary (THE LONELIEST GIRL IN THE WORLD), Billy Recce (BALLOON BOY: THE MUSICAL), Tia DeShazor & Andy Roninson (TAKE A TEN Podcast), Jessica Fleitman & Rick Bassett (2018 BMI Harrington Award for Outstanding Achievement in Musical Theater), Douglas Lyons & Ethan Pakchar (POLKADOTS: THE COOL KIDS MUSICAL), Kathleen Wrinn & Jonathan Fadner (THE MONKEY KING), Janine McGuire & Arri Simon (BORDERS), Max Kasler & Gwen Wilkie (WOVEN STORIES), and Khiyon Hursey (EASTBOUND).
Performers will include: A.J. Mendoza (La Mirada's AMERICAN IDIOT), Ayme Olivo (MAMMA MIA National Tour), Bella Hicks (Reprise 2.0's SWEET CHARITY), Jenna Gillespie (BAZ VEGAS), Laura Nicole Harrison (EMOJILAND), Khiyon Hursey, Kim Dalton (CLAUDIO QUEST), Kristina Meyering (LA's Next Great Stage Star), Kristina Miller (Musical Theatre West's BIG FISH), Alli Miller (SHAKESLESQUE), Michael Shaw Fisher (SKULLDUGGERY), Andrew Joseph Perez (IN THE HEIGHTS at Musical Theatre West), Rena Strober (B'way: LES MIS), and Steve Mazurek (FOR THE RECORD); plus Bralyn Medlock, Elizabeth Adabale, Dominique Kent, and Justyn Burney.
A LITTLE NEW MUSIC is the most innovative 90 minutes of new and unheard musical theatre material in Los Angeles. Whether a premiere from an established writer, or an undiscovered tune from a promising up-and-comer, our mission is to showcase these talents with a program that keeps your finger on the pulse of the musical theatre scene. Since 2013, A Little New Music has introduced an impressive array of over 200 songs by over 125 writing teams, including Academy and Tony Award winners Pasek & Paul (THE GREATEST SHOWMAN, LA LA LAND, DEAR EVAN HANSEN) and Tony Award nominees Sankoff & Hein (COME FROM AWAY). LA Weekly claims, "A Little New Music is bringing the best of new musical theatre to LA, one song at a time."
ASCAP is a membership association of more than 680,000 songwriters, composers and music publishers. ASCAP upholds the value of members' music, and helps them thrive alongside the businesses that use their music every day. www.ascap.org
Single ticket prices are $35/$25/$15. Audiences are invited to purchase craft cocktails, wine, or beer at the Briskin Bar located in the Jim and Eleanor Randall Grand Hall and may enjoy drinks at their seats during the performance. To purchase tickets, visit TheWallis.org/SortingRoom, call 310.746.4000, or in person at The Wallis Annenberg Center for the Performing Arts Ticket Services located at 9390 N. Santa Monica Blvd., Beverly Hills, CA 90210. For more information visit: www.alittlenewmusic.org or follow on Twitter/Instagram/Facebook: @ALittleNewMusic.

Related Articles View More Los Angeles

Stories

Shows
More Hot Stories For You