Photo Flash: Star-Studded Vegas Strong Benefit Concert Unites Las Vegas
Last night's Vegas Strong Benefit Concert at T-Mobile Arena united the Las Vegas entertainment industry and close-knit community for an evening of live performances and heartfelt video tributes honoring victims and survivors of the October 1 tragedy. More than a dozen A-list entertainers and homegrown talent convened to benefit the Las Vegas Victims Fund in the largest fundraising concert in Nevada's history. The full lineup included Jason Aldean, Blue Man Group, Kurt Busch, Boyz II Men, Carrot Top, Cirque du Soleil, David Copperfield, Celine Dion, Bryce Harper, Imagine Dragons, Elton John, The Killers, Las Vegas Golden Knights, Jay Leno, Wayne Newton, Penn & Teller and George Strait.
The evening commenced as Carrot Top welcomed an arena of thousands of supporters. He introduced messages from Vegas Golden Knights players who shared their pride for being part of the Las Vegas community.
The program continued with Las Vegas native and
Washington
Nationals 2015 National
League MVP
Bryce Harper, who thanked the first responders as well as the Las Vegas
Metropolitan
Police
Department
and hospital staff. International songstress and Billboard Icon Award-winning artist
Celine Dion
delivered a gracious video message, saying, "We are going to let these families know we are supporting them and we will help them through this tragic loss."
Las Vegas native and 29-time NASCAR Cup Series winner, Kurt Busch, introduced Las Vegas headliners Boyz II Men. The multiple GRAMMY® Award-winning group delivered smooth vocal ballads including a soulful acapella version of "It's So Hard to Say Goodbye to Yesterday," then brought the energy with "Motownphilly." The group shared their love for the city and joy for the evening by saying, "This show is a testament to how strong Las Vegas really is."
Jay Leno
followed on stage and had the crowd laughing hysterically with a series of jokes in his signature style. Las Vegas-based rock band
Imagine Dragons
took the stage in force, as front man
Dan Reynolds
said, "Today, more than ever, I am proud to be from this city. Music shows that there is nothing that should divide us. Tonight, we are one. We are Vegas Strong." Recently nominated for two GRAMMY® Awards,
Imagine Dragons
played an impassioned set of songs including "Whatever It Takes" and "Believer" before initiating a moment of silence out of respect for those affected by the tragedy. At the end of the band's set, the crowd all stood to sing along with "On Top of the World" and "Radioactive."
Survivor and Route 91 Festival headliner Jason Aldean next shared a special video tribute, giving good wishes to the audience and sharing positive thoughts.
Following intermission, David Copperfield re-opened the stage bringing his own unique performance with an incredible illusion that left the audience in awe. Copperfield, a legendary Las Vegas illusionist, said, "This is for the selfless people who are the real heroes of 1 October. I'm so proud of this city."
Applause spread through the crowd as country superstar and T-Mobile Arena resident George Strait appeared via video, saying, "Las Vegas is a second home to me. This is a community built on strength, community and resiliency. Thank you for coming out tonight to show your support."
The memorable moments continued as Blue Man Group put on a tubular performance, entertaining the audience with its speechless wit and rhythmic talent. Artists from Cirque du Soleil's Mystère followed with parallel energy, awing the crowd with a performance of acrobatic strength and precision timing.
Las Vegas illusionists Penn & Teller integrated the crowd into the show, allowing each audience member perform their own card-based magic trick. The elated cheer of surprise rippled through the arena as everyone applauded the charismatic duo.
Mr. Las Vegas himself, Wayne Newton, took the stage for an impassioned tribute, saying, "It is best to use our talent to lift people's spirits and put a smile on their face." He then introduced Elton John, who addressed the audience via video to send his love and support. His performance motivated everyone to join him in singing "Your Song" and "Don't Let The Sun Go Down On Me."
Las Vegas hometown heroes, The Killers, closed with an energetic set of hits including "When You Were Young" and "Somebody Told Me." Lead vocalist Brandon Flowers expressed his pride for his city by saying, "There's enough love in this room tonight to light up Las Vegas." The band delivered a reflective performance of "Be Still" while the names of those lost in the tragedy were displayed on the screen. The band ended by sharing a little soul with "All These Things" and "Mr. Brightside."
The cheerful conclusion brought all performers to the stage for a chorus of the late, great Elvis Presley's "Viva Las Vegas," with Dan Reynolds and Brandon Flowers exchanging lead vocals. The crowd swelled with emotion and pride for the Las Vegas community that has proven unbreakable.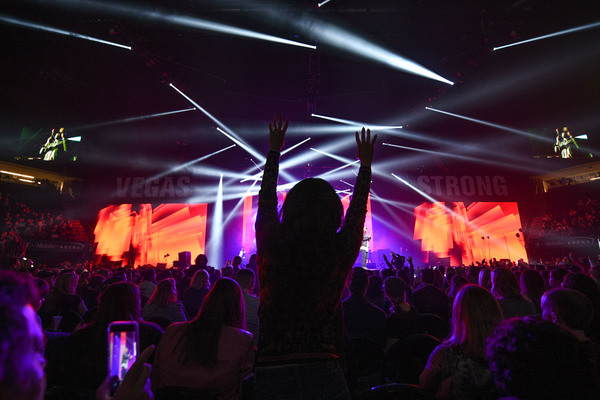 Vegas Strong Benefit Concert

Vegas Strong Benefit Concert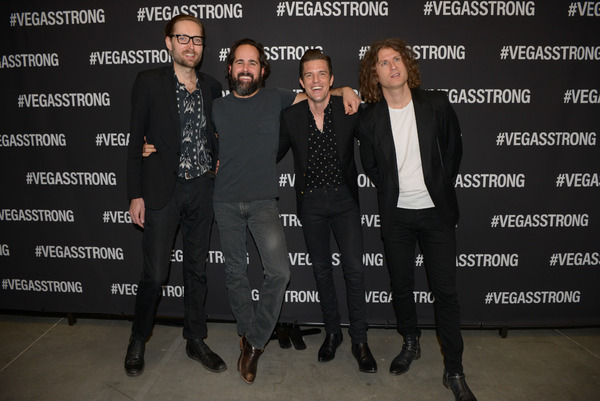 The Killers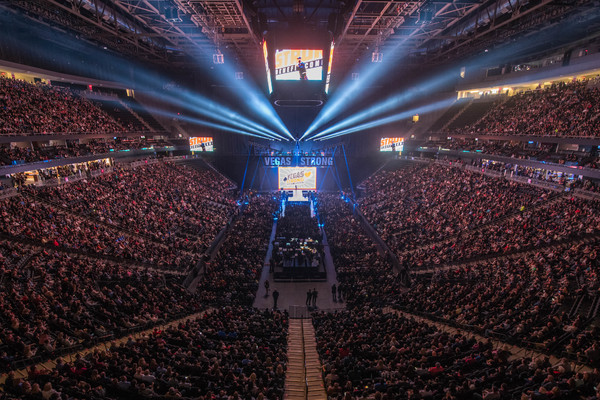 Vegas Strong Benefit Concert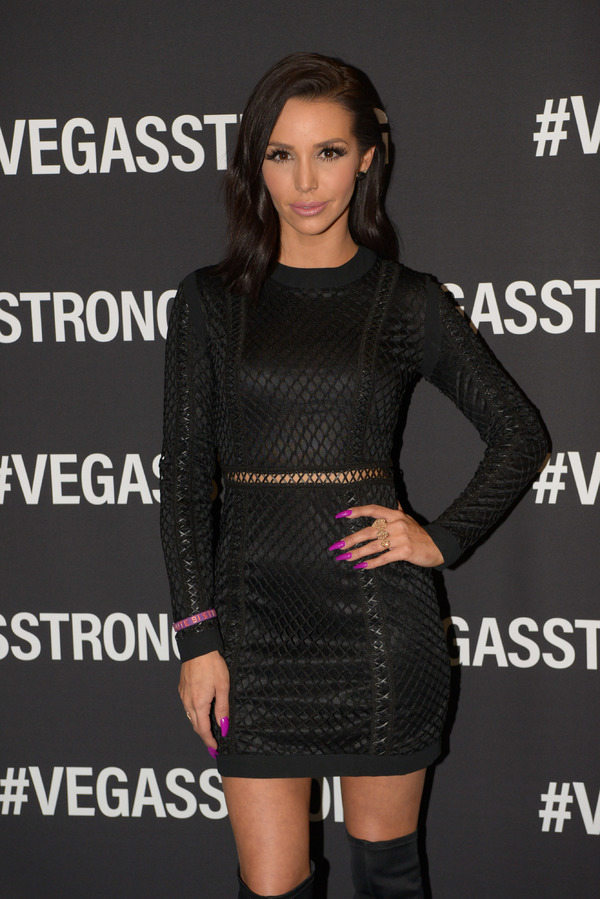 Scheana Marie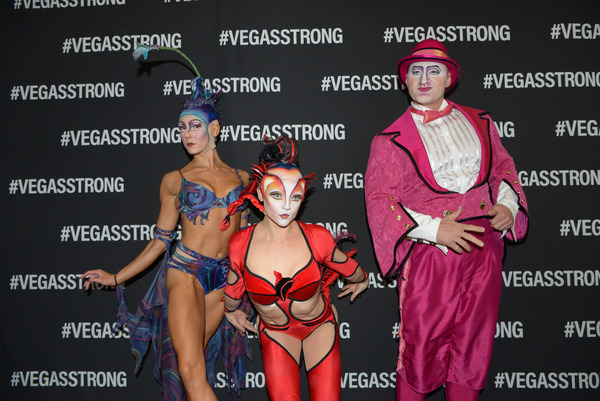 Cirque du Soleil performers

Penn Jillette, Wayne Newton, Brandon Flowers and Dan Reynolds

Penn & Teller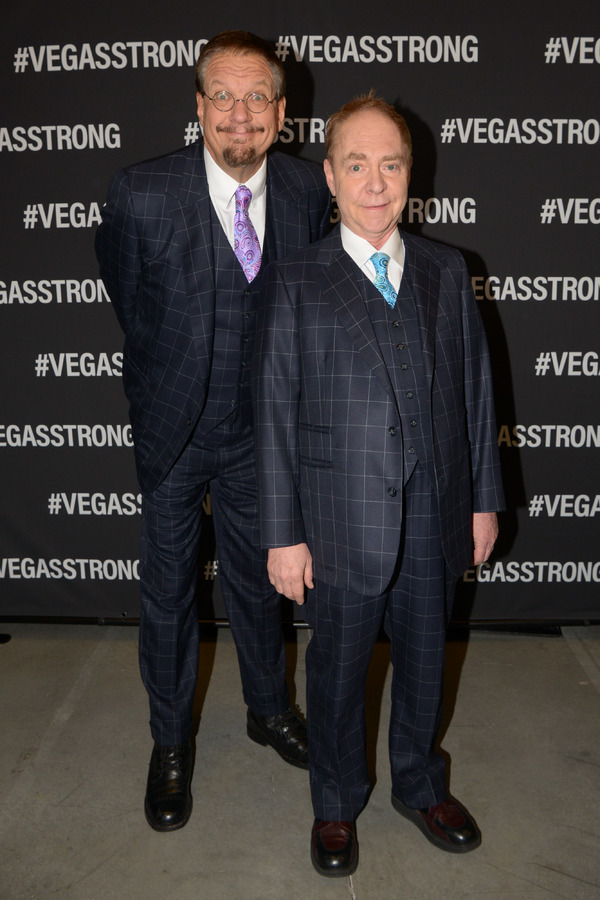 Penn & Teller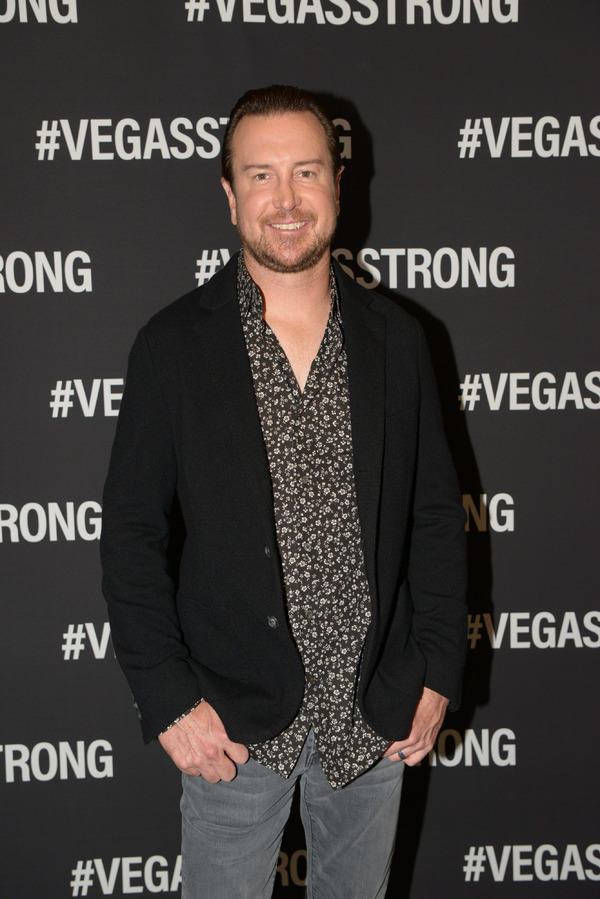 Kurt Busch

Imagine Dragons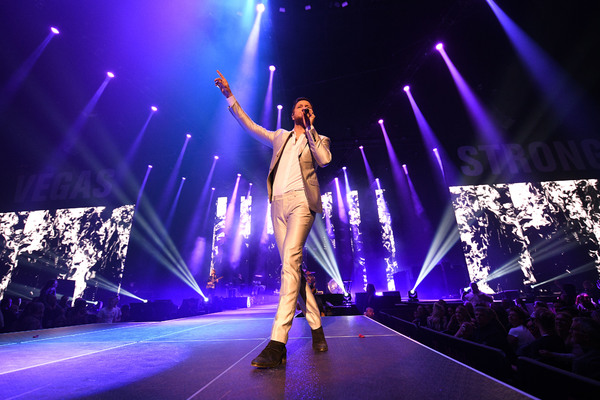 Dan Reynolds of Imagine Dragons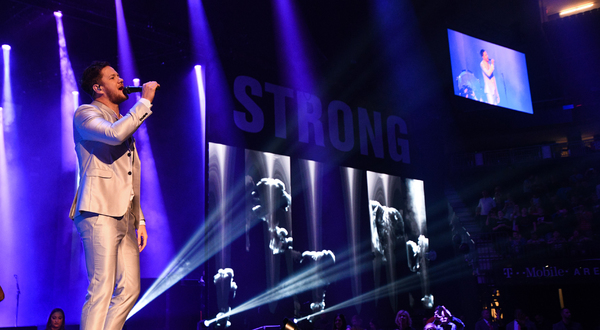 Dan Reynolds of Imagine Dragons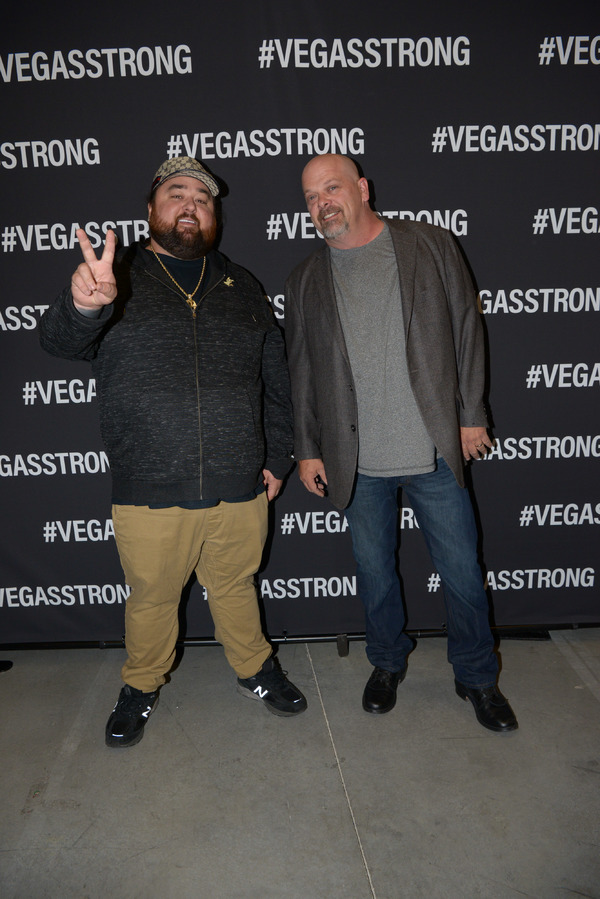 Chum Lee and Rick Harrison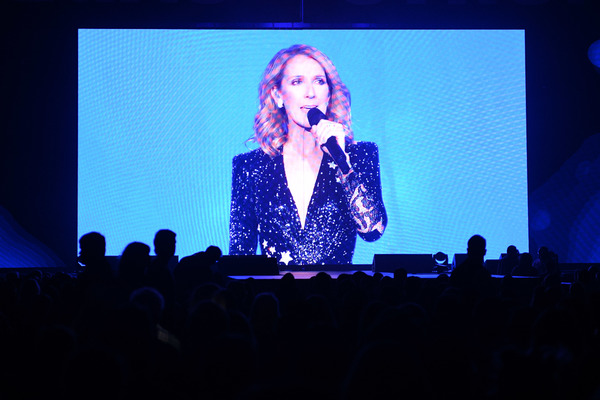 Celine Dion Video Tribute

Vegas Strong Benefit Concert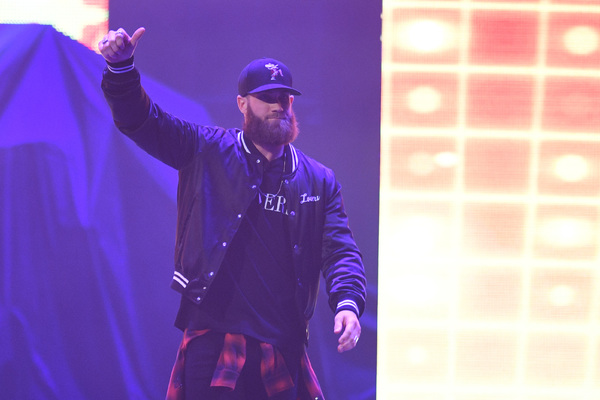 Bryce Harper

Bryce Harper

BoyzIIMen

BoyzIIMen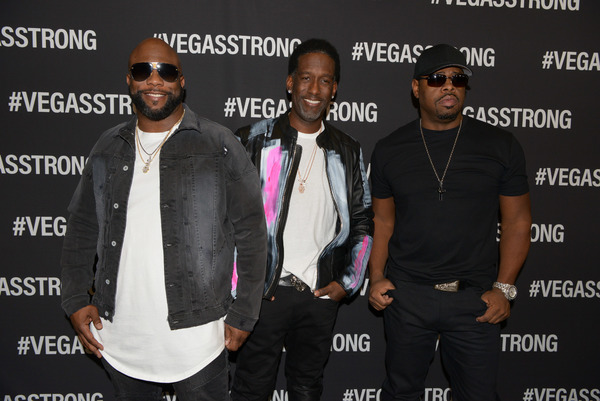 BoyzIIMen

Blue Man Group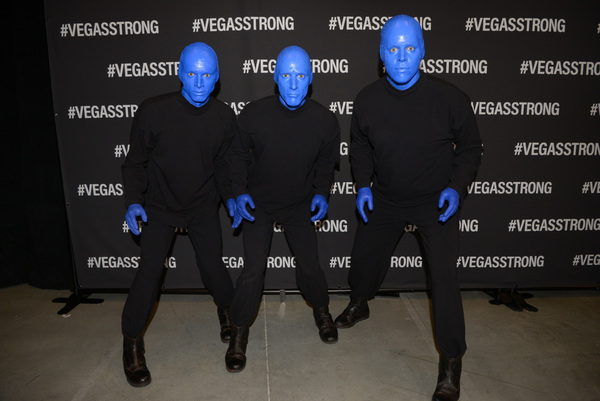 Blue Man Group