Kansas City Ballet to Continue 2021-2022 Season with DRACULA
Audiences will be mesmerized as they venture into the dark and eerie world of the infamous Count Dracula.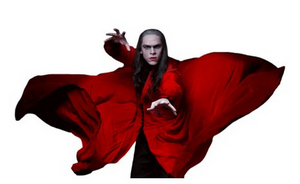 Kansas City Ballet's 2021-2022 season continues with Michael Pink's mesmerizing Dracula, Feb. 18-27 at the Kauffman Center for the Performing Arts. Based on Bram Stoker's classic, gothic horror story and performed by the world-class dancers of Kansas City Ballet, Dracula is a spellbinding tale of the nocturnal Count who survives on the blood of the living. Audiences will be mesmerized as they venture into the dark and eerie world of the infamous Count Dracula. With the combination of dramatic choreography by Michael Pink, an original, haunting score by Philip Feeney, dazzling costumes by Lez Brotherston, thrilling sets, and shocking special effects, Dracula delivers sensuality and danger in a dance/theater narrative with story-enhancing sound effects. Kansas City Ballet first performed Dracula in February 2014 to great acclaim.
Accompanied by the Kansas City Symphony, conducted by Kansas City Ballet Music Director Ramona Pansegrau, and featuring Feeney's gripping score, the dramatic music and cinematic scenery will captivate audience members from curtain rise to curtain fall.
Created in 1996 by Michael Pink, Artistic Director of Milwaukee Ballet Company, this terrifying yet romantic three-act drama has won critical acclaim in England, Australia, and North America. According to The Rocky Mountain News, Michael Pink's Dracula is "a bravura work of theatre - a taut, dark tale that happens to speak in the language of dance."
"The show has developed somewhat of a worldwide cult following," Choreographer Michael Pink says. "Kansas City Ballet dancers first performed it eight years ago, and I am thrilled that they will bring it to life - and immerse audiences in the vampire's version of eternal life - once again."
"Kansas City Ballet is excited to present Dracula to our community," Artistic Director Devon Carney said. "This fast-paced work-full of tremendous dramatic content and great moments of terror and love-will challenge and invigorate our artists to craft true three-dimensional characters to tell the haunting tale of Count Dracula."
Health and Safety COVID-19 Protocols
All patrons, including children, attending Kansas City Ballet performances are required to show proof of full COVID-19 vaccination along with proper ID for entry. Full vaccination means 14 days have passed since the final dose. They are unable to accommodate unvaccinated children or any unvaccinated patrons for this performance.
Masks are encouraged at the Kauffman Center. You will have people sitting behind you, in front of you, and next to you.
Please check their Safety & Health Policies for more detailed information.
https://kcballet.org/frequently-asked-questions/safety-health-policies-for-attending-performances/ prior to your visit. Visit the Kauffman Center to learn more about their health and safety policies at https://www.kauffmancenter.org/the-center/health/.