SHOW
DATES
THEATRE

A Gentleman's Guide To Love And Murder


Old Globe Theatre: - book: Robert L. Freedman; lyrics: Robert L. Freedman, Steven Lutvak; music: Steven Lutvak; dir: Darko Tresnjak.
2/8 - 2/11/2023

Parkway South Theatre
801 Hanna Rd
Manchester

Disney's The Little Mermaid


In a magical kingdom fathoms below, a beautiful young mermaid longs to leave her ocean home to live in the world above. Adapted from Disney's
2/9 - 2/11/2023

Park Hill South Theater
4500 River Pk Dr
Riverside

Fairview


In Fairview, we meet the Frasier family in the midst of a chaotic evening preparing for the family matriarch's birthday dinner. Beverly, the hostess, is
2/9 - 2/18/2023

Just Off Broadway Theatre
3051 Central in Penn Valley Park
Kansas City

Kinky Boots


With music and lyrics by pop music icon Cyndi Lauper and a book by noted Broadway writer and performer Harvey Fierstein, "Kinky Boots" won every
1/28 - 2/19/2023

Lewis and Shirley White Theatre
5801 W. 115th St Overland Park KS
Overland Park

Kinky Boots


The White Theatre    
2/7 - 2/22/2023

Jewish Community Center Of Greater Kansas City
5801 W 115th St
Overland Park

Disney's Beauty And The Beast


Back by Popular Demand following its sold-out 2010 engagement.
2/23 - 2/25/2023

Lindbergh District Auditorium
4900 S Lindbergh Blvd
St Louis

The Color Purple


Visual content only
2/10 - 2/26/2023

Springfield Contemporary Theatre
Springfield

Shrek The Musical Jr


Beauty is in the eye of the ogre in Shrek The Musical JR., based on the Oscar-winning DreamWorks Animation film and fantastic Broadway musical. It's
3/2 - 3/4/2023

Liberty Performing Arts Theatre
1600 S Withers Rd
Liberty

Something Rotten!


Rose Theatre
3/2 - 3/4/2023

Rose Theatre
9301 State Line Rd
Kansas City

Roald Dahl's Willy Wonka


Roald Dahl's timeless story of the world-famous candy man and his quest to find an heir comes to life in this stage adaptation of Charlie
3/3 - 3/5/2023

The Missouri Theatre
717 Edmond St
St Joseph

Agatha Christie's "Murder on the Orient Express"


A Mystery by Agatha Christie | Adapted by Ken Ludwig Just after midnight, a snowdrift stops the Orient Express. By morning the luxurious train is
3/3 - 3/12/2023

Theatre Lawrence
4660 Bauer Farm Drive
Lawrence

West Side Story


Miller Performing Arts Center
3/10 - 3/12/2023

Miller Performing Arts Center
501 Madison St
Jefferson City

Marys Seacole


Mosaic Theater Company of DC Jackie Sibblies Drury
3/8 - 3/26/2023

Unicorn Theatre
3828 Main Street
Kansas City

The Addams Family


Visual content only
3/24 - 3/26/2023

Gallatin Theater League
Gallatin

Agatha Christie's Murder on the Orient Express


Ken Ludwig's clever adaptation of the Agatha Christie classic boasts all the glamour, intrigue and suspense of Dame Agatha's celebrated novel, with a healthy dose
3/17 - 4/2/2023

Olathe Civic Theatre Association
500 E Loula
Olathe

Hamilton


Featuring a score that blends hip-hop, jazz, blues, rap, R&B, and Broadway, HAMILTON is the story of America then, as told by America now.HAMILTON is
3/21 - 4/2/2023

Kansas City Music Hall
301 W 13th Street
Kansas City

Curtains


Visual content only
3/24 - 4/3/2023

River City Community Players
Delaware St
Leavenworth

Disney's The Little Mermaid


In a magical kingdom fathoms below, a beautiful young mermaid longs to leave her ocean home to live in the world above. Adapted from Disney's
4/13 - 4/15/2023

Reininger Theatre
100 Wentzville Bluffs Dr
Wentzville

Into The Woods


Tower Grove Abbey
3/30 - 4/22/2023

Tower Grove Abbey
2336 Tennessee Ave
Saint Louis

Kinky Boots


Leach Theatre
4/20 - 4/23/2023

Leach Theatre
Rolla

Disney's Aristocats Kids


Madame's jealous butler Edgar cat-naps Duchess and her Aristokittens and abandons them in the Parisian countryside. What's a cat to do? Luckily, Thomas O'Malley and
4/27 - 4/27/2023

Storybook Theatre
14300 US-40 g
Kansas City

Into The Woods Jr


The Brothers Grimm "go Broadway" as Sondheim and Lapine offer up a cockeyed fairy tale where all of your favorite characters-Cinderella, Little Red Riding Hood,
4/29 - 4/29/2023

Dawn Lodge Pavillion -cedars Camp
Lebanon

Schoolhouse Rock Live! Jr


The Emmy® Award-winning Saturday morning educational cartoon series is now the basis for one of the most fun, energetic, and easily mounted musicals ever to
4/29 - 4/29/2023

Storybook Theatre
14300 US-40 g
Kansas City

Godspell-2012 Revised Version


Godspell book by John-Michael Tebelak music & lyrics by Stephen Schwartz conceived & originally directed by John-Michael Tebelak based on The Gospel According to St.
4/28 - 4/30/2023

The Ruby Theatre
615 S 10th St
Saint Joseph

Seussical


Celebrate Dr. Seuss's birthday and promote excitement in reading and literature with Seussical! This whimsical musical is based on the books of Dr. Seuss and
3/1 - 4/30/2023

Lhs Little Theater
W 13th St
Liberty




Back to the Main Page | Browse Local Theatres
---
Latest Kansas City Reviews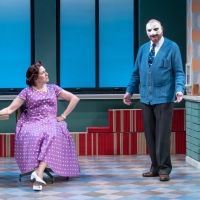 Review: FLOOD at KC Rep
by Kelly Luck - February 04, 2023
This reviewer has always been a fan of absurdist theatre, so it was with considerable excitement that she attended the evening's performance, eager to see a premiere that has come a mere 3 years after its workshop reading in 2019 (thanks again, covid). Happily, this reviewer can safely say she was n...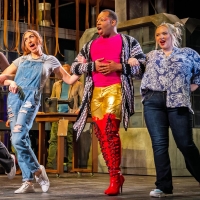 Review: KINKY BOOTS at The White Theatre
by Alan Portner - January 30, 2023
Live, local musical theater in Kansas City opens for 2023 with a delightful, surprising, unexpected production of 2013's six-time Tony Award winner "Kinky Boots." The more or less true tale of "Kinky Boots," performs in the unlikely setting of the White Theatre inside Overland Park's Jewish Communit...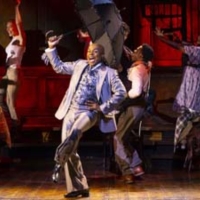 Review: HADESTOWN at Kansas City Music Hall
by Alan Portner - January 18, 2023
Blend two ancient Greek myths, add the climate change crisis, a screed on capitalism, fears surrounding immigration, sprinkle in delightful, original folk music, and stir. The unlikely result is the 2019 eight-time Tony-winning folk opus "Hadestown," an exceptional piece of musical theater....
Review: WHO'S HOLIDAY, A CHRISTMAS FAVORITE NOW PLAYING IN KANSAS CITY at Musical Theater Heritage
by Steve Wilson - December 13, 2022
If you want to see a hilarious Christmas show, then it's to WHO'S HOLIDAY you should go. Padgett Productions in Kansas City brings back the holiday favorite in the Ruby Room at the Musical Theatre Heritage Theatre in Crown Center. This Christmas delight, unlike any other you may see, is directed by ...
Review: COME BLOW YOUR HORN at New Theatre Restaurant
by Alan Portner - December 10, 2022
New Theatre Restaurant's new production of Neil Simon's COME BLOW YOUR HORN is a holiday gift to its audiences. It is a charming, gentle entertainment that rekindles a time when you were too busy laughing to worry about anything else....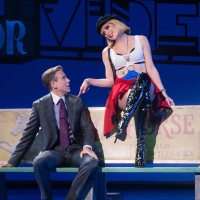 Review: PRETTY WOMAN THE MUSICAL at KC Music Hall
by Alan Portner - December 08, 2022
Very entertaining - if not high concept. Pretty Woman is a hoot....
Review: TELL-TALE ELECTRIC POE OPENS IN KANSAS CITY AT at The Coterie Theatre
by Steve Wilson - October 24, 2022
Three of the master of the macabre, Edgar Allen Poe's most frightening and grizzly pieces appear on the main stage of The Coterie Theatre through October 30 with TELL-TALE ELECTRIC POE. Adapted and directed by Jeff Church, Producing and Artistic Director of The Coterie, TELL-TALE ELECTRIC POE is sui...
Review: THE ROCKY HORROR SHOW USHERS IN HALLOWEEN IN KANSAS CITY at The Black Box
by Steve Wilson - October 09, 2022
It's astounding, time is fleeting, madness takes its toll. . .no it's the opening weekend of Padgett Productions THE ROCKY HORROR SHOW. The cult musical, which has become a Kansas City favorite, has been ushering in the Halloween season for several years. I have been in the audience at least once (m...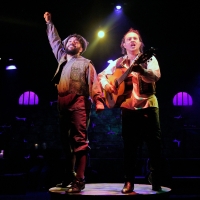 Review: MAN OF LA MANCHA at Music Theater Heritage
by Alan Portner - October 10, 2022
Playing now at Music Theater Heritage through October 23 at Crown Center is an imaginative new production of 1965's Tony award winning Best Musical 'Man of La Mancha' offered by Musical Theater Heritage....
Review: AKEELAH AND THE BEE at Coterie Theatre
by Steve Wilson - September 27, 2022
How do you spell winner? A-K-E-E-L-A-H because that's what The Coterie Theatre has in their production of AKEELAH AND THE BEE, now playing at the theater located in Crown Center. AKEELAH AND THE BEE written by Cheryl West is based on the award-winning film starring Laurence Fishburne with a screenpl...