Iconotheatrix to Put on 'So Very...' Production of HEATHERS THE MUSICAL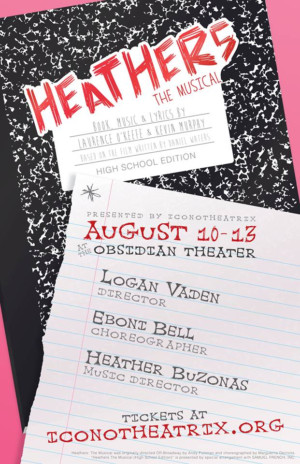 Iconotheatrix presents their final show of the season, Heathers The Musical (High School Edition), August 10-13, 2017 at Obsidian Theater.
In Heathers The Musical, based on the classic 1989 film, Westerberg High is ruled by a shoulder-padded, scrunchie-wearing trio: Heather (Courtlin Parisher), Heather (Rachael Palmer), and Heather (Madison Friedhoff), the hottest and cruelest girls in all of Ohio. But misfit Veronica Sawyer (Nicole Daniels) rejects their evil regime for a new boyfriend, the dark and sexy stranger J.D. (Austin Colburn), who plans to put the Heathers in their place - six feet under.
Iconotheatrix' production of Heathers The Musical (High School Edition) will feature all age-appropriate casting for the first time, ever, on a Houston stage!
The show will be held at Obsidian Theater, located in the Houston Heights. Heathers will run for 5 performances only from August 10-13. Tickets range from $15 for students to $25 for adults. Tickets can be purchased at www.iconotheatrix.org/current-production.
With music, book, and lyrics by Laurence O'Keefe and Kevin Murphy, based on the film by Daniel Waters, Heathers The Musical (High School Edition) is filled with the characters we have grown to love (and hate!).
Iconotheatrix, a youth theatre company, cast the teenage roles with young adults and the adult roles with guest artists, who are professional, working actors in the Houston area. Southern Methodist University sophomore, Nicole Daniels, leads the cast as Veronica Sawyer. Co-starring with Daniels as her scheming boyfriend, JD, is Sam Houston State University sophomore, Austin Colburn. As the irresistibly evil Heathers, Iconotheatrix has cast Courtlin Parisher (Heather Chandler), Rachael Palmer (Heather Duke), and Madison Friedhoff (Heather McNamara). The cast also includes Karson Davis as Kurt Kelly, Chazz Padilla as Ram Sweeney, and Charlie McCoy as Martha Dunnstock. Guest artists include Chaney Moore as Ms. Fleming/Veronica's Mom and Eric Aultman as Kurt's Dad/Veronica's Dad/Principal Gowan. Rounding out the cast of teenagers is Mia Carter, Lauren Eddings, Alleese Eldridge, Janson Hanes, Joya Polk, Andrew Ritch, Odet Torres, and Lauren Weinberger.
The creative team is comprised of familiar faces to Iconotheatrix, featuring direction by Logan Vaden, choreography by Eboni Bell, and music direction by Heather Buzonas.
Iconotheatrix, was established in December of 2014 with their inaugural cabaret, Iconotheatrix: A Prologue. This was quickly followed up by their highly-successful production of RENT. ITX produced its first full season in 2016-2017 featuring Carrie: The Musical, The 25th Annual Putnam County Spelling Bee, and Heathers The Musical (High School Edition). Iconotheatrix was founded on the idea that hard work, discipline, creativity, and teamwork are important tools for every young actor to develop. Iconotheatrix' mission statement says, "We believe that young minds will deliver what they feel is expected. We want to create an environment where children feel safe and free to express themselves and to be who they are. We plan to bring classes, workshops, and innovative, challenging shows to the community. We believe that consistency is important and we plan to maintain a steady pace of work for you and your families to be a part of. Above all else the honesty of the works performed is most important because then it is true art. We are willing to break from tradition to do new and exciting things, offering a diverse experience to take into the future. We want to provide a professional environment so, that when our students head into the real world of college and auditions, they are well prepared. Our team is made up of young, fresh minds focused on bringing positive progression to the area of youth theatre." For more information, email iconotheatrix@gmail.com or visit Iconotheatrix' website at www.iconotheatrix.org.