BWW Feature: Houston Ballet Pushes the Frontiers with PREMIERES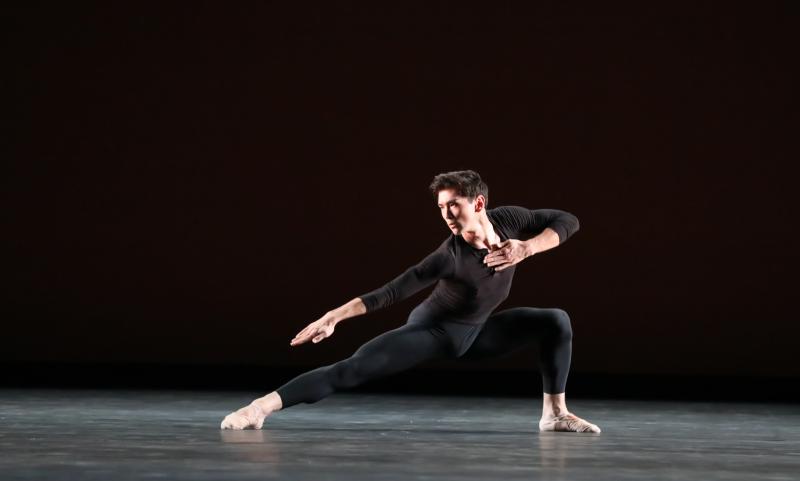 March 21-24, 2019, Houston Ballet presents PREMIERES, a program featuring Justin Peck's Reflections (world premiere), Aszure Barton's Come In (Houston premiere), and Jiri Kylian's Dream Time (Houston Ballet premiere). Read the BroadwayWorld review here: PREMIERES at Houston Ballet, and get an in depth look at the program below.
---
Yin and Yang
PREMIERES is the yin to ROBBINS' yang, says Stanton Welch, Houston Ballet artistic director.
Earlier this year, the Houston Ballet presented a centennial celebration of Jerome Robbins featuring Fancy Free (1944), The Cage (1951), and The Concert (or the Perils of Everybody), which premiered in 1956.
This weekend, Houston Ballet presents PREMIERES, a program featuring Justin Peck's Reflections (2019), Aszure Barton's Come In (2006), and Jiri Kylian's Dream Time (1983).
ROBBINS and PREMIERES are apparent opposites: In Jerome Robbins, you have a storied choreographer with a list of classic choreographic compositions and Tony Awards to his name. And Peck, who choreographed the central work of PREMIERES, while extremely popular, award-winning and critically acclaimed, is still building a legacy.
But you can scratch the surface with a press-on nail and still discover the two are also inextricably linked: Not only does Peck count Robbins among his influences, but the young dancemaker is currently choreographing Steven Spielberg's remake of WEST SIDE STORY, one of the balletmaster's signature works.
Peck returns to the Houston Ballet restored, bringing with him a restorative ballet: Reflections. Reflections is the follow up to Year of the Rabbit, what New York Times writer Brian Seibert calls a "precocious" take on the Chinese Zodiac. Year of the Rabbit made its world premiere in 2012 and its Houston Ballet premiere in the 2016/17 season when he was in his later 20s. Now, at 31, still young but more mature, Peck takes on more substantive concepts.
Like the title suggests, Reflections is a contemplative, dare I say meditative, ballet. Over the course of 30 minutes, with 11 dancers, Peck will explore symmetry, simplicity, balance of space, and clarity-qualities more difficult to achieve than they seem with implications the exceed far beyond dance. Clarity lends itself to inner peace and joy; duality, or symmetry, if you will, of body and mind leads to a richer understanding of the world around you and more compassion and kindness toward your fellow man. Keeping with the theme, Sufjan Stevens composed a score centered around two pianists.
''Dance is about relationships"
''Dance is about relationships," said Jerome Robbins, a sentiment shared by contemporary choreographer Barton. In an interview with Dance Informa, Barton says, "The most essential source of my work is my relationship with the human beings, the artists, involved in the process. I try to remain open and allow our conversations to guide me."
Each work in the ROBBINS program centered around relationships. Fancy Free in particular serves as a sharp critic of male and female romantic relationships that is still relevant today. It's good to know that jerks harassing women, fighting amongst themselves, then striking out isn't limited to JERSEY SHORE.
Similarly, Come In (2006) comes to Houston Ballet courtesy of a relationship, one Barton started with Houston Ballet years ago. She created Angular Momentum for Houston Ballet, which made its world premiere at the Wortham in 2012. BroadwayWorld dance critic David Clarke praised Barton's choreography, calling it "an extravaganza of arresting, jarring, and altogether unusual movements."
Hardest working men and women in show business
Barton was "blown away" by the male dancers during her 2012 visit, says Welch. "Houston Ballet has really spent the last 16 years making this company a choreographer's dream so that when [the Kylians, Bartons, and Pecks] come, they have great dancers who are extremely attentive and work passionately behind making a new work." James Brown would be proud.
The company's hard work paid off. On this visit, the Canadian choreographer brings a new version of Come In for PREMIERES. The 13 dancer ensemble piece originally featuring Mikhail Baryshnikov and Barton herself is now all-male. Barton is generous to the dancers in her work, so the men of the Houston Ballet have the chance to show-off and flex. Stay on the lookout for the pirouettes and tours en l'air.
Likewise, Jiri Kylian has given the dancers something difficult for the dancers to "sink their teeth into" with Dream Time, an eerie ballet exploring the aboriginal concept Dream Time. It's a complex ballet that physically tests the dancers and mentally tests the audience.
The new frontier
"All artform is kind of a frontier or a wall," says Welch. "We have to go out and explore things. We have to find new pathways, new ways of saying-even if it is the same story-but telling it in a new way. And the way we do that is by making new work... [PREMIERES] is a celebration of that. And I think, for us, every year we must push the boundaries for the ballet, not just for Houston, but for the world."
Related Articles View More Houston

Stories

Shows