BWW Review: PREMIERES at Houston Ballet
Houston Ballet presents PREMIERES, an eclectic collection of three pieces created by exciting and visionary choreographers: Aszure Barton, Jirí Kylián, and Justin Peck. Their creations were introduced to Houston audiences last night, and the reception at Wortham Center was more than a little enthusiastic. Each piece was as varied and dynamic as the choreographers themselves, creating a thought-provoking line up that speaks to the present while nodding to ballet pioneers of the past.
---
Barton's Come In opens the evening with an all-male cast - an interesting choice, being that Barton is a female choreographer in the male-dominated world of choreography. Fourteen dancers execute steps that are measured and spare one moment, only to erupt in whimsical joy the next. The piece brings to mind the search and discovery of identity, and the tension between conformity and self expression. The music by Vladimir Martynov is bittersweet and gorgeously performed by pianist Katherine Burkwall-Ciscon and violinist Denise Tarrant. The dancer's movements seem deeply aligned with the violin, almost as if it is dictating how they move. Occasional taps of a cowbell evoke the ticking of a clock and a new chapter in the dance. The overall effect feels modern and provocative.
Kylián's Dream Time is dark and stirring; if Alfred Hitchcock had choreographed a ballet, this would be it. A wet-looking backdrop brings to mind a rainy city street, or an icy, avante garde art installation. Whichever it is, it's effective in conjuring the foreboding taste of Kylián's choreography. Music by Toru Takemitsu makes the hair on the back of your neck stand up. The dance begins with a clean fluidity, with three women in simple dresses dancing in languid, haunting unison. Unexpectedly, it becomes like a hall of mirrors, with innovative interrelating and borderline illusionistic arrangements of dancers. There are lifts that seem improbable and mysterious interplays that make one want to pause the dance so one can see how they're connected. Dream Time is probably the most impactful and memorable piece of the evening; it's unique, but organic, honest, but shrouded in secrets.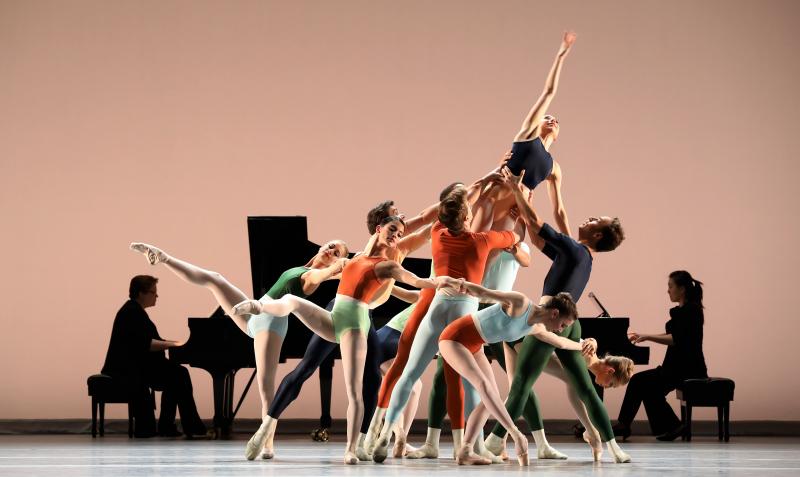 The evening finishes with celebrated choreographer Justin Peck's Reflections. The curtain rises on a bright stage bedecked with two black pianos and dancers in contemporary colors. Reflections radiates with fresh, of-the-moment choreography that brings to mind community, relationships, and chance meetings. It is youthful and optimistic, with interesting shapes and groupings. Music by singer/songwriter Sufjan Stevens is inspired, and the dancers seem organically connected to it. Performed impeccably by pianists Katherine Burkwall-Ciscon and Yi-Chiu Rachel Chao, the arrangement plays an integral role in the piece. It's hard to draw the lines between what makes it all work; Stevens' music and Peck's choreography seem grafted together like a happy mutual admiration society. With it's warm and innovative spirit, Reflections is about jubilant belonging.
While Come In, Dream Time, and Reflections each have a marked identity, the triad presentation serves to compliment the elements of each. It's a journey into well-crafted worlds, an escape and a reunion all at once. Houston Ballet is more than up for the challenge; the company has a gift for theatrical expression. PREMIERES is everything that an evening at the ballet should be; thrilling and multi-faceted.
Houston Ballet Presents PREMIERES. March 21-24, 2019. Wortham Theater Center, 501 Texas Avenue. For information, call 713-227-2787 or visit houstonballet.org.
Photo Credit: Amitava Sarkar