Review: BOOTYCANDY is sweet and tasty at The Catastrophic Theatre
Bootycandy, Bootycandy Bootycandy! There! I've said it three times and a zombie hasn't appeared but the brilliantly written play by Robert O'Hara has made its appearance in H-town! BOOTYCANDY had its world premiere at the Woolly Mammoth Theatre June of 2011 in Washington D.C. and then it made its way to New York City at Playwrights Horizons in August 2014. Let's just say that the institution of the black theatre was changed and every audience that has witnessed this piece of work has been ever changed! Including me!
From sexuality to religion, gossiping church folk to a pastor in drag; BOOTYCANDY isn't shy with its subject matter and you have to have a sense of humor to withstand this in-your-face reality! The play begins with Sutter played by Xzavien Hollins in tighty whities rocking a big afro. The young Sutter is very inquisitive and has questions for everything. While he continues to ask his mother question after question she reminds him to pull back and wash. Reminding him of the extra care needed because he's uncircumcised. She calls his penis BOOTYCANDY. Of course, Sutter wants to know why it's called BOOTYCANDY. She says and I paraphrase that this is the candy to the booty. This phrase was handed down from his grandmother.
The second scene of this play takes place in a church. The pastor stands at the pulpit expressing his disdain from the "I heard fold" and the "they heard folk." He's received an anonymous letter pointing out the gay boys of the church. Within the dark humor of this piece, we have to think about the main institution that has an issue with homosexuality. The black church is the cornerstone of history, culture, and strength. Many young gay black boys grew up in the church and now due to the doctrine and legalistic ideals of the church they are ostracized and condemned. Many instances pastors use the pulpit as a place to encourage and empower, but the pulpit has turned into a place of hate and used for personal opinion. This play uncovers the stance of the black church and homosexuality. Towards the end of the piece, it is mentioned about the pastor's sexuality. The pastor played by Dominique Champion begins to hoop. What is hooping you ask? Hooping is a melodious closing of a sermon mostly used in the missionary baptist and COGIC church. The pastor then begins to sing his sermon most of the time ending by singing I know He's alright! Yes! I am a church boy and there's your lesson on the black church! As the sermon gets to its climax he then breaks the 4th wall, there are some call and response from the audience and by the end, the pastor is standing there in a sequin gown, cotton candy pink wig, and pumps. Was I at Hamburger Mary's? No! I was in the theatre hunty! I loved Champion's understanding of the black church and even the moment when he caught the Holy Ghost in his heels. This moment focuses on an issue that has been the root of church hurt for gay people for decades. The church is supposed to be a place of love and acceptance but has become the epicenter of hate, gossip, hypocrisy, and judgment. This scene thrusts these issues in our faces and the acting was utterly superb! Great performance I must say!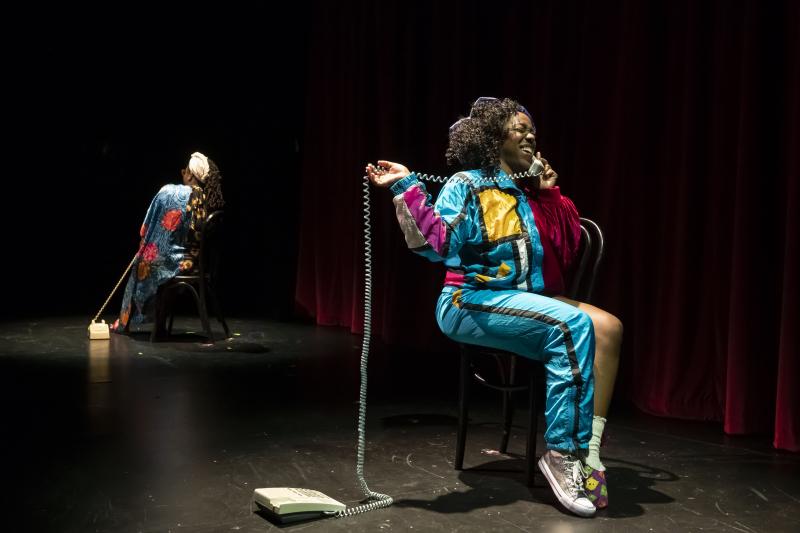 BOOTYCANDY is semi-autobiographical to the life of playwright Robert O'Hara! There's something familiar with the scenario and architectural design and tone of this play. Having its campy moments there's a tangible sensibility to this text. This script is ballsy and the acting has to be as such. I was thoroughly entertained yet disturb by the brilliance of Xzavien Hollins. From his physicality to vocal texture from scene to scene I was completely invested and awestruck! This right here folks was great acting! From the simplicity of how he says "yes ma'am" as a child to the haunting delivery when his parents are questioning his accounts with a male child predator. This scene explored and examined the toxic masculinity that continues to plague the black community. The obsession with sports and how it equates manhood has been a centralized discussion not only in the black community but with ever father and his son. O'Hara leaves no stone unturned and holds no punches. This here is an American treasure!
Within the fragmented vignette writing style, I'm reminded of one of my favorite places titled THE COLORED MUSEUM written by George C. Wolfe. Even though the character Sutter has a linear narrative there are other scenes that joggle the senses but definitely work throughout the play. I think the scene was titled "Genitalia" - two women are sitting gossiping about a friend of theirs and the name of her newborn baby. As the scene plays out we learn that she wants to name the baby Genitalia. The two ladies (Brittny Bush and Mara McGhee) laugh, and I am reminded of the late night talks my mom had with my aunt. They would dish about what was going on in the neighborhood and church. This scene is played with the 2 ladies playing 4 different women, and one half of their costume and make-up resembles another person. I am brought to the days of great Houston area drag artists such as Cookie LaCook and Tommie Ross. Now here's the gag! I loved the energy but wanted more from these two ladies. I say if you are going to go there then go all the way. Go big or go home. I felt as if their characters were safe. This could have been a directorial note but I wanted them to channel the energy of the actresses Kim Wayans, Kim Coles or T'Keyah Crystal Keymáh from In Living Color. Another scene that I enjoyed was with all 5 characters at a playwrights talk-back moderated by Gabriel Regojo. In this scene racial stereotypes withing the theatre community are revealed.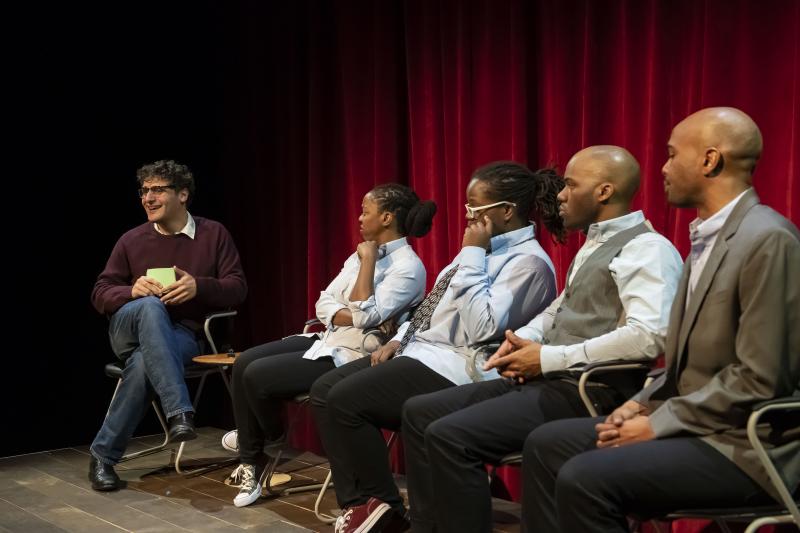 American Theatre History has names of note such as Arthur Miller, Tennessee Williams, Horton Foote, August Wilson, and Lorraine Hansberry all who tell stories of the American experience and or the American Dream. There's something missing within the confines of this legacy hall and Robert O'Hara needs to be added to this list. Vance Johnson and the creatives at Catastrophic Theatre has hit pay-dirt with this production and I want to go back to theatre. Representation in the theatre is a big deal for me and being a black gay man in America it feels great going to the theatre here in Houston seeing someone who looks like me, has dealt with the issues I've dealt with. It is wonderful watching their story being told unapologetically! The human experience is often told from many perspectives all with a rising action, conflict, denouement, and a resolution. It is the brilliance of the playwright, the craftsmanship of the actors and the artistic leadership of the directors and production staff that makes for a hearty artistic gumbo. This production of BOOTYCANDY serves up a big ass serving of all the above! In the words of Stefon from Saturday Night Live, this play has everything: gays, pastors in drag, metatheatre, a cursing baby-back rib eating grandmother and a poignant message that is sure to take you on an emotional roller coaster. Get to the theatre to see Robert O'Hara's masterpiece BOOTYCANDY.
BOOTYCANDY plays now through March 10, 2019 at The MATCH. For Ticket information please visit www.catastrophictheatre.com
Photos by Anthony Rathbun