Bryan-Keyth Wilson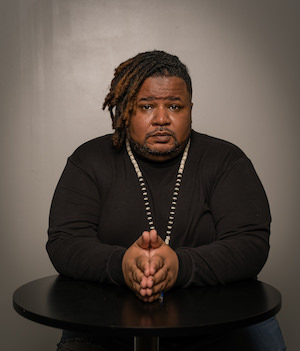 Dubbed the Literary Prince, Bryan-Keyth Wilson is a noted playwright, screenwriter, director, teaching artist and choreographer. He is a published author of two books and 8 plays. His first novel, HOOD BOY CHRONICLES, was a groundbreaking work of inspirational fiction combining street literature swag and spoken word intermingled with a poignant and heartfelt story that restores faith. His second title was for the grown and sexy crowd. TRACK CHANGES & WHITE LIES was written under an alter-ego pseudonym Brendan Gotti. BKW studied Musical Theatre with a Dance emphasis at Sam Houston State University. His passion for teaching has brought him into the classroom as a teaching artist where he shares his professional journey with young aspiring theatre/ musical theatre artists. He is the Artistic Director of The Wilson School of Acting & Musical Theatre and a proud member of Chi Tau Epsilon Dance Fraternal Honor Society and Alpha Psi Omega the National Honor Theatre Fraternity.

Regional directorial/choreography credits include: BARE, The Frog Prince, PIPPIN, Little Shop of Horrors, RENT, The Rocky Horror Show, Spring Awakening, Macbeth, Mame, Once on This Island, Anything Goes, Dreamgirls, Confessions of a Preacher's Wife, and Suessical the musical. Off-Broadway Credits include: Pamlet and The Subway Series Pt 1. He has choreographed children's productions of Fiddler on the Roof Jr., which won Outstanding Production at the 2011 Junior Theatre Festival. Seussical Jr., Once on This Island Jr., Godspell Jr., Disney's AristoCats Kids, Disney's Beauty and the Beast Jr., The Little Mermaid Jr. which one Outstanding Production at the 2012 Junior Theatre Festival FAME Jr. and excerpts from Dr. Doolittle Jr. 2012 Showcase Premiere at the Junior Theatre Festival. He has directed music videos for American Idol Finalist Vincent Powell and YUNEK. BKW is also the founder and Executive Artistic Director of The Eklektix Theatre Company and founder of The Gulf Coast Writers Retreat. He is a five-year faculty member of The Black Writers Reunion & Conference.
BWW Interview: Leroy Church of DREAMGIRLS on Clubhouse

January 29, 2021

The new Clubhouse App is allowing theatre to go to newer heights and reach millions.
---
BWW Interview: Raven Justine Troup of ELF THE MUSICAL at TUTS

December 9, 2019

ELF, the musical has become a traditional holiday favorite in the Bayou City and we are excited to see this whimsical story made popular by the movie starring Will Ferrell. ELF the musical has music by Matthew Sklar, lyrics by Chad Beguelin, book by Thomas Meehan and Bob Martin and is based on the New Line Cinema Film written by David Berenbaum. This production is directed and choreographed by Dan Knechtges
---
BWW Review: FREEDA PEOPLES Shakes the Foundation of The Ensemble Theatre

April 10, 2019

If you're a churchgoer and specifically a member of a black church, the issues in this production aren't foreign. In this story, we learn about backsliding deacons, disgruntled church elders, and hate towards the new pastor. Not saying that every church has these issues, but if you aren't in a church that has these issues you've heard of a church that has.
---
BWW Review: BOOTYCANDY is sweet and tasty at The Catastrophic Theatre

February 27, 2019

Bootycandy, Bootycandy Bootycandy! There! I've said it three times and a zombie hasn't appeared but the brilliantly written play by Robert O'Hara has made its appearance in H-town! BOOTYCANDY had its world premiere at the Woolly Mammoth Theatre June of 2011 in Washington D.C. and then it made its way to New York City at Playwrights Horizons in August 2014. Let's just say that the institution of the black theatre was changed and every audience that has witnessed this piece of work has been ever changed! Including me!
---
BWW Review: TOO HEAVY FOR YOUR POCKET Weighs on the Heart at THE ENSEMBLE

February 15, 2019

Within the tapestry of American Drama there a strong list of Civil Rights plays as well as other plays that tackle social injustices, sexism, and sexuality. Holders play holds true to trying times of the early 1960s but his exquisite storytelling and Yale training shined brightly in this Jireh Breon Holder's playwriting masterclass.
---
BWW Review: ELF THE MUSICAL Tickles the Funny Bone at Queensbury Theatre

December 14, 2018

It's December and the holidays are here whether we like it or not. Cue the tinsel, tidings of great joy and the maple syrup. Yes, the maple syrup!
---
BWW Interview: Scot Pankey, Theatre Educator, Talks Dramaversity, a New Live Online Performing Arts Academy

December 10, 2018

The performing arts steps out of the box today with the DRAMAVERSITY launch today, December 10, 2018. The live online performing arts academy gives students of all ages, from all over the world, the opportunity to attend performing art classes from the comfort of their home, using a computer or smart device.
---
BWW Preview: The T.R.U.T.H. Project's 'I AM LIFE: AN HIV/STIGMA NARRATIVE'

November 29, 2018

In a free event, open to the public, The T.R.U.T.H. Project (Telling Real Unapologetic Truth Through Healing) partners with the University of Houston (UH) LGBTQ Resource Center to commemorate World AIDS Day with a multidisciplinary artistic performance entitled I Am Life: An HIV/Stigma Narrative Expressed Through the Experiences of Women.
---
BWW Review: All Hail THE WIZ at TUTS

October 27, 2018

Though it's 2018 in Houston, Texas, at the height of the 2018 primary election, but thankfully, there's an escape from the tumultuous political climate where blue and red are the subject. The color of today is green.
---
BWW Review: THE CHOIR OF MAN at The Grand 1894 Opera House
October 12, 2018
---
BWW Interview: THE BLACK CARD at THE MATCH- Say It Loud, I'm Black and I'm Proud!

February 2, 2018

Mr. Gibson couldn't have timed this concert any better. I highly encourage you to celebrate Black History Month at the theatre and get a hearty dose of truth, light and most of all a creative masterpiece known as THE BLACK CARD! See you at the theatre!
---
BWW Review: THE LION KING at Hobby Center

July 4, 2017

In 1994 Disney's animated feature The Lion King was the cartoon movie that broke barriers and was popular with adults and children. With its textual references to William Shakespeare's HAMLET, this age old tale is one that no one needs to go in depth about. In July of 1997, Julie Taymor along with original cartoon creatives Elton John and Tim Rice debuted a Broadway bound music that was sure to revolutionize storytelling. Now 20 years on the boards this lavish musical continues to inspire, empower and entertain. With authentic and visceral musical arrangements by Lebo M, THE LION KING is a theatrical jewel that gleams brightly representing the essence of the Motherland- Africa.
---
BWW Review: DREAMGIRLS Sparkles and Shines at TUTS

April 9, 2017

BWW Review: DREAMGIRLS Sparkles and Shines at TUTS
---
BWW Feature: DREAMGIRLS at TUTS

April 3, 2017

Walking into the rehearsal studios at TUTS had a different energy on today. I thought I was at the New 42nd St. Rehearsal Studios in NYC, but I was here in H-Town awaiting the gorgeously talented cast of DREAMGIRLS. The energy was high and every press rep in the room had memories of their first introduction to this fabulous piece of American Musical Theatre. The day began with a brief introduction of the cast by TUTS Artistic Supervisor/ show director, Sheldon Epps.
---
BWW Review: A LESSON BEFORE DYING at The Encore Theatre

February 24, 2017

A LESSON BEFORE DYING by Romulus Linney is based on the novel by Ernest J. Gaines. I remember reading the book, and I was familiar with the screen adaptation starring Don Cheadle and Mekhi Phifer, but the stage play I didn't know. So, the Encore Theatre's production, directed by Harold J. Haynes, was something I was looking forward to.
---
BWW Review: THE BOOK OF MORMON at Hobby Center

January 6, 2017

The city of Houston has been on news feeds with its share of religious drama. Kim Burrell's hateful rhetoric towards the gays has caused an uproar in the gay and Christian communities, and now the controversial religious satire musical BOOK OF MORMON, written by SOUTH PARK creators Trey Parker and Matt Stone with Robert Lopez (FROZEN), is back in town. The musical opened on Broadway in 2011 and has been pissing off and entertaining packed houses ever since. Last night's show was magnetic; there's a reason why The New York Times says this is the best musical of the century.
---
BWW Review: O LITTLE TOWN OF BAGELS, TEACAKES AND HAMBURGER BUNS at A.D. Players

December 23, 2016

O LITTLE TOWN OF BAGELS, TEACAKES AND HAMBURGER BUNS is a soul-warming depiction of the true meaning of Christmas.
---
BWW Feature: Salute to Edward Albee

October 10, 2016

It was during my undergrad years at Sam Houston State University that I was introduced to the writings of Edward Albee. Every so often there's a playwright that comes along and changes the landscape of the American Theatre. It was in 1963 when WHO'S AFRAID OF VIRGINIA WOOLF? debuted on Broadway and shook the foundation of the theatre world. Albee's work delves into the human psyche with an in-depth view of relationships, marriage, and sex. His presence will be truly missed but his mark on the theatre world is undoubtedly immortal.
---
BWW Interview: Ben Vereen of STEPPIN' OUT at The Grand 1894 Opera House

September 23, 2016

There's not much one can say when you look at the resume of Ben Vereen. I have to admit I thought the email to interview Mr. Vereen was a hoax or a vile trick someone was playing on me. Now the reason I say this is because he is one of my idols and reasons I studied musical theatre in college and left to go to NYC to work professionally. We are familiar with his work with Bob Fosse as the Leading Player in PIPPIN and as Judas in JESUS CHRIST SUPERSTAR but Mr. Vereen still continues to give us the ole razzle dazzle on the stage and on the screen. He's starred in 9 Broadway shows, has received the coveted Antionette Perry Award (The Tony), a Drama Desk Award, and a Prism Award. Nominated for an NAACP Image Award, starred in 30 plus movies and television shows, and has a huge crossover career. Ben Vereen hit the scene in Martha Graham's PRODIGAL SON in 1965 and he's been working ever since. I had the esteemed pleasure to sit and talk about his illustrious career and the current projects he's working on currently.
---
BWW Preview: SASSY MAMAS at The Ensemble

September 20, 2016

As the summer comes to a close the heat is still on within the theatre community in H-Town. We are promised to see rappers at TUTS, Janis Joplin at the Alley and three cougars spicing it up at The Ensemble. The historic Ensemble Theatre is celebrating their 40th Anniversary and they will begin the bill with the tantalizing and steamy regional premiere of SASSY MAMAS by noted playwright Celeste Bedford Walker. 
---