Photo Flash: Tim Rice, Finger Lakes Bring Excerpts of FROM HERE TO ETERNITY to Honolulu
The Finger Lakes Musical Theatre Festival and multiple award-winning film and theatre lyricist Tim Rice are bringing excerpts of Rice's latest musical, "From Here to Eternity," to Honolulu to participate in three commemoration events of the 75th Anniversary of Pearl Harbor. The first of the three events, The Pacific Aviation Museum Gala, took place this past Saturday, December 3, and featured 22 Hawaiian singers performing the show's powerful finale, "The Boys of '41." Scroll down for photos!
Additional performances include "Movies on Waikiki Beach" (December 4) and the "December 7th Remembered" veterans banquet on December 6. For more information, visit PearlHarbor75thAnniversary.com.
FROM HERE TO ETERNITY opened on London's West End in 2013 and made its North American premiere at the Finger Lakes Musical Theatre Festival in Auburn, NY on June 29, 2016.
Based on James Jones' award-winning novel written in 1951 and, later, an eight-time Academy Award winning film (1953) of the same name, "From Here to Eternity" takes place in 1941 in Honolulu. The men of G Company are restless and disgruntled. One of their own, the rebellious but soulful Private Prewitt, falls for escort club girl Lorene, and his platoon sergeant embarks on a dangerous affair with his commander's wife. As the infamous date of the Pearl Harbor attack approaches, the claustrophobic world of the four lovers and the desperation of the soldiers of G Company splinter amidst an escalating war. The new musical is an epic, sweeping story of love, redemption and hope set against the backdrop of a beautiful but conflicted paradise.
Creative team members include co-librettists Donald Rice ("Traffic Warden," "I Am Bob," "Cheerful Weather for the Wedding") and Bill Oakes (music supervisor of "Saturday Night Fever" and "Grease" and producer of "The Little Rascals" and "Grease 2"), lyrics by Tim Rice and music by pop music singer/songwriter Stuart Brayson. The show is directed and choreographed by Brett Smock.
Tim Rice has been writing lyrics for musical theatre and related enterprises since 1965. Credits include "Joseph And The Amazing Technicolor Dreamcoat," "Jesus Christ Superstar" and "Evita" with Andrew Lloyd Webber; "Aladdin," "King David" and "Beauty And The Beast" with Alan Menken; "Chess" with Björn Ulvaeus and Benny Andersson; and "The Lion King" and "Aida" with Elton John. He is currently working on a show about Machiavelli and this year has written three new songs with Alan Menken for the forthcoming live action film of "Beauty and the Beast." More can be found at www.timrice.co.uk.


Tim Rice takes the stage at the Pacific Aviation Museum Gala in Honolulu to introduce excerpts from his new musical, FROM HERE TO ETERNITY.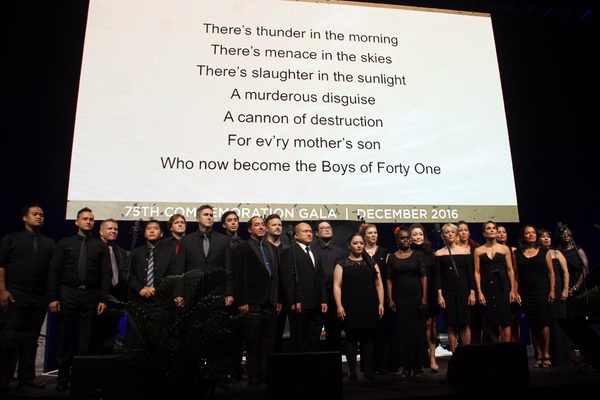 Honolulu's finest singers perform 'The Boys of '41' from Tim Rice's new musical FROM HERE TO ETERNITY at the Pacific Aviation Museum Gala.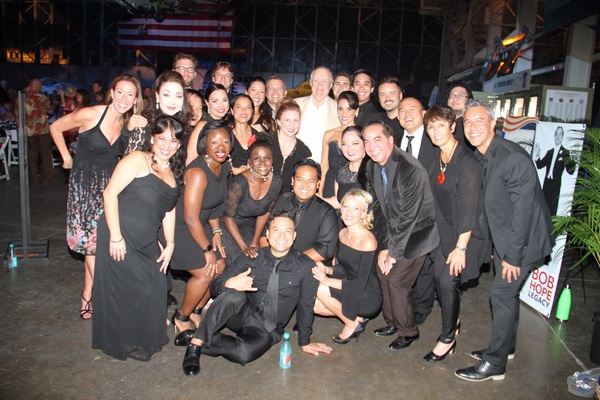 Tim Rice, Brett Smock, Corinne Aquilina, Julie Tomaino, and Honolulu's finest singers celebrate Tim Rice's new musical FROM HERE TO ETERNITY at the Pacific Aviation Museum Gala.
More Hot Stories For You