Florida Rep Presents a New Adaptation of A CHRISTMAS CAROL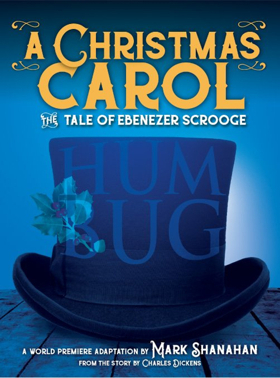 Florida Repertory Theatre is pleased to announce the opening of "A Christmas Carol: The Tale of Ebenezer Scrooge," a world premiere adaptation of the Dickens classic written and directed by Mark Shanahan. Playing November 30-December 19 in the Historic Arcade Theatre, the run includes four nearly sold out preview performances November 27-29.

The production features a 24-person cast of Florida Rep's ensemble of actors, guest artists from New York and across the country, ten young actors from across Southwest Florida, and original music played live onstage.

"This is going to be like no other version of 'A Christmas Carol' you have ever seen," said Associate Artistic Director Jason Parrish, "When we set out to produce this play, we set out to give Southwest Florida audiences something thrilling and new, and a chance to experience this classic story as it can only be seen onstage. This version is an incredibly fresh, funny, and thrilling ghost story, and will leave you wanting more."

"A Christmas Carol: The Tale of Ebenezer Scrooge" is a thrilling and fast-paced retelling of the Dickens classic that features an all-star cast and original music played live onstage. Audiences will join Ebenezer Scrooge on an epic, ghostly journey through Christmases past, present, and future with Jacob Marley, Bob Cratchit, Tiny Tim, and more. With time running out, will Scrooge see the error of his ways before it's too late to save his soul? Funny, heartwarming, and suspenseful, Florida Rep's brand-new production is perfect for families and theatergoers of all ages.

The theatre is pleased to offer a $99 Family Package that includes admissions for two adults, two children, and four concession items. In addition to the family packages, Florida Rep is also offering a $5 discount to any audience member who donates a canned good or non-perishable food item in partnership with Community Cooperative.

The production stars Florida Rep ensemble members, Viki Boyle ("Outside Mullingar"), Greg Longenhagen ("Around the world in 80 Days"), and Brendan Powers ("How the Other Half Loves") in multiple roles throughout the Dickens story, and Peter THomasson ("The Miracle Worker") as Ebenezer Scrooge. They are joined by frequent Florida Rep guest artists Joe Delafield ("The Dingdong"), Faith Sandberg ("How the Other Half Loves"), and Bruce Warren ("The 25th Annual...Spelling Bee"); as well as, Jake Berne, Patrick Mounce, Mikey Reichert, Eric Shorey, Sydney Torres, Genevieve Takosich, and Tova Volcheck.

"A Christmas Carol: The Tale of Ebenezer Scrooge" also showcases ten young performers from across Southwest Florida, many of whom have been seen recently in Florida Rep's Education Department camp and conservatory productions. In the cast are, Lane Free (Evangelical Christian School), Annabelle Grasmeier (St. Francis Xavier), Keehnon Jackson (Veterans Park Academy for the Arts), Liza Jayne Longenhagen (Cypress Lake Middle), Carson R. Maschmeier (Fort Myers High), Christian Miller (Canterbury School), Sebastian Moore (Riverhall Elementary), Matteo Occhino (Cypress Lake High), Grace Layne Ryan (The Alva School), and Cadence Bambrey-Zedd (homeschool). Mr. Jackson, Miss Longenhagen, Miss Ryan, and Miss Bambrey-Zedd return to the Arcade stage after appearing in Florida Rep's "The Miracle Worker" last February.

Mark Shanahan returns to Florida Rep as both adapter and director after directing last season's "How the Other Half Loves" and adapting "The Dingdong" from Feydeau's original "Le Dindon" in 2016, among others. Shanahan leads an expert creative team including Musical Director Eric Shorey (Florida Rep debut), Choreographer Stephanie Card (dir. "Cabaret"), Composer/Arranger Drew Wutke (Florida Rep debut), Set Designer Charlie Corcoran (Florida Rep debut), Lighting Designer Christina Watanabe (Florida Rep debut), Costume Designer Alice Neff ("The Last Night of Ballyhoo"), Sound Designer Katie Lowe ("Damascus"), and ensemble stage manager, Janine Wochna ("Steel Magnolias").

"A Christmas Carol: The Tale of Ebenezer Scrooge" is generously sponsored by Truly Nolen and media sponsor, Beasley Broadcasting.

Tickets are at $55 and $49 for regular performances, and $35 and $29 for previews. Single tickets can be purchased online at www.FloridaRep.org or through the box office at 239-332-4488. To buy a $99 Family Package for two adults and two children, plus concessions, please contact the box office.

Subscriptions start as low as $150 for six plays and offer the best seats and the most significant savings, and are available through the box office. Box office hours are Monday through Saturday, 10 AM - 5 PM.

Performances are Tuesday - Thursday at 7 PM, Friday and Saturday at 8 PM. Matinees are Wednesday, Saturday, and Sunday at 2P PM. New this season, Florida Rep's parking lot will open 2 hours before each performance and offers guests limited free parking across the street from the Arcade Theatre.

Florida Repertory Theatre performs in the Historic Arcade Theatre and the ArtStage Studio Theatre on Bay St. between Jackson & Hendry with limited free parking in the Fort Myers River District. Visit Florida Rep online at FloridaRep.org, and by following the company on Facebook, Twitter.