Feyline to Present First Ever New Year's Eve Concert at Red Rocks Amphitheater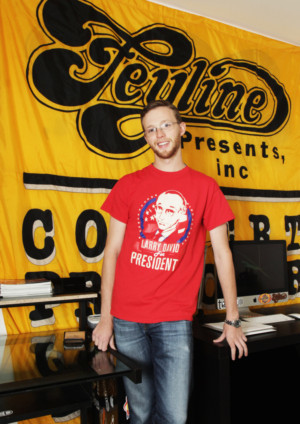 Resurrecting a famed moniker and bringing the first ever New Year's Eve concert to the iconic Red Rocks Amphitheater, is none other than Feyline the entity once helmed by legendary concert promoter Barry Fey.
One of music's memorable figures, Tyler's father started the Summer of Stars concert series at Red Rocks Amphitheater. In 1983, Fey, Chris Blackwell and U2 produced the U2 Live at Red Rocks: Under a Blood Red Sky concert film recorded live at the Red Rocks Ampitheatre.
Tyler Fey commented, "It's an honor to carry on the Feyline and Red Rocks tradition with the first ever New Year's Eve concert hosting some of the most prolific artists in 2017'
Fey's partner Jason Huffer of MEGA (Make Entertainment Great Again), who opened up the Garden Arena in December 1993 with Tyler's father remarked, "After the journey of working with Barry opening up The Joint, Garden Arena and expanding the Vegas market, it's a real pleasure to unite with his son Tyler at Barry's favorite venue, Red Rocks".
The all-star lineup of today's hottest hip hop artists includes multi-platinum recording artists Migos who have been relentlessly making headlines in 2017 as BET Award winners for Best Group and Best Compilation with 11 tracks hitting Blackboard's Top 100 and an album anticipated later this year.
The party night includes Atlanta native and fashion icon Young Thug who had three albums that hit the Top 5 in 2016.
With his #2 single, "Rockstar," on Billboard's Hot 100, the young prodigy Post Malone, will join the night's festivities as he has been making waves in the hip hop scene with his genre-bending multi-instrumental for some time now.
And, Lil Yachty a Grammy-nominee offers a fresh perspective with his unique sound, notable collaborations and various corporate endorsements.
The famed Red Rocks Ampitheatre, a natural outdoor concert venue located in the foothills of Morrison, Colorado ten miles west of Denver, will open its door this night at 5 p.m. with the show starting at promptly at 5:00 p.m. All ages are welcome - dress weather appropriate.
Sponsors for this event include: KS107.5, La Contes, V3 Oil, and Visit Red Rocks.
Travel & VIP packages will be available through visit redrocks.com. Tickets and more information at nyeontherocks.com. And just-announced payment plans have been made available at feylinepresents.egnyte.com/dd/js0Iqn97sG.
More Hot Stories For You