Review: I'LL BE HOME FOR CHRISTMAS at Arvada Center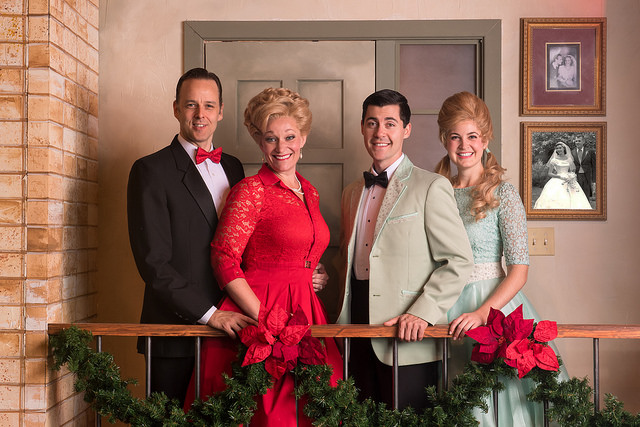 There's no place like home for the holidays, and the Arvada Center is making sure of that this holiday season. I'll Be Home for Christmas is making its debut at the Center, featuring a broad selection of local talent.
Directed by Gavin Mayer, this is a premiere for the Arvada Center featuring music and lyrics by resident music director David Nehls, who formerly penned the same for The Great American Trailer Park Musical. The book is by Kenn McLaughlin.
Set in 1969, the musical follows the behind-the-scenes action of the Bright family's yearly Christmas show, aired live on television, which they've been doing for years. Think of the kind of specials families used to huddle around for the holidays. It's a little warmer this year because Dana and Louise Bright (Noah Racey and Megan Van de Hey) are welcoming home their son, Simon (Jake Mendes), from war, where he was a decorated hero. Meanwhile, their activist daughter, Maggie (Kim McClay) is trying to modernize their special a bit. The Christmas variety show brings along bubbly personality Carol Marie (Sharon Kay White) and country crooner Len (Andrew Diessner). An array of debacles makes the night a bit more interesting than the family anticipated.
Choreography by Kitty Skillman Hilsabeck is exciting, boosting the show forward with Maggie's feisty dance number featuring the ensemble, which was originally cut from the broadcast. (Thank EVERYTHING it happens.) Act two launches with a dynamic number featuring Simon and the ensembles.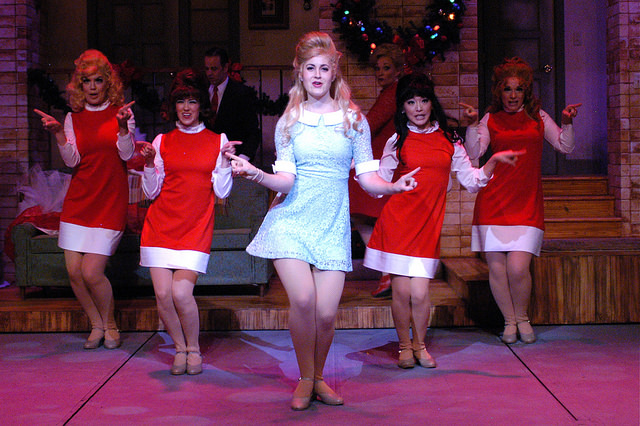 The vocals are spectacular. Racey and Van De Hey as the Bright parents give you that vintage charm you want from a couple who hosts their own show. Mendes's voice is fantastic as he infuses his numbers with palpable emotion. McClay owns every moment, bringing a spunk that makes her the one to watch in several scenes. Standout Darius Jordan Lee breaks out of the ensemble to fill in for a few numbers, and he nails it.
There's a mix of familiar holiday tunes and new music by Nehls. Len's "Christmas on Highway 13" is a new classic, coupled handsomely with Diessner's satiating twang. White brings Carol Marie the charm you'd expect from a goofy best girlfriend, and she's a joy to watch, especially during "The Last Guest at the Party." Also, you get to hear Van De Hey sing O Holy Night, which should be a holiday tradition of its own.
While the show doesn't feel like anything I haven't seen before, it's cute. Christmas variety musicals are everywhere, but this one's focus on family gives it a good soul. The ensemble is vibrant, and there's the thrill of watching a live televised performance. There's even an applause sign!
I'll Be Home for Christmas plays the Arvada Center through December 23. Performances are Tuesday through Saturday at 7:30 p.m., Wednesdays at 1 p.m., Saturday and Sunday matinees at 2:00 p.m. Audience engagement events, including happy hours with the cast, are held through the run of the production. To purchase tickets go to ArvadaCenter.org/About-The-Center/Ill-Be-Home-For-Christmas or call (720)898-7200. The Arvada Center is located at 6901 Wadsworth Blvd and provides free parking for its patrons.