Chris Arneson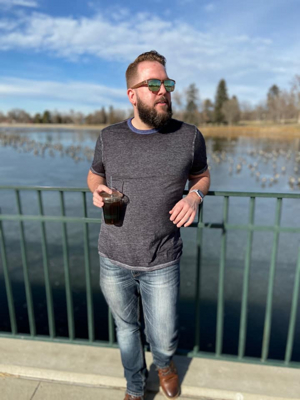 Chris has been writing with BroadwayWorld since 2014. He's also an actor, typically performing in musicals based on movies where he dies. He almost won a BroadwayWorld Award for Best Supporting Actor for his portrayal of Scott in Evil Dead: The Musical, but he was ousted by an actual Broadway veteran. He's actively recovering from the loss. 
Relationship Musical is the Perfect Night Out in Louisville

September 29, 2022

Boulder County's new 11 After Theatre Company has joined forces with CenterStage Theatre Company in Louisville to mount a new production of the longest running off-Broadway musical revue I Love You, You're Perfect, Now Change.
---
Review: It's Not Hell, It's HADESTOWN

September 7, 2022

What did our critic think of HADESTOWN? It's essentially the retelling of the Greek tragedy of Orpheus and Eurydice. Narrated by Hermes--played by a terrifically charismatic Levi Kreiss, who infuses the role with bit of his Tony-winning performance of Jerry Lee Lewis in Million Dollar Quartet--the story is told through what feels like a New Orleans underground jazz club. Orpheus (Chibueze Ihuoma) falls in love with his muse, the wandering Eurydice (Morgan Siobhan Green). However, Orpheus, a musician, becomes consumed with his work, leaving the starved Eurydice to take shelter with Hades (Kevyn Morrow) and his wife Persephone (Kimberly Marable).
---
Review: Immerse Yourself in FROM ON HIGH's Office Cult(ure)

June 27, 2022

What did our critic think? If you've ever worked in an office, you know the corporate culture can start to feel a little culty. That's the premise behind OddKnock's production of From On High, an immersive experience set in RiNO's IMAC building.
---
Review: MOULIN ROUGE THE MUSICAL Is A Visual Spectacular At The Denver Center

June 18, 2022

See what our critic had to say about this production. 'I can safely say a lot of us musical nerds have been waiting far too long to see Moulin Rouge as a Broadway production, and thankfully the stage production does not disappoint.'
---
BWW Review: THE WEDDING SINGER at Town Hall Arts Center

June 15, 2022

What did our critic think of THE WEDDING SINGER at Town Hall Arts Center? What's better than a '90s romantic comedy set in the mid 80's? Maybe if it's a musical too.
---
BWW Review: Arvada Center's KINKY BOOTS is Filled with Heart and Sole

April 14, 2022

Kinky Boots is just one of those shows you can't help but leave feeling just a little sparklier. Based on the British 2005 film of the same name, Kinky Boots follows Charlie Price, who inherits his family's multigenerational shoe factory from his deceased father. In order to keep the business alive, Charlie partners with a drag queen named Lola to produce heels that can withstand the weight of a male figure. 
---
BWW Review: TOOTSIE is Mostly a Drag at the Buell Theatre at the Denver Center for the Performing Arts

April 6, 2022

Oh look, another movie turned musical no one was asking for! When a film is adapted for the Broadway stage (which is almost a given nowadays), I'll get excited if it's a classic I can't wait to see updated and reimagined. The trouble with Tootsie is...I guess I just didn't care from the start.
---
BWW Review: Opera Colorado's THE SHINING

March 6, 2022

If your experience is more with the book, you might appreciate the recently adapted opera version better. Currently playing with Opera Colorado, Moravec & Campbell's The Shining is being presented for the first time since its premiere with Minnesota Opera.
---
BWW Review: The HAMILTON Hype is Real

February 25, 2022

I avoided Hamilton as long as I possibly could. I wouldn't even listen to the cast recording, wanting to have the freshest live experience I possibly could. Somehow I held on until around 2018, right before the show visited Denver for the first time.
---
BWW Review: DCPA's Long-Awaited RATTLESNAKE KATE Attacks

February 22, 2022

The musical is based on former Lumineers member Neyla Pekarek's first solo album, Rattlesnake, which features songs inspired by the life of Colorado's own 'Rattlesnake Kate' Slaughterback. Nearly 100 years ago, Kate killed around 140 rattlesnakes mostly using a wooden sign she found after her rifle ran out of ammunition, not only saving herself but also her 3-year-old son and their horse, Brownie. 
---
BWW Review: LITTLE SHOP OF HORRORS at Littleton's Town Hall

February 11, 2022

Little Shop of Horrors may not be the happiest musical, but there's something about a plant wreaking havoc on a bunch of downtrodden folks that might offer a bit of momentary schadenfreude. And if you don't get it from that, Town Hall's production is likely to scratch your itch for a well-designed production bursting with talent.
---
BWW Review: THE CHOIR OF MAN is Exactly What You Expect

January 21, 2022

If you've ever thought you needed a live show about a pub choir of burly men, have I got news for you. The Choir of Man is literally that, and apparently they're big in the UK.
---
BWW Review: THE OTHER JOSH COHEN at DCPA

January 6, 2022

Josh Cohen is overweight, can't get a date, and his apartment was just emptied by a burglar--but that was a year ago, and a lot has improved since then, according to a much healthier and happier-looking Josh Cohen with a guitar.
---
BWW Review: 'The King Has Returned' to Denver

December 14, 2021

Somehow, I had managed to avoid seeing the Broadway production of The Lion King for its decades-long existence. Well, maybe not avoid necessarily--it was killing me that I'd never planned well enough to catch it. So until I did, I avoided anything that might make my first viewing any less magical than if I was my 8-year-old self seeing my first Disney musical on Broadway. 
---
BWW Photo Feature: DCPA's Camp Christmas Returns Outdoors

December 2, 2021

Camp Christmas is back with a fresh outdoor setup for the 2021 holiday season. The festive event formerly took place in 2019 at the Stanley Marketplace, but has been reconfigured to be more of an outdoor experience at Heritage Lakewood Belmar Park. 
---
SONGS FOR A NEW WORLD Opens for Limited Run at Brighton Armory

October 29, 2021

Platte Valley Players (Brighton, Colorado) will present their first main stage musical production since 2019 with their production of Jason Robert Brown's emotive song cycle, SONGS FOR A NEW WORLD- running October 29-November 6 at The Armory Performing Arts Center. 
---
BWW Review: Forge Light's LIZZIE Kills

October 15, 2021

If there's one thing I will never get enough of in musicals, it's fierce women belting their faces off. That alone is enough of a reason to tell you why you can't miss Forge Light Theatreworks' current production of Lizzie: The Lizzie Borden Musical.
---
BWW Review: Performance Now's DROWSY CHAPERONE Is Nowhere Near Tired

September 17, 2021

At some point in the last year, we were all a lonely person in a chair, nostalgically listening through every one of our favorite Broadway cast albums, reminiscing of a time we were able to see them live.
---
BWW Review: BDT Stage's AVENUE Q is Just As Clever As You Remember

September 1, 2021

Oh, how I missed raunchy theatre. It's been years since I paid my old pals at Avenue Q a visit. And the jokes still feel as fresh as...well, the salad I had right before I watched puppet sex at a dinner theater.
---
BWW Review: Forge Light's HOWARD BARNES is More Than Just Noteworthy

August 12, 2021

As a theatre person, I can confidently say if my life were suddenly a musical, I'd be thrilled. Isn't the what many of us crave, anyway? The combo of having the world not only revolve around our story, but supplemented with harmonies and well-rehearsed choreography?
---