Acrobatic Conundrum to Bring LOVE AND GRAVITY to Colorado This Fall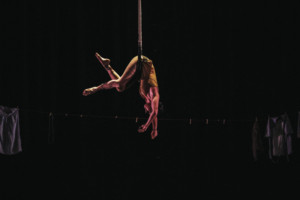 Acrobatic Conundrum is making their way to Colorado for a trio of performances in Denver and Boulder debuting their hit show Love and Gravity.
Acrobatic Conundrum is being hailed by critics as one of the most important artistic voices in the modern circus uprising. Love and Gravity follows a group of circus performers whose abundance of charisma and physical prowess doesn't prepare them for the harrowing effects of love and heartbreak.
The company presents six artists on a minimal stage with little else but their talents and hearts.This evening-length performance features acrobatics, dance, Cyr wheel, storytelling, juggling, and aerial feats. An unforgettable experience, this performance will leave you feeling joyful and awed by the power of human connection.
The cast features Terry Crane, Annika Lundgren, Ty Vennewitz, Melissa Knowles, Xochitl Sosa and Cooper Stanton.
On the artistic team are director Terry Crane, artistic consultant Jaron Hollander, choreographer Katheryn Reed, costume designer Xochitl Sosa, production manager Susie Williams, and stage manager Saar Rombout.
IF YOU GO:
Acrobatic Conundrum
Contemporary Circus show - Love and Gravity
DENVER - The Oriental Theatre - 4335 W. 44th Ave, Denver CO 80212
Sept. 24 at 8pm
BOULDER - Dairy Arts Center - 2590 Walnut Street, Boulder CO 80302
Sept. 28 and 29 at 8pm
Tickets: $18-$50 at bit.ly/milehighgravity (Denver) and bit.ly/bouldergravity (Boulder) or by calling (302) 330-7469
TOUR DATES:
Denver Sept. 24 bit.ly/milehighgravity
Boulder Sept. 28, 29 bit.ly/bouldergravity
San Antonio Oct. 3, 4 bit.ly/sanantoniogravity
Austin Oct. 6, 7 bit.ly/austingravity
Dallas (Southern Fried Circus Fest) Oct. 8-15 www.southernfriedcircusfest.com
Las Cruces NM Oct. 20 bit.ly/lascrucesgravity
Missoula MT Oct. 27, 28 bit.ly/missoulagravity
Whitefist MT Nov. 3 www.whitefishtheatreco.org
Yakima WA Nov. 5 capitoltheatre.org/events/detail.html?calendarid=105
For more about the show, visit www.acrobaticconundrum.com.
Acrobatic Conundrum
Acrobatic Conundrum creates ensemble-based performances that engage and amaze audiences. Founded in 2012 by Artistic Director Terry Crane, the company blends virtuosic circus skill, dance, and physical theater to create work tha is poetic, a little absurd, beautiful, and deeply relatable. Acrobatic Conundrum has produced five shows and appeared nationwide and internationally at such venues as New York City's SummerStage, Chicago Contemporary Circus Festival, Smithsonian American Art Museum, Vancouver CircusFest, TedxRainier, Backstreet Festival (Alexandria, Egypt) The company is a 2015 and 2017 recipient of the City of Seattle's CityArtist Project Award.
Terry Crane - Artistic Director
Terry surrendered to restless urges that led him to walk calmly away with the circus at the tender age of 20. Since then, his search for movement and performance mentoring has generated a zigzag constellation of off-the-beaten path destinations, taking him to the San Francisco Circus Center, Montreal's National Circus School (of Cirque du Soleil fame), and the Beijing International Acrobatics School. He has now performed in countless countries, on 3 continents, with various groups such as Circus Syzygy, Circus Monti and Teatro ZinZanni. Terry is a longtime practitioner of capoeira, contact improv, hip-hop dance, physical theater, and tree climbing. He infuses his work with these influences as well as his own fiercely unique style.
Susie Williams - Managing Director
Susie is in love with performing arts and is thrilled to have been a performer, director, teacher and producer in both circus and traditional theater. She is a graduate of Northwestern University's theater program and a Fellow in the BAM (Brooklyn Academy Of Music) Professional Development Program. Producing credits include: Bright Ideas' Aerial Salons, migrations, Landscrapes and Discord and the award winning Roundhaus video Hammertime. As a performer, Susie has appeared with the Poemas, the High Flying Pages, Lisa's Bright Ideas, Built 4 Collapse and in Kristin GenEve Young's migrations. Susie taught aerial arts at Aerial Arts NYC, STREB, TSNY, and as an adjunct professor at Pace Univeristy.
Related Articles View More Denver

Stories

Shows
More Hot Stories For You