BWW Previews: FORUM commences season at Walnut Street Theatre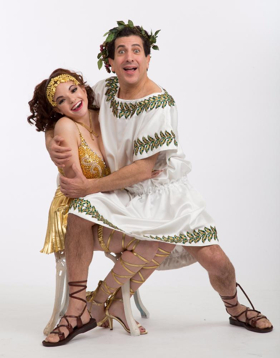 The Walnut Street Theatre, founded in 1809, is America's Oldest Theatre. It is also the Official State Theatre of Pennsylvania, and a National Historic Landmark. With more than 55,000 season ticket holders, the Walnut is also the most subscribed theatre company in the world!
Most noteworthy actors of the 19th century and many from the 20th century (not to mention famous actors from other countries) have appeared on stage at the Walnut. Some of the Walnut's shining stars include: Edwin Booth, Edwin Forrest, Helen Hayes, George M. Cohan, Edward G. Robinson, George C. Scott, Jack Lemmon, Mike Nichols, Claudette Colbert, Jane Fonda, Julie Harris, Katharine Hepburn, Ethel Waters and Jessica Tandy.
THE SEASON
FORUM Sept 5 - Oct 22
Stephen Sondheim's classic Tony Award-winning Best Musical is fast-paced, witty, irreverent and one of the funniest Broadway shows ever written! Aisle Say agrees! FORUM is a nonstop laugh-fest in which Pseudolus, a crafty slave, struggles to win the hand of a beautiful, but slow-witted, courtesan named Philia for his young master, Hero, in exchange for freedom. The plot twists and turns with cases of mistaken identity, slamming doors and a bevy of beautiful showgirls. This unforgettable, hysterical musical comedy will have you laughing all the way to the Forum with "something for everyone, a comedy tonight!" (Aisle Say Note: The cast includes some of Philly's favorite comedians. I've seen them in action.)
ANNIE Nov 7 - Jan 7
Leapin' Lizards! Celebrate the holiday season with one of the world's best-loved musicals! Annie a spunky orphan in 1930s New York City determined to find her parents. In one fun-filled adventure after another. Annie foils Miss Hannigan's evil schemes, befriends President Roosevelt and finds a new home with billionaire Oliver Warbucks, his personal secretary Grace and a lovable mutt named Sandy. This Tony Award-winning Best Musical for the entire family features some of the greatest musical theatre hits ever written including "It's the Hard Knock Life," "Easy Street," "I Don't Need Anything But You," plus the eternal anthem of optimism, "Tomorrow." Yes, while "Tomorrow" is the most well known tune, maybe "Maybe" is the most soul searching.
THE HUMANS Jan 16 - Mar 4
Winner of over twenty 2016 Best Play Awards, including the Tony Award! After a sleepless night, Erik Blake has brought his family from Pennsylvania to celebrate Thanksgiving at his daughter's new apartment in lower Manhattan. As darkness falls outside the crumbling pre-war duplex, mysterious things start to go bump in the night and family tensions reach a boiling point. The angst, anguish and amity of the American middle class are first coaxed - then shoved - into the light in this sidesplitting, hopeful and heartbreaking new play.
NOISES OFF Mar 13 - Apr 29
A play within a play. The Opening Night performance of the farce Nothing On is just hours away, and as the cast stumbles through their final dress rehearsal, things couldn't be going any worse. With lines being forgotten, love triangles unraveling and sardines flying everywhere, it's complete pandemonium... and we haven't even reached intermission! Can the cast pull their act together on the stage even if they can't behind the scenes? Full of amazing surprises and glorious humor, you will relish every delicious moment of this classic comedy that The New York Times exclaims, "voyages to the outer limits of hilarity!"
MAMA MIA! May 15 - July 15
Put on your platform shoes, your feather boas and get ready for one of the most popular musicals of all time. On the eve of her wedding, a daughter's quest to discover the identity of her father brings 3 men from her mother's past back to the island they last visited 20 years ago. This sensational production contains ABBA's greatest hits, including "Super Trouper," "Lay All Your Love On Me," "Dancing Queen," "Waterloo" and more! Over 60 million people all around the world have fallen in love with the characters, the story and the music that make this the ultimate feel-good musical!
WalnutStreetTheatre.org 215.574.3550
Related Articles View More Delaware

Stories

Shows