Photos: Houston Grand Opera's RIGOLETTO
Houston Grand Opera (HGO) continues its 54 th season with Verdi's haunting and tragic tale Rigoletto. Rigoletto, which was last performed at HGO in 2001, returns to the Wortham Theater Centerwith a powerful new staging of Michael Yeargan's classic production that was inspired by Italianpainter Giorgio di Chirico.
HGO Studio alumnus Scott Hendricks - the Texas-native sang the roleof Silvio in HGO's Pagliacci last year-will make his role debut as the tormented jester Rigoletto.Russian soprano and HGO Studio alumna Albina Shagimuratova (Queen of the Night in HGO's TheMagic Flute, 2008)-fresh from her highly acclaimed performances of the Queen of the Night at theSalzburg Festival, Deutsche Oper Berlin and Los Angeles Opera-will sing the role of Rigoletto'soverly protected daughter Gilda.
Tenor Eric Cutler (Tamino in HGO's The Magic Flute, 2008),returns to HGO in his role debut as the lecherous Duke of Mantua and bass Andrea Silvestrelli(Osmin in HGO's Abduction from the Seraglio, 2008) will perform his much acclaimed Sparafucile,the assassin.
HGO Studio artist Maria Markina (Lola in HGO's Cavalleria Rusticana, 2008) sings therole of the assassin's daughter Maddalena and bass-baritone Bradley Garvin sings Count Monterone,whose curse sets the whole opera in motion. HGO Music Director Patrick Summers conducts all performances with feature the HGO Orchestra and Chorus (Richard Bado, HGO Chorus Master). Australian Lindy Hume directs.
Sets were created by internationally acclaimed designer Michael Yeargan. Costumes were designed byPeter J. Hall and lighting is by British designer Paul Pyant. Rigoletto will be sung in Italian with English supertitles. Houston Grand Opera Orchestra and Chorus About the opera: The libretto for Rigoletto was written by Francesco Maria Piave and is based on Le Roi s'amuse, a play by Victor Hugo inwhich the major characters are historical: Frances I of France, a contemporary of Henry VIII, and his jester Triboulet.
Theopera, originally titled La maledizione (The Curse), was faithful to the play's basic story line, but the Italian censors foundthe libretto so shocking that they demanded changes; Hugo's play had shocked the French as well and had to be withdrawnafter only two performances. The censors were particularly concerned with the story's unflattering portrait of King Frances I, which they feared would provoke subversive behavior.
To fictionalize the story, the locale was moved to Italy, the Kingwas reduced in rank to a duke and the jester's name was changed to Rigoletto (from the French rigoler, "to laugh"). Rigoletto, Verdi's fifteenth opera, was an instant success upon its premiere at the Teatro la Fenice in Venice on March 11,1851, and is one of the most enduring operas in the repertory. Its title role is regarded as one of the most demanding everwritten for a baritone, both musically and dramatically. About the artists: Baritone Scott Hendricks (Rigoletto) is a native of San Antonio, Texas and an alumnus of the Houston Grand Opera Studio.
He has appeared at HGO as Silvio in (Pagliacci, 2008), Escamillo (Carmen, 2006), and Sharpless (Madame Butterfly) and Count Almaviva(The Marriage of Figaro), both in 1998. Also at HGO, he created the roles of Chucho in the world premiere of Daniel Catan'sSalsipuedes (2004) and Prince Dmitry in the world premiere of Tod Machover's Resurrection (1999).
Hendrick's internationalcredits include the Marquis de Posa in Don Carlos at Welsh National Opera, Il Conte di Luna in Il Trovatore and Roderick in theworld premiere of Debussy's The Fall of the House of Usher at the Bregenz Festival. He garnered critical acclaim creating the titlerole of Giorgio Battistelli's Richard III at Flemish Opera. The baritone made his Washington National Opera debut in the U.S.premiere of Nicholas Maw's Sophie's Choice and gave the world premiere performance of A Navajo Oratorio, written especially forhis voice by critically acclaimed composer Mark Grey and performed by the Phoenix Symphony, available on CD from the Naxoslabel.
HGO Studio alumna Albina Shagimuratova (Gilda) was the gold medal winner of the 2007 Tchaikovsky Competition inMoscow. The Russian coloratura soprano has appeared at HGO in the roles of Musetta (La bohème), the Sandman and the DewFairy in Humperdinck's Hansel and Gretel, and the Queen of Night in Mozart's The Magic Flute, a role she has sung to greatacclaim at the 2008 Salzburg Festival, Los Angeles Opera and the Deutsche Oper Berlin. She studied vocal and operaperformance at Kazan State University and holds a doctoral degree from the Moscow Conservatory.
American tenor Eric Cutler (Duke of Mantua), the winner of the 2005 Richard Tucker Award, makes his role debut asthe Duke of Mantua in HGO's upcoming production of Rigoletto. Mr. Cutler was a finalist in the 1999 EleanorMcCollum Competition for Young Singers and made his Houston Grand Opera debut in 2002 as Belmonte in Mozart'sThe Abduction from the Seraglio. He was last seen here as Tamino in Mozart's The Magic Flute, a role he as also sungto great acclaim at the Metropolitan Opera and the Edinburgh Festival.
The tenor has sung the role of Arturo in Bellini'sI puritani at the Metropolitan Opera and Netherlands Opera. Mr. Cutler made his debut at Royal Opera, Covent Gardenas Ernesto in Donizetti's The Elixir of Love. Upcoming engagements include Cutler's Salzburg Festival debut asAmènophis in Rossini's Moise et Pharaon, and a return to the Metropolitan Opera as the Italian Singer in DerRosenkavalier.Basso profondo Andrea Silvestrelli (Sparafucile) made his HGO debut as Osmin in last season's production of Mozart'sThe Abduction from the Seraglio.
He has appeared as Sparafucile at Washington National Opera, Lyric Opera of Chicago,Canary Island Opera, at the Palacio de las Artes in Valencia, Spain and the Sferisterio Festival in Macerata, Italy. Otheroperatic credits include Fasolt at San Francisco Opera; Osmin (The Abduction from the Seraglio) at Bavarian State Operaand Lyric Opera of Chicago; Ferrando in Il trovatore, Timur in Puccini's Turandot; the Commendatore in Don Giovanni,and Fasolt at Lyric Opera of Chicago; Filippo II in Don Carlos for Welsh National Opera; and Hermann in Wagner'sTannhaüser at the Nomori Opera Festival in Tokyo.
He has also appeared as Sarastro (The Magic Flute) at the Santa FeOpera. Upcoming engagements include Fasolt (Das Rheingold) and Hunding (Die Walküre) at Seattle Opera, Don Basilio(The Barber of Seville) at Los Angeles Opera, and Dr. Bartolo (Le nozze di Figaro) at Lyric Opera of Chicago. Mr.Silvestrelli can be heard on complete recordings of Don Giovanni (DG) and Haydn's L'anima del filosofo (Decca), amongothers.Bass-baritone Bradley Garvin (Count Monterone) appeared at Houston Grand Opera in 2007 as the King of Egypt inVerdi's Aida and as Paron in Janá?ek's The Cunning Little Vixen. Other recent credits include the Banker and TheaterDirector in Berg's Lulu at Lyric Opera of Chicago and Prince Arjuna in Philip Glass's Satyagraha at the Metropolitan Opera.
He has also appeared at New York City Opera, Arizona Opera, Sarasota Opera, Calgary Opera, Opera Theatre of St.Louis, Pittsburgh Opera and Palm Beach Opera, among others. A native of River Forest, Illinois, Mr. Garvin holds amaster's degree in music from the University of Indiana. Following doctoral studies at the University of Indiana, hepursued post-graduate studies at Yale University's School of Music. He has won the Washington, D.C. International VocalCompetition and Placido Domingo's Operalia Competition, and was a recipient of the William Matheus Sullivan Award.Mezzo-soprano Maria Markina (Maddalena) a native of Moscow is a third-year artist with Houston Grand Opera Studio.
This season at HGO she sang Lola in Mascagni's Cavalleria Rusticana. Last season she sang Second Lady in Mozart'sThe Magic Flute and was a soloist in the world premiere of Christopher Theofanidis's The Refuge. Other HGO rolesinclude Hansel in performances of Humperdinck's Hansel and Gretel, Amelia's maid in Verdi's Simon Boccanegra andLápak/Woodpecker in Janá?ek's The Cunning Little Vixen. Ms. Markina studied at the Russian Academy of Theatre Artswith Professor A. B. Titel, and studied voice with E. T. Sarkisyan, graduating with honors.
During her time at theAcademy, she took part in performances at the K. S. Stanislavsky and V. I. Nemirovich-Dancenko Theatre, singing inMozart's Le nozze di Figaro and Britten's Albert Herring. In 2002, she joined Moscow's Novaya Opera Theatre, whereshe sang Olga in Tchaikovsky's Eugene Onegin, Lel' in Snow Maiden and Dunyasha in Tsar's Bride (both by Rimsky-Korsakov), Naina in Glinka's Ruslan and Ludmila and, recently, the Third Lady in Mozart's The Magic Flute with directorAchim Freyer.
In the summer of 2008, Ms. Markina sang Bradamante in Handel's Alcina at Wolf Trap Opera. Last seasonshe made her Connecticut Opera debut and role debut in the title role in Rossini's La Cenerentola. Recently she was afinalist in the International Francisco Vinas Competition (Barcelona, Spain) and performed as a soloist in the HoustonBallet production of Stravinsky's Les noces and Da Camera's production of Brahms's Die Liebesleider. Ms. Markina wonfirst place in HGO's 2006 Eleanor McCollum Competition for Young Singers.
HGO Music Director Patrick Summers (Conductor) is best known for his formidable grasp of diverse repertoire. Lastseason, he conducted the world premiere of HGO's new commission by Christopher Theofanidis, The Refuge (CD releasedby Albany, 2008) and last fall's production of Verdi's A Masked Ball and the world premiere of Jake Heggie's ThreeDecembers: Last Acts. Last spring he conducted Puccini's La bohème and Britten's Billy Budd. Summers made hisacclaimed HGO debut in 1998, conducting Verdi's La traviata with Patricia Racette.
Since then he has led more thanthirty-five operas at HGO, among them several world premieres, including Tod Machover's Resurrection in 1999 (CDreleased by Albany, 2002), Carlisle Floyd's Cold Sassy Tree in 2000 (Albany, 2005), Jake Heggie's The End of the Affairand Rachel Portman's The Little Prince. At HGO he conducted Verdi's Simon Boccanegra, Mozart's Don Giovanni, andJaná?ek's The Cunning Little Vixen.
He returned to the Metropolitan Opera for Bellini's I puritani and to the San FranciscoOpera for Gluck's Iphigénie en Tauride, Mozart's The Marriage of Figaro, Donizetti's Don Pasquale and Puccini's ManonLescaut at HGO; led performances of Handel's Rodelinda at the Metropolitan Opera followed by a Met tour of Japanconducting Verdi's La traviata; reunited with Renée Fleming for several concerts; and returned to Opera Australia forPuccini's Turandot. Summers assisted in the creation of André Previn's A Streetcar Named Desire and shared conductingduties with the composer during the opera's 1998 world premiere in San Francisco. He also led European premiere of A Streetcar Named Desire for the Opéra National du Rhin (Strasbourg).
He made his UK debut conducting the WelshNational Opera's Rigoletto, which toured Wales and England; he also led the European premiere of Carlisle Floyd's OfMice and Men at the Bregenz Festival with the Vienna Symphony, for which he received international critical acclaim.That production was subsequently mounted in Houston and recorded (Albany, 2004). Summers conducted the 2002Grammy Award-winning recording Bel Canto featuring Renée Fleming and the Orchestra of St. Luke's.
Richard Bado (HGO Chorus Master) celebrates his twentieth season as Houston Grand Opera's chorus master. He madehis professional conducting debut in 1989 leading HGO's acclaimed production of Show Boat at the newly restored Cairo Opera House in Egypt. Since then, Mr. Bado has conducted at Teatro alla Scala, Opéra National de Paris, Houston GrandOpera, New York City Opera, the Aspen Music Festival, the Tulsa Opera, the Florida Philharmonic, the Montreal Symphony, Wolf Trap Opera and Houston Ballet, and has conducted the Robert Wilson production of Virgil Thomsen'sFour Saints in Three Acts at the Edinburgh Festival. He appears regularly in recital with Renée Fleming and has alsoaccompanied Cecilia Bartoli, Frederica von Stade, Denyce Graves, Susan Graham, Marcello Giordani, Ramón Vargas,Samuel Ramey and Nathan Gunn.
Mr. Bado, who holds music degrees from the Eastman School of Music, where hereceived the 2000 Alumni Achievement Award, and West Virginia University, has studied advanced choral conductingwith Robert Shaw. Mr. Bado is director of the opera studies program at Rice University's Shepherd School of Music. Hewas Houston Grand Opera's head of music staff for fifteen seasons.Lindy Hume (Director) made her American directorial debut at Houston Grand Opera in 2004 with The Barber of Seville.
One of Australia's leading directors and artistic directors, she currently serves as artistic director of the Sydney Festival. European opera credits include La bohème at Berlin State Opera, Radamisto for the Handel Festival and the Halle OperaHouse, A Streetcar Named Desire and Norma at St. Gallen Opera in Switzerland, and Benjamin Britten's Albert Herringand Phaedra for the Aldeburgh Festival. In 1992 Lindy Hume became the first artistic director of West Australian Operaand in 1996 she was appointed artistic director of the Victoria State Opera and subsequently OzOpera, the Melbourne-basedtouring and experimental arm of Opera Australia.
Under Hume's direction OzOpera commissioned and developed severalimportant new Australian operas including Paul Grabowsky's Love in the Age of Therapy and Richard Mills's Batavia. In2007 the University of Western Australia awarded Lindy Hume the Honorary Degree of Doctor of Letters in recognition ofher contribution to the cultural life of Western Australia.Michael Yeargan (Set Designer) designed sets for Beatrice and Benedict, Cavalleria rusticana and Pagliacci earlier thisseason. He made his Houston Grand Opera debut with Juniper Tree in 1986 and his designs for Rigoletto were first seenhere in 1994.
His numerous other HGO credits include Verdi's Attila (1995) and Simon Boccanegra (2006) and MadamaButterfly (1998). Yeargan's designs for the Broadway musical The Light in the Piazza earned him a Tony Award, a DramaDesk Award and a Henry Hewes Award. He designed sets for the world premieres of Previn's A Streetcar Named Desire,Heggie's Dead Man Walking for San Francisco Opera and Harbison's The Great Gatsby for the Metropolitan Opera. Hiswork has also been seen at Royal Opera, Covent Garden (Attila, Simon Boccanegra, Stiffelio, and Aida-all by Verdi);Glimmerglass Opera (Mozart's La finta giardiniera, Madama Butterfly, and Tosca), the Gran Teatre del Liceu (Bellini's Ipuritani), Lyric Opera of Chicago (The Pirates of Penzance, The Great Gatsby, Attila, Susannah, Barber's Antony andCleopatra, and Verdi's Nabucco) and Florida Grand Opera (La finta giardiniera).
Michael Yeargan is a Professor of StageDesign at the Yale School of Drama.The award-winning costumes of internationally renowned designer Peter J. Hall have graced the likes of Kiri Te Kanawa,Joan Sutherland, Judi Dench, Maggie Smith, and ElizaBeth Taylor. The resident costume designer for the Dallas Opera hasalso designed for Plácido Domingo, Luciano Pavarotti, David Bowie and many others. His work has been seen on stage atthe Royal Opera House, Covent Garden; Vienna State Opera; Teatro alla Scala; Kirov Opera, St. Petersburg; the SydneyOpera House; the Metropolitan Opera and Los Angeles Opera.
Mr. Hall has also designed for theater productions at theNational Theatre in London and the Royal Shakespeare Company. Recent career highlights include Stiffelio for Argentina'sTeatro Nuovo, Simon Boccanegra at San Francisco Opera, Otello in South Korea and Much Ado about Nothing directed byFranco Zeffirelli in Rome. Peter J. Hall has designed costumes (and occasionally sets) for more than seventy Dallas Operaproductions, the first of which was Il Barbiere di Siviglia in 1962.
Performance Summary All performances of Houston Grand Opera's production of Verdi's Rigoletto are held in the Wortham Center's BrownTheater, Texas Avenue at Smith Street, Houston, TX.
Sung in Italian with English supertitles.Performance DatesFriday, April 17, 2009 at 7:30 p.m. *Sunday, April 19, 2009 at 2:00 p.m.Friday, April 24, 2009 at 7:30 p.m.Sunday, April 26, 2009 at 7:30 p.m.Saturday, May 2, 2009 at 7:30 p.m.*
ON for Young Professionals reception Ticket Information:
•Individual tickets for Verdi's Rigoletto are now on sale and start at $20 (inclusive of all city surcharges)
•General information and tickets are available at www.houstongrandopera.org or call 713-228-OPERA (6737) or 1-800-62-OPERA (800-626-7372) 10 a.m.-5 p.m. Monday-Friday, and from 12:00 p.m. until curtain time ondays of Saturday and Sunday performances. Hours are subject to change.
•The Wortham Theater Center features wheelchair access to both theaters, with a choice of seating locations andticket prices. An infrared listening system, underwritten by Shell Lubricants, is available and free of charge at allperformances. Disabled access and TDD: 713-228-OPERA (6737) or 1-800-62-OPERA (800-626-7372);Descriptive Services: 713-546-0675.
•The Wells Fargo Pre-Curtain Lecture Series takes place forty-five minutes before each performance. Guestspeakers present a twenty-minute informal lecture in the orchestra level of the Brown Theater.
Since its inception in 1955, Houston Grand Opera has swiftly grown from a small regional organization into an internationally renowned opera company. The company has a reputation for commissioning and producing new works, including 38 world premieres and six American premieres since 1973. Inaddition to producing and performing world-class opera, HGO contributes to the cultural enrichment of Houston and the nation through a diverse,innovative and balanced program of performances, events, community and education projects that reaches the widest possible public.
HGO has toured extensively, including trips to Europe and Asia, and it is the only opera company to have won a Tony, two Grammy awards, and two Emmy awards. HGO'sperformances are broadcast nationally on the WFMT Radio Network, as well as internationally via the European Broadcasting Union, and the Australian Broadcasting Corporation.
Photos by Felix Sanchez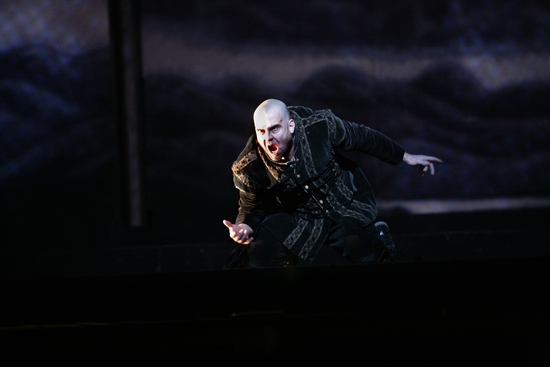 Scott Hendricks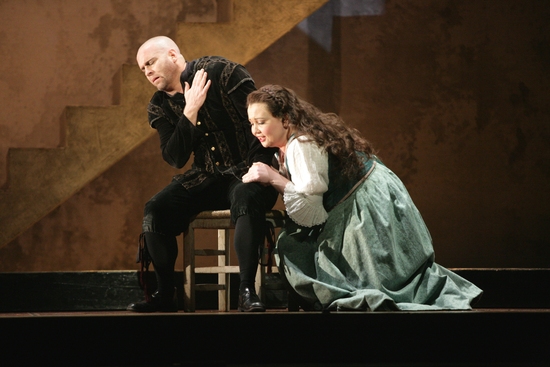 Scott Hendricks and Albina Shagimuratova

Scott Hendrick and Albina Shagimuratova

Eric Cutler and Scott Hendricks

Octavio Moreno and Eric Cutler