Jessica Cavanagh's SELF-INJURIOUS BEHAVIOR Sets NY Showcase Run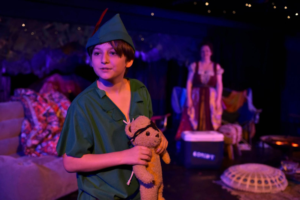 After an incredibly successful workshop run at Theatre Three's Theater Too in Dallas, playwright Jessica Cavanagh's SELF-INJURIOUS BEHAVIOR is headed for a New York showcase run at Urban Stages. Produced by the Dallas-based team of Cavanagh, actor/director Marianne Galloway, and producer Bren Rapp, the play will run in April during Autism Awareness Month and will feature the original workshop cast under Galloway's direction. Along with the cast of seven, which includes Dallas acting powerhouses Ian Ferguson, Danielle Pickard, Jennifer Kuenzer and Cavanagh, starring as a fictionalized version of herself, the orignal Dallas production and design team including set designer Jeff Schimdt (Artistic Director of Theatre Three) will be involved in transitioning the show from its local workshop phase to its New York showcase. Acting as associate producer, former DFW actor/artist now based in New York, Montgomery Sutton, will help to bring the play to the New York market. Thanks to initial investment, the team is already at work and the process of securing the rest of the showcase's funding is underway.
The workshop run of SELF-INJURIOUS BEHAVIOR became a runaway hit playing to enthusiastic audiences last summer (May/June 2018) and garnering critical praise for its writing, its ensemble cast and its direction. Regionally acclaimed and awarded, Cavanagh, Galloway, and Rapp have all had enormously productive 2018's in DFW and beyond, with involvement in several of the year's standout productions.
Galloway notably helmed the sold-out, smash-hit regional premiere of ONCE at Theatre Three in addition to appearing in critically acclaimed productions of THE REVOLUTIONISTS with Imprint Theatreworks and ANGELS IN AMERICA: PART TWO, PERESTROIKA with Uptown Players, while Cavanagh garnered praise for her performances in both SELF-INJURIOUS BEHAVIOR and the regional premiere of HEISENBERG at Theatre Three. Bren Rapp is currently co-producing an Off Broadway show about the life of iconic comedian Lenny Bruce, alongside its writer and star, award winning stage/TV/film actor Ronnie Marmo and directed by Tony winner Joe Mantegna.
I'M NOT A COMEDIAN...I'M Lenny Bruce opened to rave reviews last fall and has extended its run into 2019. As an award-winning producer, Rapp also brought her company's Fun House Theatre and Film's Dallas hit, Jeff Swearingen's STIFF to New York last spring at TBG as part of her ongoing mission to get Dallas playwrights and their work further exposure, bringing interest back to the city's thriving artistic scene.
SELF-INJURIOUS BEHAVIOR is based loosely on Jessica Cavanagh's own story of loss, love, and survival. When severely autistic, eleven-year-old Benjamin becomes a danger to himself, his divorced mother, Summer, makes the excruciating decision to admit him to a home for special needs kids. Seeking comfort, she visits her sisters in Portland who desperately and hilariously attempt to distract her with a weekend of escapism at the local renaissance faire. Plagued by haunting dreams of her son and memories of her marriage, Summer is forced to face the need to let go. Striking a chord across audience demographics thanks to its bittersweet and unique blend of honesty and humor, playwright and star Jessica Cavanagh has captured, in telling her own story, a voice that speaks to the qualities within us all not only to cope with our own "unimaginables" but to continue to live, making the work more than just a story about autism or motherhood, but one about the resiliency of human nature.