Bill Murray, Rob Lowe, and More Now On Sale as Part of #hearhere Series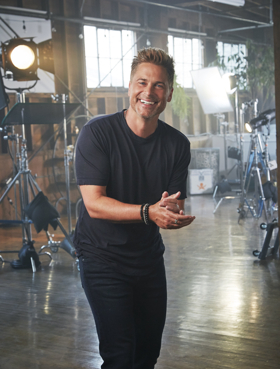 The nonprofit AT&T Performing Arts Center announced today that single tickets for the remaining five shows of the 2018 season of its distinctive speakers series #hearhere will go on sale Friday, February 9 at 10 a.m. From poetry to performance and beyond - with #hearhere you'll experience the radical imaginations, passion, humor and knowledge of iconic personalities who shape the way we experience our world and each other.
This fourth season of #hearhere began with the sold out return engagement of astrophysicist and popular TV science expert Dr. Neil deGrasse Tyson on January 18. The season continues in March with Apple Cofounder Steve Wozniak. April and May deliver internationally-known comedian, Bill Murray, Jan Vogler & Friends; Hollywood heartthrob, Rob Lowe; and multi-talented actress, dancer and singer, Rita Moreno. The season culminates with the return of Ira Glass on July 21, 2018.
Tickets may be purchased, beginning February 9 at 10 a.m., online at www.attpac.org/hearhere, by telephone at 214-880-0202 or in person at the AT&T Performing Arts Center Winspear Opera House Box Office at 2403 Flora Street. The Box Office is open 10 a.m. - 4:30 p.m. Monday through Friday and before performances - closed Saturdays and Sundays.
Center Members get access to the best available tickets. Call Membership Services at 214-978-2888 or go to www.attpac.org/support to join.
#hearhere - 2018 SEASON
Steve Wozniak
Presented locally by BMO Harris Bank
Winspear Opera House
Thursday, March 15, 2018 - 7:30 p.m.
Ticket range: $49 - $99
A Silicon Valley icon and philanthropist for more than thirty years, Steve Wozniak has helped shape the computing industry with his design of Apple's first line of products the Apple I and II. He also influenced the popular Macintosh. In 1976, Wozniak and Steve Jobs founded Apple Computer Inc. with Wozniak's Apple I personal computer. The following year, he introduced his Apple II personal computer, featuring a central processing unit, a keyboard, color graphics, and a floppy disk drive. The Apple II was integral in launching the personal computer industry.
In 1981, he went back to UC Berkeley and finished his degree in electrical engineering/computer science. For his achievements at Apple, Wozniak was awarded the National Medal of Technology by the President of the United States in 1985, the highest honor bestowed on America's leading innovators.
In 2000, he was inducted into the Inventors Hall of Fame and was awarded the prestigious Heinz Award for Technology, The Economy and Employment for single-handedly designing the first personal computer and for then redirecting his lifelong passion for mathematics and electronics toward lighting the fires of excitement for education in grade school students and their teachers.
Through the years, Wozniak has been involved in various business and philanthropic ventures, focusing primarily on computer capabilities in schools and stressing hands-on learning and encouraging creativity for students. Making significant investments of both his time and resources in education, he adopted the Los Gatos School District, providing students and teachers with hands-on teaching and donations of state-of-the-art technology equipment. He founded the Electronic Frontier Foundation, and was the founding sponsor of the Tech Museum, Silicon Valley Ballet and Children's Discovery Museum of San Jose. In 2014, he was awarded the Hoover Medal, a prestigious honor given for "outstanding extra-career services by engineers to humanity," and was inducted into the IndustryWeek Manufacturing Hall of Fame.
Wozniak is Chief Scientist at Primary Data and is a published author with the release of his New York Times best-selling autobiography, iWoz: From Computer Geek to Cult Icon by Norton Publishing. His television appearances include: ABC's Dancing with the Stars and The Big Bang Theory, The Late Show with Stephen Colbert, Conan, and The Tonight Show Starring Jimmy Fallon.
Bill Murray, Jan Vogler, and Friends
Winspear Opera House
Saturday, April 14, 2018 - 8:00 p.m.
Ticket range: $49 - $99
Bill Murray and Jan Vogler met during their travels and became friends in New York. Curious about each other's artistic world and interests, the actor and the cellist soon had the idea to work together on a project.
A program that showcases the core of the American values in literature and music. A show that communicates the bridges artists have built between America and Europe. Twain, Hemingway, Whitman, Cooper, Bernstein, Gershwin and Foster are some of the strongest voices that influenced generations of humans in America and gave the world a picture of the charm, energy and creative force of the New World.
Rob Lowe: Stories I Only Tell My Friends
Winspear Opera House
Wednesday, April 25, 2018 - 7:30 p.m.
Ticket range: $49 - $99
Lowe became a Hollywood heartthrob with starring roles in St. Elmo's Fire (1985) and About Last Night... (1986). He disappeared from the public eye for several years, eventually reestablishing himself on the popular drama The West Wing. Later successes included featured roles on Brothers & Sisters and Parks and Recreation, as well as a Golden Globe nomination for his work on The Grinder. He churned out two memoirs, Stories I Only Tell My Friends: An Autobiography (2011) and Love Life (2014).
Inspired by the success of his two NY Times Best-Selling memoirs, Stories I Only Tell My Friends and Love Life, Rob has created an all-new, peak behind the curtain at Hollywood, fame, fatherhood and marriage. From the Brat Pack to The West Wing to Parks and Rec and beyond, Stories I Only Tell My Friends: LIVE! is packed with witty fun and one of a kind insights spanning an iconic four-decade career.
Facebook: https://www.facebook.com/robloweofficial/
Twitter: https://twitter.com/RobLowe?ref_src=twsrc%5Egoogle%7Ctwcamp%5Eserp%7Ctwgr%5Eauthor
Instagram: https://www.instagram.com/robloweofficial/?hl=en
An Evening with Rita Moreno
Winspear Opera House
Sunday, May 6, 2018 - 7:30 p.m.
Ticket range: $39 - $59
Rita Moreno is a multi-talented actress, dancer, and singer and one of only 12 performers to receive all four major American entertainment awards, winning the Emmy, Grammy, Oscar, and Tony Awards. Her credits span more than six decades, beginning with her Broadway debut at age 13. She has starred on Broadway and on London's West End; appeared in more than 40 feature films and countless television shows; and performed in numerous regional theatres including her one-woman show, Life Without Makeup, at the Berkeley Rep. Moreno is best known as Anita in West Side Story in 1961, a role that earned her an Oscar for Best Supporting Actress, making her the first Latina actress to win the honor. Moreno also appeared on the children's shows Sesame Street and The Electric Company.
Website: http://www.ritamoreno.com/
Facebook: https://www.facebook.com/TheRitaMoreno/
Twitter: https://twitter.com/TheRitaMoreno?lang=en
Seven Things I Have Learned: An Evening with Ira Glass
Winspear Opera House
Saturday, July 21, 2018 - 8 p.m.
Ticket range: $35 - $65
Creator & Host of Public Radio's This American Life
"What's amazing is how new [This American Life] sounds. It has this beat all to itself... These stories float right into your brain and lodge there."
- The Nation
Ira Glass is the host and creator of the public radio program This American Life.
The show is heard each week by over 2.2 million listeners on more than 500 public radio stations in the United States, Australia and Canada, with another 2.2 million downloading each podcast. For years, it was the most popular podcast on iTunes, until the staff created the program Serial, which has over 10 million people downloading each episode.
Glass began his career as an intern at National Public Radio's network headquarters in Washington, DC in 1978, when he was 19 years old.
Over the years, he worked on nearly every NPR network news program and held virtually every production job in NPR's Washington headquarters. He has been a tape cutter, newscast writer, desk assistant, editor, reporter and producer. He has filled in as host of Talk of the Nation and Weekend All Things Considered.
A television adaptation of This American Life ran on Showtime for two seasons in 2007 and 2008, winning three Emmys. Glass is one of the producers of Mike Birbiglia's new film "Don't Think Twice," and produced and co-wrote Birbiglia's first film "Sleepwalk with Me."
Under Glass's editorial direction, This American Life has won the high­est honors for broadcasting and journalistic excellence, including five Peabody awards. The American Journalism Review declared that the show is "at the vanguard of a journalistic revolution."
Related Articles View More Dallas

Stories

Shows
More Hot Stories For You