Review: MILLION DOLLAR QUARTET Shares an Incredible Recording Session in Rock and Roll History
It ended too soon is all I can say. I could have kept dancing for hours to the music being celebrated from the stage in MILLION DOLLAR QUARTET, now being presented by 3-D Theatricals in Redondo Beach and Cerritos. For those like me who have always been a fan of wild child Jerry Lee Lewis and the sexy performance style of Elvis Presley, or the music of the man in black Johnny Cash or rock and roll pioneer Carl Perkins, get your tickets ASAP for an evening of theatre you will never forget as you act like a fly on the wall as you experience one night that changed rock and roll forever.
On Tuesday night December 4, 1956, these four legends gathered at the Sun Records studio in Memphis where they had all launched their careers. While each had achieved success by then, they had never recorded their songs together with the others acting as backup, along with bass and drums session musicians. And I can tell you, these actors/singers/musicians embody these four legends in character, movement, voice, and song delivery. I congratulate all of them because I really feel like I just stepped out of Sun Records that night.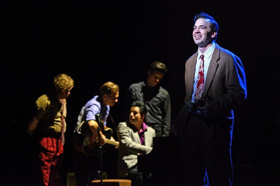 Sun Records owner Sam Phillips (Zachary Ford) created the Million Dollar Quartet by secretly inviting all of them to a recording session in his Memphis studio at the same time after producing their first individual records. He knew the sound he was going for: a faster mixture of Southern gospel and soul music being performed in local clubs, but making it more marketable by finding white musicians who could take the sound mainstream.
Once he found them, Phillips guided each one to reach deep within themselves and show who they were through their music, creating what became rock and roll.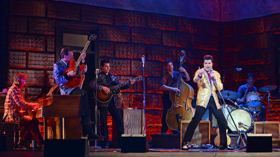 The music Phillips recorded transformed the cultural landscape of the 20th century, and its reverberations are still felt today. That's why he, together with Presley and Lewis, were among the Rock 'n' Roll Hall of Fame's charter inductees. Perkins and Cash soon joined them.
These four Southern country boys never again met or played music together, and I have to wonder why the recordings made that night have never been released after hearing the four men play together onstage tonight.
We first meet Jerry Lee Lewis (brash and downhome John Countryman), fresh out of Louisiana and ready to record his first hit record for Phillips. In "Real Wild Child," Countryman shows us he IS Jerry Lee Lewis from the flip of his hair to the stomping of his feet on the floor and his fingers on the keys. By the show's finale "Whole Lotta Shakin' Goin' On" the audience was on its feet singing along and dancing, begging for more. Countryman shared his mother introduced him to the master of boogie woogie at the age of 12, and has spent the last six years performing as Jerry Lee Lewis around the world. He absolutely steals the show when he is at the piano rocking out, channeling his idol.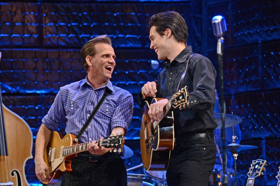 Michael Monroe Goodman has spent the past two years touring with MILLION DOLLAR QUARTET in several roles, but he certainly seems right on the mark sharing Carl Perkins. Admired by rock musicians every since he created songs covered by so many of them. I can understand why after seeing him play the fiery Perkins guitar riffs that Goodman will no doubt remind you of musicians from The Beach Boys to the Beatles! I feel as if I just really got to know this Rockabilly legend and have gained new respect for his contributions to rock and roll.
David Elkins plays Johnny Cash complete with his dark good looks and deep voice to a tee. The set up for the quartet getting together was Phillips wanting Cash to sign a new 3-year contract. In his attempt to convince the singer to re-sign, he mentioned that Elvis, an old friend of Johnny's, was in town and dropping by and how great it would be to have two of his biggest stars record together. But in reality, Elvia was stopping in see Phillips to try and convince him to take a job at RCA Records in New York so they could work together again.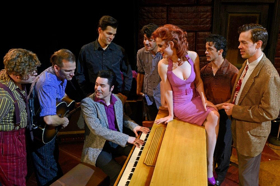 Cash, Lewis, and Perkins are already jamming when Elvis (Cole) walks in with Dyanne (Adrienne Visnic), a singer dressed to sexy 50's style perfection from his latest movie who he is taking to meet his mother. He convinces the guys to listen to her sing, and her rendition of "Fever" lets them know she has what it takes to get their attention and respect.
A recording artist and songwriter, Cole is the youngest inductee into the International Rockabilly Hall of Fame.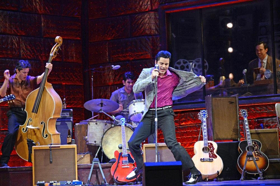 He has been portraying Elvis in MILLION DOLLAR QUARTET since 2013 and it's a role he seems born to play! Trust me - you will be watching Elvis onstage every time he grabs the microphone and swivels his hips!
The studio musicians in the show are Omar D. Brancato as Jay Perkins, the bass player. Kudos to his ingenuity in playing the bass in ways I never thought possible! And the production's Musical Director David Lamoureaux plays Fluke the drummer, setting the pace for this incredible musical tribute to four good ole' country boys who went on to worldwide fame.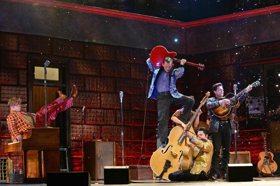 Included in the 23 rockabilly hits are "Blue Suede Shoes," "Who Do You Love?" 'Folsom Prison Blues," "That's All Right," "Sixteen Tons," "Long Tall Sally," "I Walk the Line," "Great Balls of Fire," and "Hound Dog."
Congrats to the entire production team for their Broadway-quality 3-D Theatricals production, with original direction recreated by David Lober. This is definitely a "feel good" musical and I guarantee whether you are a fan or not, you will leave the theater having gained a new respect for the men who became the MILLION DOLLAR QUARTET.
REDONDO BEACH PERFORMING ARTS CENTER
February 9 - 18, 2018
1935 E. Manhattan Blvd., Redondo Beach, CA 90278
Parking: Complimentary parking located directly in front of the theatre.
Remaining performances:
Friday, February 16 at 8:00 pm
Saturday, February 17 at 2:00 pm and 8:00 pm
Sunday, February 18 at 2:00 pm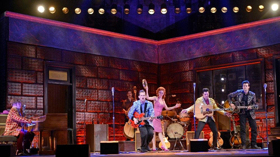 CERRITOS CENTER FOR THE PERFORMING ARTS
February 23 - March 4, 2018
12700 Center Court Drive, Cerritos, CA 90703
Parking: Complimentary parking adjacent to the theatre.
Friday, February 23 at 8:00 pm
Saturday, February 24 at 2:00 pm and 8:00 pm
Sunday, February 25 at 2:00 pm
Thursday, March 1 at 7:30 pm
Friday, March 2 at 8:00 pm
Saturday, March 3 at 2:00 pm and 8:00 pm
Sunday, March 4 at 2:00 pm
3-D Theatricals Remote Box Office: 714 589-2770, Ext. 1. Hours: Monday - Friday 11:00 am - 5:00 pm. 12:00 - 4:00 pm Saturday. The 3DT Box Office at the theatre Opens two hours prior to performances. Ticket Prices: Tickets are $25.00 - $105.00. Online Ticketing: www.3dtshows.org, Ticket Handling Fee: $3 per ticket. - Group and Student discounts are available. $20 "Rush" tickets are available one hour prior to "select performances".
Photo credit: Caught in the Moment Photography