Westport Community Theatre Presents THE ROAD TO MECCA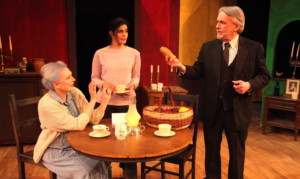 Westport Community Theatre is currently producing Athol Fugard's powerful play, The Road to Mecca. Performances take place from February 8th through 24th on Fridays and Saturdays at 8:00 p.m. and at 2:00 p.m. on Sundays, with a Thursday performance on February 14th at 8:00 p.m. Ruth Anne Baumgartner directs the play, which is produced by Joan Lasprogato.
The Road to Mecca premiered on Broadway in December of 2011 and was inspired by the story of Helen Martins, who lived in Nieu-Bethesda, Eastern Cape, South Africa and created The Owl House, now a National Heritage Site. In the play, Miss Helen, a senior South African widow, has been working on an overgrown sculpture garden, which is a dream trip to "Mecca". Pastor Marius urges Helen to move to a senior home. However, Elsa, a Cape Town schoolteacher arrives to encourage Helen in her art.
Deborah Carlson portrays Miss Helen in the play. Her Broadway credits include Can-Can, Into the Light, and 42nd Street, and Off-Broadway work includes New York is Bleeding, I Can Get It For You Wholesale, 7 Trumpets, and Olympus On My Mind. Her regional credits include A Chorus Line, Singin' in the Rain, Hamlet, My One and Only, Nine and A Midsummer Nights' Dream, and film and TV credits include The Departed, Kate & Leopold, Without a Trace, Nashville, Law & Order, and over twenty-five national commercials. Other productions include The Glass Menagerie at Carriage House Arts Center and Suite Surrender at Brookfield Theater for the Arts.
Lynnette Victoria plays Elsa Barlow. She last performed on the WCT stage as Abigail Williams in The Crucible. Her past roles include Eliot in Core Values at Square One Theatre, Fabiana Cunningham in The Last Days of Judas Iscariot with Vagabond Theatre Company, John Williamson in the all-female Glengarry Glen Ross with Curtain Call and Rita in Educating Rita at the Ridgefield Theatre Barn.
Alexander Kulcsar portrays Marius Byleveld. He recently appeared in staged readings of Judith Shakespeare Has Her Say and Shakespeare Rising by Mary Jane Schaefer at The Players Club in NYC. At WCT, he played Ulysses in Annapurna and has portrayed Sharkey in The Seafarer. In 2018 he received Square One Theatre's Subscribers' Award for Outstanding Actor for The Absolute Brightness of Leonard Pelkey, and with David Chacko he co-authored Traitors Gate, a spy novel that won a Chanticleer award for historical fiction in 2013.
Ruth Anne Baumgartner has directed numerous productions for WCT, Town Players of Newtown, Eastbound Theatre, Stamford's Rainbow Theatre, Putney Players and Newtown High School. She serves on the boards of directors of WCT and Town Players of Newtown, and for fifteen years was Artistic Director and principal director of a staged-readings series at the Pequot Library.
The Road to Mecca is produced by arrangement with Samuel French, Inc. Tickets are $25 ($23 for seniors and $15 for students) and can be purchased at westportcommunitytheatre.com or by calling (203) 226-1983. Westport Community Theatre is located at the Westport Town Hall, 110 Myrtle Avenue.