Sutton Foster To Headline Westport Country Playhouse's September Gala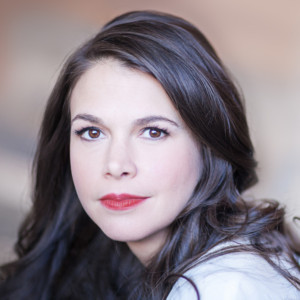 Tony Award-winning Broadway and television star Sutton Foster will headline Westport Country Playhouse's 2018 Gala on Saturday evening, September 8, performing Broadway standards with a trio of musicians. "Sutton effectively stops whatever Broadway show she's in with her amazing combination of talents in dance, song, and a wicked sense of humor," said Mark Lamos, Westport Country Playhouse artistic director. "She's a dazzling throwback to the great Broadway stars of yesteryear."
Eunice and David Bigelow, co-chairmen of the family-run Bigelow Tea Company, headquartered in Fairfield, CT, will be honored with the Playhouse's 2018 Leadership Award for their vision and philanthropy. "They are the rare philanthropists who bring a joyous interest in how Playhouse staff and artists make theater, cultivating a closeness to both the technical and artistic process," said Lamos.
Actress, singer, and dancer Sutton Foster is best known for her role as Reno Sweeney in the 2011 Broadway revival of "Anything Goes," which won her a second Tony Award. Her first Tony Award came in 2002 as Millie Dillmount in "Thoroughly Modern Millie," establishing Foster as one of the finest talents in musical theater today. She has also originated the roles of Janet Van De Graff in "The Drowsy Chaperone" (2006), Inga in Mel Brook's "Young Frankenstein" (2007), and Princess Fiona in "Shrek The Musical" (2008). In addition to her celebrated work on stage, she is an in-demand television actress, currently starring in the critically acclaimed TV Land series, "Younger."
The Gala's theme, "Andalusian Nights," ties in with the Playhouse's autumn production of "Man of La Mancha," bringing the ambiance of Spain to the evening. A dinner for patrons and benefactors will take place pre-performance and includes a private cocktail hour, silent auction, and live Spanish guitar music. Following the performance will be an after-party with tapas and a live band. Attire is festive; black tie optional. Valet parking will be provided.
The 2018 Gala Committee co-chairs are Athena T. Adamson and Teresa Nardozzi. Committee members include Karen Parrella, auction chair; Barbara K. Streicker, Board Chair; Mary Ellen Marpe, development chair; Paige Couture, after-party chair; Ania Czekaj-Farber, catering chair; Linda Heinzelman, décor chair; Dana Rutson Robinson, publicity chair; Nancy Tillson, associate auction chair; Molly Alger, Kate Bahnemann, Deb Harper Bono, Jessica Caldwell, Mary Dobson, Dennis Dobson, Katia Friend, Patricia Goodrich, Darlene Krenz, Elanit Linder, Judy M. Phares, Maggie Lehnerd-Reilly, Robin Sauerteig, Tricia Schwartz, Helene Jacob-Skolik, Cheryl Simcox, Maria Mendoza-Smith, Hermon Telyan, Marietta Battaglia White, and Donovan Wildgoose.
The Honorary Gala Committee includes Maureen Anderman, Frank Converse, Mia Dillon, Keir Dullea, Jill Eikenberry, Daniel Gerroll, Joanna Gleason, Jonathan Groff, James Earl Jones, Patricia Kalember, Anne Keefe, James Naughton, Kelli O'Hara, Christopher and Elaine Plummer, Chris Sarandon, and Michael Tucker.
Benefactor level tickets, at $2,500 per person, include red carpet welcome, pre-performance dinner, highest priority seating at performance, silent auction, and a post-performance after-party, with enhanced VIP privileges. Patron tickets, at $1,250 per person, include red carpet welcome, pre-performance dinner, priority seating at performance, silent auction, and a post-performance after-party with VIP privileges. Supporter tickets, at $350 per person, include a ticket to the performance, silent auction, and a post-performance after-party.
Westport Country Playhouse
is a nonprofit 501(c)(3) corporation and contributions are tax-deductible, less the value of goods and services received, as provided by law. All donations receive recognition in the evening's program and inclusion as a 2018 Gala donor in 2019 Season programs at applicable giving levels.
Gala proceeds will benefit the non-profit, professional producing theater, now in its 88th season - its work on stage, with schools, and throughout the community.
For more Gala information or ticket purchases, contact Aline O'Connor, associate director of development, at 203-571-1138, or aoconnor@westportplayhouse.org.
The mission of Westport Country Playhouse is to enrich, enlighten, and engage the community through the power of professionally produced theater worth talking about and the welcoming experience of the Playhouse campus. The not-for-profit Playhouse provides this experience in multiple ways by offering live theater experiences of the highest quality, under the artistic direction of Mark Lamos; educational and community engagement events to further explore the work on stage; the New Works Circle Initiative, a program dedicated to the discovery, development, and production of new live theatrical works; special performances and programs for students and teachers with extensive curriculum support material; Script in Hand play readings to deepen relationships with audiences and artists; the renowned Woodward Internship Program during the summer months for aspiring theater professionals; Family Festivities presentations to delight young and old alike and to promote reading through live theater; youth performance training through Broadway Method Academy, WCP's resident conservatory program; and the beautiful and historic Playhouse campus open for enjoyment and community events year-round.