Pantochino's GLITZ! THE LITTLE MISS CHRISTMAS PAGEANT MUSICAL Comes to the Stage For The Holidays In Milford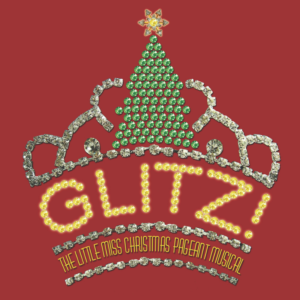 Pantochino Productions Inc. presents it's original holiday musical, "Glitz! The Little Miss Christmas Pageant Musical" opening November 30th at the MAC (Milford Arts Council) on Railroad Avenue in Downtown Milford. The show continues through December 22nd.
The family-friendly holiday musical with book and lyrics by Bert Bernardi and music by Justin Rugg is a wildly funny spoof of glitz pageants. Swirling in delicious controversy, the host, Shayde Shames, is at the center of tinsels, tiaras, girls with big hair and their outlandish mothers. While the competition continues, it is the true spirt of the holiday season that wins in this unexpectedly heart-warming musical.
"The show is an mash up of Toddlers and Tiaras and A Christmas Carol," said Bernardi. "It's a smart, funny and heartwarming holiday show for the entire family," he added.
"Glitz! The Little Miss Christmas Pageant Musical" debuted in Milford in 2012 and has since been published and licensed by Stage Rights, one of the leading theatrical publishers in the United States. The show has played hundreds of performances around the country and now returns on the same stage where it originally premiered.
The cast includes Pantochino company members, Jimmy Johansmeyer, Justin Rugg, Mary Mannix, Shelley Marsh Poggio, Maria Berte, Dale Allen and Valerie Solli. The young contestants include Annabel Wardman, Sierra DiMartino, Brianna Jackson, Adeline Horne, Ainsley Novin, Mikaela Franklin, Kiera Degnan, Peighton Nash, Adrienne Crowley and Claire DeRosa. Also in the company is Rachelle Ianniello and Connor Rizzo. The production features sets by Von Del Mar, Costumes by Johansmeyer, Lights by Jeff Carr, Sound by Sara Brown and Alejandro Lopez as production stage manager.
Performances of "Glitz!" are Fridays at 7:30pm, Saturdays and Sundays at 2pm with a special 5:30pm performance on Saturday December 1st. The MAC (Milford Arts Council) is located at 40 Railroad Avenue in Milford on the northbound side of the Milford train station. Tickets are $22.00 online at www.pantochino.com.
All performances feature cabaret seating and audiences are invited to bring their own food and drinks to enjoy during the performance. Refreshments are also on sale at each performance. Parking is free in all railroad station lots.
More Hot Stories For You